Copper Heads for Record Weekly Gain, Metals Jump on Europe Pact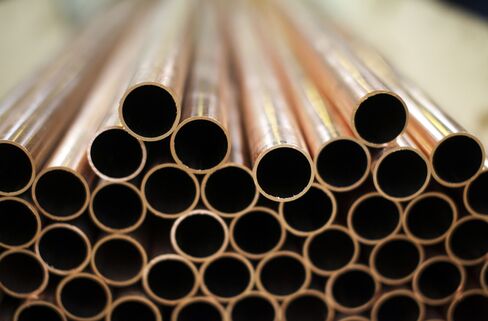 Copper prices rose, heading for a record weekly rally, after European leaders agreed to expand a bailout fund to ease the region's sovereign-debt crisis. Nickel, lead and zinc climbed.
The rescue fund will be increased to 1 trillion euros ($1.4 trillion), and bondholders will accept 50 percent losses on Greek debt under the accord. This week, Chinese Premier Wen Jiabao said that officials will adjust economic policies at a "suitable time and by an appropriate degree." A gauge of six base metals headed for the biggest weekly gain since 2009.
Prices "are popping on policy news out of Europe indicating that the banking crisis might be taking a breather," Scott Gardner, the chief investment officer at Verdmont Capital SA in Panama, said in an e-mail. "The Chinese have also recently hinted at easing monetary policy, which would be a big boost for the industrial-commodity trade."
On the London Metal Exchange, copper for delivery in three months rose 6.1 percent to close at $8,145 a metric ton ($3.69 a pound) at 6:32 p.m. This week, the commodity has jumped 14 percent, poised for the biggest increase since Bloomberg data starts in April 1986.
Copper futures for December delivery advanced 5.8 percent to $3.692 a pound on the Comex in New York. This month, the price has surged 17 percent, heading for the largest gain since March 2009.
"We have seen the lows for the year" after the price touched $2.994 on Oct. 3, the cheapest since July 2010, said Gardner, who helps manage $450 million in client assets.
Nickel Rally
Nickel rose 4.1 percent to $19,900 a ton today on the LME. This month, the price has jumped 13 percent in October, heading for the biggest gain since March 2010.
Nickel will extend the rally as Chinese steelmakers lead a recovery in demand, analysts said. A 20 percent slump this year has made the metal cheaper than pig iron, a substitute made from low-grade ore from Indonesia and the Philippines.
Nickel, used to strengthen stainless steel in everything from kitchen sinks to aircraft-fuel tanks, may rise 16 percent next year as mills boost purchases, Societe Generale SA said.
A gauge of copper, aluminum, lead, nickel, zinc and tin on the LME rose 4.8 percent today. This week, the index has climbed 10 percent, heading for the biggest gain since early 2009.
Lead soared 6 percent today, and zinc advanced 4.9 percent in London. Tin climbed 3.2 percent, and aluminum rose 1.8 percent.
Before it's here, it's on the Bloomberg Terminal.
LEARN MORE