Argentina Tightens Foreign Exchange Rules to Slow Capital Flight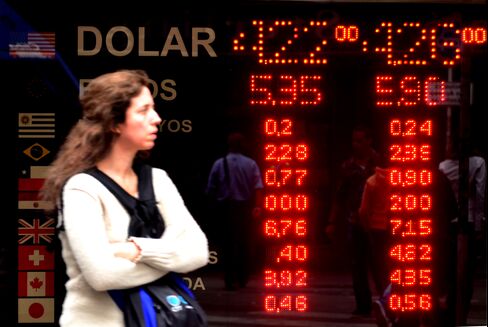 Argentina stepped up its efforts to stem capital flight and shore up the peso by tightening restrictions on foreign-exchange purchases in South America's second-biggest economy.
Banks and exchange houses will be required to verify savings and income information on individuals seeking to buy dollars, Economy Minister Amado Boudou told reporters last night. The move is in addition to changes announced Oct. 27 in which investors purchasing companies or real estate will be required to deposit the full amount of the sale in Argentina and individuals purchasing more than $250,000 per calendar year will need to demonstrate the origin of the funds used.
The measures target the unregulated foreign exchange market, which investors and companies use to skirt currency limits. The moves came after President Cristina Fernandez de Kirchner, who won re-election on Oct. 23, issued a decree requiring energy and mining companies to keep all of their export revenue in the country as capital flight accelerates to $3 billion per month, according to estimates by Banco de la Ciudad de Buenos Aires.
"This is a continuation of efforts to improve transparency and combat money-laundering, the informal economy and the abuse of people who are in the black market," Boudou, who will become vice president on Dec. 10, told reporters in Buenos Aires. The measures take effect Oct. 31, he said.
Faced with inflation economists estimate at 24 percent, Argentines pulled $9.8 billion out of the economy in the first half of this year, compared with $11.4 billion in all of 2010. The government says prices are rising 9.9 percent annually.
Capital Flight
Capital flight prompted the central bank to sell $2.7 billion of reserves in August and September to curb a slump in the peso, which has weakened 6.1 percent this year to 4.2358 per dollar, the worst performance among six major Latin American currencies tracked by Bloomberg. Reserves have fallen to $47.6 billion this year from a record $52.6 billion in January while central banks in Brazil, Mexico and Chile build up savings.
"The administrative measures announced in the last two days show the government is increasingly worried about decreasing central bank reserves," RBS Securities Inc. analyst Felipe Hernandez wrote in a report yesterday.
In the parallel peso market, the currency weakened 1.2 percent yesterday to 4.8971 per dollar. The difference with the official market rate is the widest in three years.
Trade Surplus
Argentina, which has been blocked from international debt markets since its 2001 default on $95 billion of bonds, depends on its trade surplus as a primary source of dollars. The government estimates that surplus will shrink to $8.6 billion next year from $12.1 billion in 2010.
Individuals will still be able to purchase up to $2 million per month, said a central bank official who declined to be identified because he isn't authorized to speak publicly. Transactions over $250,000 will only be allowed if the person can show that funds were legally earned, declared when they were brought into the country or come from the sale of previously declared assets, the official said.
"If the money that a person is changing has a legitimate origin, there's nothing for them to worry about," central bank Vice President Miguel Pesce said in an interview on Radio El Mundo. "There is a global fight against money laundering and Argentina is part of that."
Company Permits
Companies will be allowed to purchase dollars and other foreign currencies at a level compatible with their net worth excluding investments in assets abroad, stakes in other local firms, and dollar deposits in Argentine banks and adjusted for the amount of dividends, earnings and currency transactions in a given financial quarter, the central bank statement said.
Fernandez, who won 54 percent of the vote in the Oct. 23 election, has nationalized the $24 billion pension fund industry and called for limits on the purchase of farmland by foreigners since becoming president in 2007.
"These measures only reaffirm our expectations that the government will continue with the same economic policies after the strong showing in the presidential and legislative election and risks for more interventionism, instead of structural adjustments, to fight capital outflows that are responding to the growing macro imbalances," RBS's Hernandez wrote.
Economic growth has averaged 5.6 percent per year under Fernandez and will exceed 8 percent this year, according to government forecasts. Growth will slow to 4.3 percent next year, according to the median estimate of nine economists in a survey by Bloomberg.
Foreign direct investment in Argentina fell to $2.4 billion from $3.5 billion in the first six months of the year, while increasing 54 percent to $83 billion for Latin America as a whole, according to a United Nations report published this week.
Before it's here, it's on the Bloomberg Terminal.
LEARN MORE