WellPoint Raises Full-Year Forecasts After Enrollment Climbs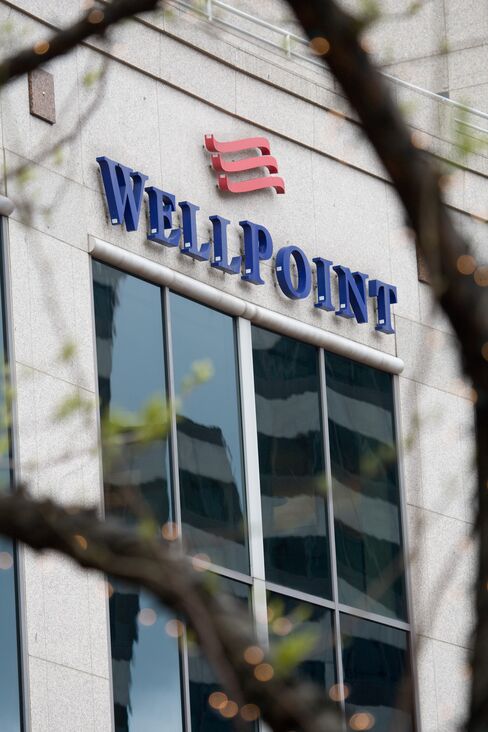 WellPoint Inc., the largest U.S. health insurer by enrollment, raised its 2011 earnings forecast after adding more members than the company expected and buying back shares.
Net income is expected to be $7.18 to $7.28 a share, the Indianapolis-based company said in a statement today. Third-quarter earnings excluding one-time items of $1.77 a share beat by 10 cents the average estimate of 20 analysts surveyed by Bloomberg. WellPoint said it repurchased 13.4 million shares in the quarter.
About 169,000 medical members were added in the quarter, WellPoint said, with the majority of new customers coming from small and midsize businesses. The insurer has added more than 1 million members this year, while reducing expenses. UnitedHealth Group Inc., the largest U.S. insurance company by revenue and the first of the major insurers to report results, said Oct. 18 that its plan participants increased by 220,000 in the quarter.
"The company's lowest cost position in its markets enable attractive pricing, which is a point of ever-increasing sensitivity among small employers," said David Windley, an analyst at Jefferies & Co. in Nashville, Tennessee. "That helped them up the forecast, but share repurchase is also a big driver."
Shares Rise
WellPoint rose 3.9 percent to $69.58 the close in New York. The shares have climbed 22 percent this year.
WellPoint reported its second-strongest quarter of enrollment growth in the last three years, benefiting from the acquisition of CareMore Health Group and increases in its smaller business and senior market, said Jason Gurda, an analyst at Leerink Swann in New York.
Chief Executive Officer Angela Braly said the company is looking to make more investments in the senior market through acquisitions and expanding its network of CareMore clinics. She said WellPoint will add a dozen facilities in 2012.
While CareMore addresses sicker, older seniors, the company also is interested in acquisitions that would help increase its business with younger Medicare enrollees, Chief Financial Officer Wayne DeVeydt said in a telephone interview.
Sweet Spots
"Anything that falls within those two sweet spots is something we would want to take a look at," DeVeydt said. Potential targets in states where WellPoint already operates are of most interest, he said.
"Scale is going to matter in this new world of health care no matter what area you're looking at," DeVeydt said.
This quarter's enrollment gains include a jump of 99,000 in small-business membership, mostly from companies with fewer than 1,000 employees, said Sarah James, an analyst at Wedbush Securities Inc. in Los Angeles. The enrollment also was boosted by 89,000 new seniors, including 57,000 that came from CareMore, WellPoint said. The insurer bought the senior-focused clinic network in June.
"We began to get hints of enrollment gains last year," said Thomas A. Carroll, an analyst at Stifel Nicolaus & Co. in Baltimore. "It looks like a good, clean quarter for WellPoint."
Net income fell 7.6 percent to $683.2 million, or $1.90 a share, from $739.1 million, or $1.84, a year ago, WellPoint said. The share repurchases lifted the per-share results. Revenue climbed 5.9 percent to $15.2 billion.
WellPoint also cut expenses by $185 million, or 3 percent, in the three months, Braly said in the statement.
"Our ability to add new customers while controlling costs demonstrates our execution and emphasis on creating a more affordable operating model for our customers," the CEO said.
In July, the insurer had forecast full-year net income of $6.90 to $7.10.