Visa Profit Beats Estimates as Credit-Card Spending Increases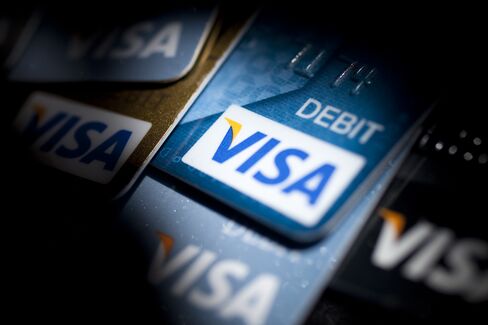 Visa Inc., the world's biggest payments network, posted a fiscal fourth-quarter profit that exceeded analysts' estimates as credit-card spending climbed faster than debit.
Net income for the three months ended Sept. 30 rose 14 percent to $880 million, or $1.27 a share, from $774 million, or $1.06, a year earlier, the San Francisco-based company said yesterday in a statement. The average estimate of 30 analysts surveyed by Bloomberg was for earnings per share of $1.25. Visa has exceeded estimates every quarter since its March 2008 initial public offering, data compiled by Bloomberg show.
Spending on Visa credit cards in the U.S. grew faster than debit cards for the first time since at least 2005 as affluent consumers stepped up purchases. New federal caps on fees that banks collect for debit transactions also are prompting lenders to encourage consumers to use credit cards instead.
"We are working with each of our clients on an individual basis to help them develop a credit-card strategy, particularly if they want to expand it, and many of them do," Visa Chairman and Chief Executive Officer Joseph W. Saunders said in a conference call with analysts after results were announced. "That will be one of the success stories of 2012."
Visa advanced $1.34, or 1.5 percent, to close at $92.02 yesterday in New York. The shares have gained 31 percent this year, lagging behind the 47 percent gain for MasterCard Inc., the No. 2 network. MasterCard and Visa are the second- and fifth-best performers this year, respectively, in the 75-company Standard & Poor's 500 Information Technology Index.
'Predictable and Attractive'
"Visa is on a path to ultimately be a global large-cap growth stock," Timothy Willi, an analyst at Wells Fargo & Co., said in an Oct. 18 research note. "Investors will find the well-balanced investment story predictable and attractive." He has an "outperform" rating on Visa shares.
Fourth-quarter operating revenue was $2.38 billion, missing the average estimate of $2.39 billion by analysts in the Bloomberg survey. It was the first time revenue missed analysts' estimates since the firm's IPO, data compiled by Bloomberg show.
For the full year, the company reported revenue of $9.19 billion, a 14 percent increase from fiscal 2010, as net income climbed 23 percent to $3.65 billion.
Worldwide spending on Visa credit and debit cards, adjusted for currency fluctuations, climbed 17 percent to $970 billion in the fourth quarter, compared with a year earlier, the company said. Cross-border volume, a measure of spending by consumers outside their home countries, advanced 19 percent. Processed transactions worldwide rose 9 percent to 13.3 billion as consumers continued to shift from cash and checks to plastic.
Credit Eclipses Debit
U.S. credit-card purchases climbed 10 percent to $228 billion, compared with a 6.4 percent increase in the same period last year, the company said. Spending on debit cards in the U.S. advanced 8.1 percent to $288 billion, slower than the 20 percent growth Visa reported for last year's fiscal fourth quarter.
Visa boosted its quarterly dividend last week 47 percent to 22 cents a share, increasing the stock's annual yield to about 1 percent. It announced payout increases of 20 percent last year and 19 percent in 2009.
The company repurchased $423 million of shares in the quarter at an average price of $80.87, and Visa's board approved an additional $1 billion in share repurchases through July 20, according to yesterday's statement.
Visa and Purchase, New York-based MasterCard set swipe fees, or interchange, and pass the money to card-issuers including Charlotte, North Carolina-based Bank of America Corp., Wells Fargo and New York-based Citigroup Inc.
Biggest Banks
The networks instituted two-tier pricing for debit-card interchange on Oct. 1, when the caps mandated by the Dodd-Frank Act took effect. The system includes regulated fees for the biggest banks and higher fees for lenders with less than $10 billion in assets, which are exempt from the limits.
Visa, which has said U.S. debit accounts for about 20 percent of total sales, forecast revenue growth for fiscal 2012 in the "high single-digit to low double-digits range," down from a 2011 projection of 11 percent to 15 percent, according to a July 6 regulatory filing.
The Fed capped debit fees at 21 cents per swipe, plus 5 basis points of the total and a conditional 1 cent for fraud prevention. That replaced a formula that averaged 1.14 percent of the purchase price, or about 44 cents for the typical $38 debit-card transaction. The caps may trim annual revenue at the biggest U.S. banks by $8 billion, according to data compiled by Bloomberg Government.
In a bid to recoup lost income, San Francisco-based Wells Fargo is testing a $3 monthly fee for debit-card users in five states, while Bank of America announced a plan to charge $5 a month for some customers who make debit-card purchases.
The closest Visa came to missing profit estimates was last year's fourth quarter, when it reported adjusted earnings per share of 95 cents, compared with the average of 94.6 cents predicted by analysts in a Bloomberg survey.
MasterCard is scheduled to report third-quarter results on Nov. 2.