U.A.E. Home Prices May Fall 10% to 30% More as Excess Grows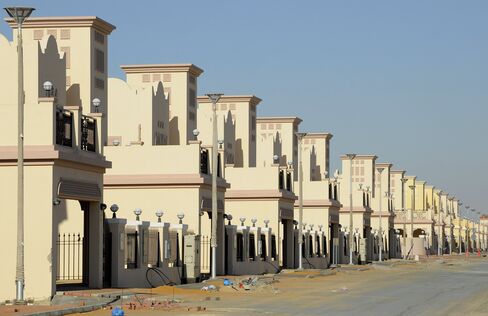 Home prices in the United Arab Emirates, which have fallen by more than half since 2008, may drop by another 10 percent to 30 percent as developers add to supply in Dubai and Abu Dhabi while buyers dwindle.
Prices won't show "any meaningful recovery" in the next five years, according to Saud Masud, an analyst at Dubai-based Rasmala Investment Bank Ltd. who reiterated a May estimate that values are likely to slip by another 25 percent to 30 percent. A drop of 20 percent was forecast by Arqaam Capital Ltd. in a report earlier this month.
"We have some way to go," Masud said by e-mail. "Appetite is not consistent and supply is still channeling in." He said values may reach bottom in 2013.
Developers are completing projects started before the market collapsed, adding to a housing glut as buyers become more scarce. Home purchases in the U.A.E. dropped by 44 percent to 1,459 in the third quarter from a year earlier, CBRE Group Inc. said in an Oct. 17 report. That's down from 4,059 transactions in the third quarter of 2008, just before the crash.
Prices will drop a further 10 percent to 15 percent, said Patrick Rahal, a portfolio manager at The First Investor bank in Doha, Qatar. Harshjit Oza, an analyst for the Middle East and North Africa at Beltone Financial, sees a decline of 10 percent in Dubai and 15 percent to 20 percent in Abu Dhabi. All cited the growing supply glut as a main reason for their outlook.
About 54,000 homes, or 15 percent to 20 percent of the existing supply, will come onto the Dubai market from 2011 to 2015, according to property broker Jones Lang LaSalle Inc.
Bottom for Dubai?
The projections for price declines contrast with a report by Jones Lang LaSalle Inc. in September that said villa and apartment values in most parts of Dubai may hit bottom soon as political turmoil elsewhere in the Middle East and North Africa prompts buyers to look for less risky assets. Villa sales increased 59 percent by value during the third quarter even as the number of sales fell by nearly a third, indicating that higher-priced properties are attracting the most buyers, the broker said.
Aldar Properties PJSC, the Abu Dhabi developer that's had three chief executives four years, and Sorouh Real Estate Co. on Oct. 17 fell to the lowest since listing in 2005. Emaar Properties PJSC, builder of the world's tallest building in Dubai, slumped 28 percent this year. Emaar was up 4.4 percent at 2.59 dirhams at 1:40 p.m. in Dubai. Aldar rose 5 percent to 1.05 dirhams and Sorouh climbed 4.4 percent to 95 fils.
Construction Doesn't Stop
Developers are choosing to complete projects started before the market collapsed rather than canceling them and facing a legal obligation to return all advance payments to customers. That's adding to the housing glut. Dubai's property market went from being one of the world's best performing to the worst following the global credit crisis, with home prices slumping 64 percent since their mid-2008 peak, Deutsche Bank AG estimates. In Abu Dhabi, values slid 55 percent, Rasmala said.
Mortgage demand has plummeted since the property bubble burst. A total of 968 mortgage transactions worth 2.1 billion dirhams ($1.0l billion) were completed in the third quarter compared with 1,825 worth 3.7 billion dirhams last year, according to Reidin.com, a research firm that tracks the U.A.E. real-estate market.
"The market in Dubai has already witnessed significant declines over the past three years and hence the pace of further falls is likely to be less steep as in earlier years," Martin Kohlhase, a Dubai-based analyst at Moody's Investors Service said by e-mail. "The duration of the market imbalance depends on a number of factors, such as the growth in the population as well as the economy."
More Affordable
Ahmed Badr, an analyst at Credit Suisse Group AG, predicted a "slight drop" in prices this year, though a 25 percent decline is "too much" as selling prices and rents become more affordable.
Oversupply remains a concern even though 50 percent to 60 percent of development planned since 2005 has been canceled, Arqaam analyst Mohammad Kamal said by e-mail. He predicted further rent and price weakness and rising vacancies in 2012 as supply continues to increase.
"Supply-side forces -- about plus 20 percent in Dubai, and plus 30 percent in Abu Dhabi -- are sufficiently large to overwhelm the strengthening prices within specific locations," he said.
Abu Dhabi Struggles
Abu Dhabi, the U.A.E. capital and the fourth-largest oil producer in the Organization of Petroleum Exporting Countries, will continue to have a glut of most types of properties, leading to a further decline in rents and purchase prices, Jones Lang said on Oct. 16. Rents in the emirate have fallen 40 percent since the market's peak as foreigners departed, leaving a number of properties without tenants, the broker said.
"Most of the sales activity seems to be focused on villas rather than apartments, with buyer interest continuing to be dominated by buyers from the MENA region such as Iran, Saudi Arabia and Jordan, as well as India and Pakistan," said Craig Plumb, head of research in the Middle East and North Africa for Jones Lang. There is also increasing interest from buyers from China and West Africa, Plumb said.
"Some of the U.A.E.'s property companies have been trying to diversify abroad, but it will take time to gain traction in foreign markets," said Moody's Kohlhase. "Anecdotal evidence suggests that a number of real estate developers are restructuring their existing U.A.E. exposure, which makes them unlikely to shift into an expansionary mode."
Before it's here, it's on the Bloomberg Terminal.
LEARN MORE