Teva Climbs to Two-Month High in Tel Aviv on Share Valuation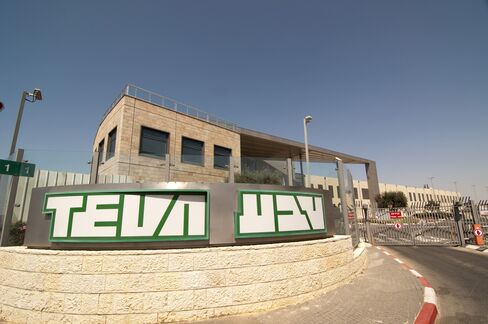 Teva Pharmaceutical Industries Ltd. rose to the highest level in almost three months in Tel Aviv, as the cheapest valuation among global peers outweighed a study that showed a competitor's drug was more effective.
Teva rose 4.8 percent to 150.40 shekels, the equivalent of $41.62, the highest since Aug. 2, at the 4:30 p.m. close in Tel Aviv. The TA-25 benchmark index rose 2.5 percent to 1,168.52. The largest Israeli company traded in the U.S. surged 3.1 percent to $41.53 at 11:04 a.m. in New York, paring this years' drop to 20 percent.
This year's tumble pushed Teva to seven times estimated earnings yesterday, lower than drug-makers Eli Lilly & Co. and Pfizer Inc., as concern mounted that Teva would lose sales as it struggles to find a replacement for its best-selling drug, the multiple sclerosis treatment Copaxone. At least four of 35 analysts tracked by Bloomberg kept "buy" or "outperform" ratings on the shares after a study found that an MS pill from Biogen Idec Inc. was safe and reduced the risk of relapse more than Teva's treatment, saying the results were expected.
"This is the last shoe to drop," said Randall Stanicky, an analyst at Canaccord Genuity with a $52 price estimate on the shares. The announcement "removes the biggest overhang, and you're left with some very positive catalysts into the year end."
Demand for Generics
Stanicky said the company has a better growth outlook than larger peers and trades at a lower price-to-earnings ratio. Teva's valuation is the lowest among 31 pharmaceutical and biotechnology companies with a market capitalization of at least $10 billion, according to data compiled by Bloomberg yesterday. Share buybacks or a decision to raise the company's dividend could also boost the shares, he said.
Demand for generic drugs will increase worldwide as businesses and governments look to hold down increases in the cost of medical care. Teva, the largest producer of generic drugs in the world, will benefit from the trend, said Jamia Jasper, the president of AmerIsrael Capital Management LLC.
"The theme is lowering the cost of health care worldwide, and so Teva's generic products will play nicely into that," Jasper said. AmerIsrael is the investment adviser for the American Israeli Shared Values Capital Appreciation Fund, which holds shares of Teva.
Hurting Sales
Copaxone, Teva's multiple sclerosis medicine, accounted for 23 percent of the company's revenue in the second quarter. Biogen's treatment will likely cut into those sales if it is approved by regulators, Christopher Holterhoff, an analyst at Oppenheimer & Co., wrote in a research note yesterday.
Generic replacements for Copaxone could also hurt Teva's sales, according to a note from David Amsellem, an analyst at Piper Jaffray & Co..
"We continue to believe that upside in Teva shares for the foreseeable future is limited," he wrote in an Oct. 26 research note. Amsellem has a "neutral" rating on the shares.
Multiple sclerosis affects more than 2 million people in the world, with about 400,000 patients in the U.S., according to the National Multiple Sclerosis Society. The chronic disease attacks the central nervous system and can cause numbness in limbs, paralysis and vision loss.
"The bad news is behind us, so there is less uncertainty," Natali Gotlieb, an analyst at I.B.I.-Israel Brokerage & Investments Ltd., said by phone.
Before it's here, it's on the Bloomberg Terminal.
LEARN MORE