Forgotten Sprouts Threw Trackers Off E. Coli Scent, Study Finds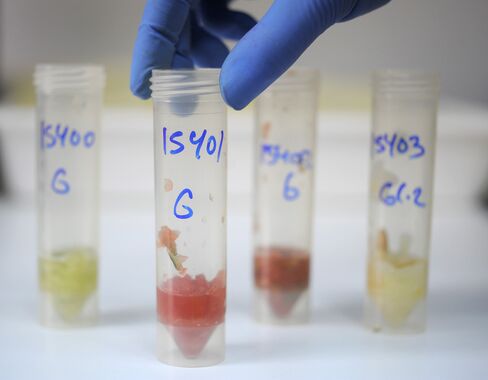 People who forgot to mention they had eaten sprouts may have thrown disease trackers off the scent as they sought to trace the source of the deadly strain of E. coli that sickened more than 4,300 people and killed at least 50 in Europe this year, a study found.
While a definitive genetic link remains elusive, three separate lines of investigation point to sprouts as the means by which the deadly O1O4:H4 strain of the bacteria was spread, researchers led by Udo Buchholz at the Robert Koch Institute in Berlin, Germany's disease-control agency, wrote in the New England Journal of Medicine yesterday. Their findings helped pinpoint sprouts as the probable culprit in June.
Demand and prices for vegetables slumped across the European Union after health officials mistakenly blamed tomatoes, Spanish cucumbers and lettuce for the outbreak. The error may have been because patients questioned about what they ate at a restaurant linked to infections in the northern German city of Luebeck forgot to mention sprouts, Buchholz and colleagues wrote.
"The one dish that frequently exposed guests to sprouts was the side salad, which contained tomatoes, cucumbers, three sorts of leaf salads, and sprouts," they wrote. "Sprouts may have been the ingredient that visitors recalled least in such a mixed salad."
Sprouts have been linked to previous E. coli outbreaks in the U.S. and Japan. Still, health officials in Germany neglected to investigate sprouts because only a quarter of patients mentioned them in a list of food they had eaten, the researchers said.
'Only Significant Variable'
Buchholz and colleagues conducted three studies in parallel. The first involved asking patients hospitalized with E. coli infection about their recent food consumption, and comparing that with food eaten by uninfected people. It found that "the only significant variable was sprouts."
The second study identified 10 groups of diners who ate at the restaurant in Luebeck between May 12 and 16. It found that among 115 people who had been served sprouts, 31 fell ill, compared with none of those who had not eaten sprouts.
The third investigation traced 41 clusters of infections to a producer in Lower Saxony, who grew sprouts from seeds that came from a "supplier X," Buchholz and colleagues wrote, without identifying either the producer or the supplier. A European Commission task force said in July that the sprouts were probably grown from fenugreek seeds imported from Egypt in 2009. The researchers still don't know whether the seeds were contaminated before, during or after export from Egypt.
Before it's here, it's on the Bloomberg Terminal.
LEARN MORE