EU Talks With Banks on Greek Writedown Said to Be Deadlocked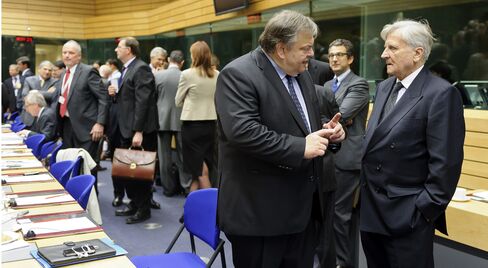 Oct. 26 (Bloomberg) -- European Union talks with banks on bondholder losses as part of a second Greek rescue package are deadlocked and have been suspended, an EU official said.
The EU is seeking voluntary participation by banks, though a forced solution can't be ruled out, the official said in Brussels today on condition of anonymity because the talks are private.
While policy makers and bankers are converging on a 50 percent writedown for Greece's lenders, the disagreement centered on the specifics of the transaction. The dispute focused on how much of the risk of newly issued Greek bonds should be insured, the official said.
EU leaders meet in Brussels today for the second summit in four days to try to reach an agreement to bolster the region's rescue fund, strengthen banks and relieve Greece to avoid the contagion spreading to Italy. Agreement on the size of Greek losses would bring a step closer an announcement on how much additional capital banks will be required to raise to insulate themselves from losses on European sovereign debt.
That may involve the EU setting specific limits on its own and International Monetary Fund participation in the second bailout, the official said.
The Institute of International Finance, which lobbies on behalf of 450 financial firms, yesterday proposed investors make a larger writedown than the 40 percent the group offered last week, said two people with knowledge of the talks. The European Union is calling on investors to forfeit as much as 60 percent, a person familiar with the talks said last week.
Banks' Proposal
The latest proposal includes a 50 percent writedown on the net present value of Greek debt, said one of the people who declined to be identified because the talks are private. Another person cautioned that the writedown may be closer to 45 percent. It's still uncertain whether EU leaders will accept even the increased offer, both people said.
"Charles Dallara, managing director of the IIF, on behalf of private investors, made a significant offer last night for a voluntary bond exchange in support of Greece," IIF spokesman Frank Vogl said by telephone today. He declined to comment on the content of the offer.
German Chancellor Angela Merkel signaled she's aiming for a 50 percent writedown on Greek debt as part of a second rescue package. The goal of policy makers is to lower Greece's debt level to 120 percent of gross domestic product by 2020, Merkel told lawmakers in Berlin today before a vote on the rescue.
Troika Estimate
The debt-level goal tallies with estimates made last week by auditors from the European Central Bank, European Commission and International Monetary Fund that Greek debt can be brought to just above 120 percent of GDP by the end of 2020.
To safeguard banks' finances, EU leaders will set a deadline of June 30, 2012, for banks to have core capital reserves of 9 percent after writing down their holdings of sovereign debt, according to a draft statement prepared for the summit.
The reserves must be of the "highest quality," according to the document obtained by Bloomberg News. Lenders are expected first to tap private sources to make up any capital shortfall and "should be subject to constraints regarding the distribution of dividends and bonus payments until the target has been attained." The document doesn't give an estimate of total capital EU banks must raise to comply with the rule.
Measures for restoring confidence in the EU's banks are "urgently needed," the document says. They should include steps to "ensure the medium-term funding of banks, in order to avoid a credit crunch and to safeguard the flow of credit to the real economy."
To contact the reporters on this story: Aaron Kirchfeld in Brussels at akirchfeld@bloomberg.net; Jim Brunsden in Brussels at jbrunsden@bloomberg.net
To contact the editor responsible for this story: James Hertling at jhertling@bloomberg.net