Emaar's Bond Yields Inverted on Demand for Sukuk: Arab Credit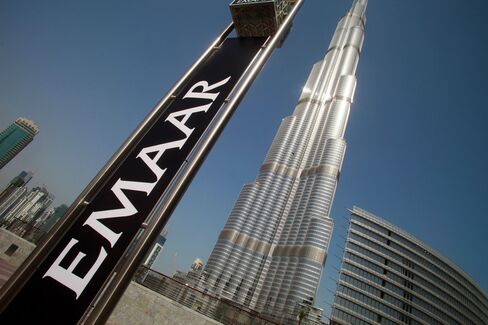 Yields on Dubai developer Emaar Properties PJSC longer-maturity bonds dropped below its shorter-dated securities in September as investors preferred Islamic bonds, which are in shorter supply.
Emaar's Islamic bond, or sukuk, due 2016 yielded 7.84 percent at 5:21 p.m. in Dubai today, while its convertible bond due 2015 was available at 8.32 percent, according to data compiled by Bloomberg. Yields on bonds of utility Dubai Electricity & Water Authority have also inverted since August, with its 2016 security trading at a yield of 5.15 percent today and its 2015 bond at 5.43 percent. Yields on bonds with shorter maturities are usually lower than on similar longer-dated paper.
"The Emaar 16s are rated while the 15s are not, which immediately excludes a lot of managers from owning the 15s," Usman Ahmed, the head of fixed income at Emirates NBD Asset Management Ltd. said by phone on Oct. 25. "Then the 16s are sukuk and the 15s are convertibles. There's a great deal of demand for sukuk assets, but not enough supply."
Islamic bond sales in the six-nation Gulf Cooperation Council have dropped 6 percent this year to $3.7 billion, according to data compiled by Bloomberg, boosting demand for existing paper. International investors are selling some of their holdings to reduce risk as European leaders struggle to solve the sovereign debt crisis.
Emaar, the developer of the world's tallest tower in Dubai, reported today a 34 percent decline in third-quarter profit to 406 million dirhams ($110 million) as revenue dropped. Profit still beat analysts' estimates.
Emaar Bonds
The property company in January sold $500 million of Islamic bonds maturing August 2016, that pay annual interest of 8.5 percent. The offer received $1.7 billion in orders, it said then. It also raised $500 million in September, 2010 from the sale of a 5-year convertible bond at a coupon of 7.5 percent.
Dubai's property market had one of the world's biggest reversals following the global credit crisis three years ago, with home prices slumping 64 percent since they peaked in mid-2008, Deutsche Bank AG estimates. Property prices and rents in the United Arab Emirates may drop a further 20 percent this year and next because of excess supply, Arqaam Capital said Oct. 19.
Average bond yields in the GCC declined 59 basis points this year to 4.71 percent yesterday, according to the HSBC/NASDAQ Dubai GCC U.S. Dollar Sukuk/Bond Index. The yield on Emaar's 2016 sukuk has dropped 67 basis points since its sale in January and on the Dubai Electric, or DEWA, 2016s by 186 basis points this year.
Islamic Banks
"The Emaar 16 is a sukuk held by Islamic banks who are more hold-to-maturity investors," Anas El Maizi, an Abu Dhabi-based fund manager at Royal Capital PJSC, said in a phone interview on Oct. 25. "The DEWA 15 is a $1 billion issue that is owned mostly by international investors" that may have faced redemptions in their funds, forcing them to sell, he said.
Bond sales in the GCC have fallen by more than half to $12.6 billion this year, according to data compiled by Bloomberg, as the Arab Spring and the sovereign debt crisis has widened spreads and pushed companies to put off issues.
Leaders of the European Union were scheduled to hold the 14th crisis summit in 21 months in Brussels yesterday to discuss Greece's second bailout, the recapitalization of banks and strengthening the 440 billion-euro ($612 billion) rescue fund.
In October 2010, DEWA sold $500 million of 6-year bonds maturing the same month in 2016, which pays a coupon of 6.375 percent. In April 2010, the state-owned monopoly sold $1 billion of 5-year securities maturing 2015 yielding 8.5 percent.
"With the DEWA bonds, the structural differences are minimal," Emirates NBD's Ahmed said. The 16-year notes are not readily available to cover short positions and that pushes yields down, he said.
Credit Brightens
Moody's Investors Service on Oct. 24 raised DEWA's credit rating one notch to Ba1, its highest non-investment grade. The upgrade, which affects $3.9 billion of debt, reflects the utility's growing revenue and cash generation.
Dubai, the second-biggest of seven states that make up the United Arab Emirates, was on the brink of a default in 2009 but in March reached a deal with creditors to alter the terms on $25 billion of debt, including delaying repayments, at its Dubai World holding company.
"With markets selling off aggressively, investors are dumping the more liquid conventional issues," which led to Emaar's sukuk outperforming the non-Islamic bonds, said Mark Watts, head of fixed-income at National Bank of Abu Dhabi PJSC, which manages $1.1 billion. "What we saw during the Arab Spring and in August is that sukuk didn't fall as aggressively as conventional paper did, although I do expect the gap to narrow."
Credit default swaps linked to Dubai, rose 221 basis points from the year's low on June 7 to 537 on Oct. 4 as the threat of a Greek default escalated. The swaps have dropped since, to 385 today. Defaults linked to Abu Dhabi increased 52 basis points from this year's low on May 2 to 137 on Oct. 4. They have fallen to 102 basis points today.