Cetes Demand Falls to 16-Month Low on Peso Swings: Mexico Credit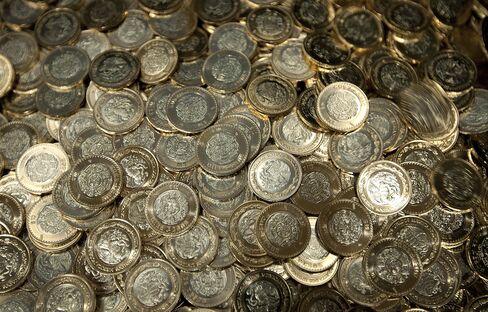 Surging volatility in the Mexican peso is driving auction demand for the country's shortest-term bills to a 16-month low.
Cetes, as the 28-day securities are known, drew bids of 18.8 billion pesos ($1.4 billion) for the 6.5 billion pesos offered in yesterday's auction, the central bank said on its website. The bid-to-cover ratio, a gauge of demand that measures the number of bids divided by bids accepted, was 2.89, the lowest since June 2010. The zero-coupon bills yielded 4.37 percent, up from 4.35 percent a week ago. Similar-maturity U.S. government debt yields 0.005 percent.
Concern Europe's debt crisis will deepen the global economic slowdown is making the peso Latin America's most volatile currency, reducing the allure of Mexico's fixed-income assets. One-month historical volatility on the peso, which measures the magnitude of the currency's fluctuations, has soared to 20.4 percent from 7.69 percent in August, according to data compiled by Bloomberg.
"Foreigners are basically out of the market at the moment and that has to do with the volatility in the peso," Alejandro Urbina, who oversees $800 million in emerging-market assets at Silva Capital Management, said in a telephone interview from Chicago. "That ends up causing a reduction in liquidity."
The yield on Mexico's benchmark peso bonds due in 2024 was little changed in the past week at 6.51 percent, according to data compiled by Bloomberg.
Peso Tumbles
The peso rose 0.9 percent to 13.4023 per U.S. dollar at the close today in Mexico City, paring its decline this year to 7.9 percent, still the worst-performing major currency after the South African rand, according to data compiled by Bloomberg.
The government sold 6.5 billion pesos of 28-day Cetes, 7.5 billion pesos of 91-day bills and 8 billion pesos of 175-day notes yesterday, the central bank said.
International investors owned 25 percent of Cetes on Oct. 17, down from 31 percent a month earlier, according to the most recent data available from the central bank.
Foreigners are cutting Cetes holdings because the peso's swings are making it harder for them to protect against currency losses, said Javier Belaunzaran, who helps manage 40 billion pesos at Interacciones Casa de Bolsa SA.
"It costs a lot to hedge your investments because volatility is defining the agenda," Belaunzaran said in a telephone interview from Mexico City. "With this volatility, where we see the exchange rate has been swerving all over the place, hedging that used to be inexpensive isn't so cheap anymore."
'Solution'
Mauro Roca, an emerging-market strategist at Deutsche Bank AG, said the peso is likely to rebound after European leaders take steps to solve the region's debt crisis. He forecasts the currency will gain as much as 8.2 percent to 12.50 per U.S. dollar at year-end from 13.5191 yesterday if a solution to the crisis is reached.
"There's going to be a solution," Roca said in a telephone interview from New York. "It's difficult to know the timing, though."
European leaders are in Brussels for the 14th crisis summit in 21 months to discuss Greece's second bailout, the recapitalization of banks and bolstering the 440 billion-euro ($611 billion) rescue fund. EU leaders said in a statement that they reached an agreement on a plan to recapitalize banks.
Default Swaps
A press official at the Mexican Finance Ministry didn't respond to a telephone call requesting comment.
The extra yield investors demand to own Mexican government dollar bonds instead of U.S. Treasuries fell 16 basis points to 217 at 4:27 p.m. in Mexico City, according to JPMorgan's EMBI Global index.
The cost to protect Mexican debt against non-payment for five years fell five basis points today to 152, according to data provider CMA, which is owned by CME Group Inc. and compiles prices quoted by dealers in the privately negotiated market. Credit-default swaps pay the buyer face value in exchange for the underlying securities or the cash equivalent if a government or company fails to adhere to its debt agreements.
Yields on Mexican futures contracts for the 28-day TIIE interbank rate due in December rose two basis points to 4.68 percent today, indicating traders expect the central bank to cut borrowing costs that month by 25 basis points from a record low 4.5 percent to shore up growth.
'Global Clouds'
The economic expansion will slow to 3.7 percent this year from 5.4 percent in 2010, according to the median prediction of 21 analysts in an Oct. 19 survey by Citigroup Inc.'s Banamex unit.
The peso will keep falling amid concern European leaders are failing to stem the debt crisis, said Aryam Vazquez, an emerging-markets economist at Wells Fargo & Co.
"That could feed into additional weakness in the peso and that will certainly undermine the appeal of the Cetes," Vazquez said in a telephone interview from Harrington Park, New Jersey. "Demand will remain fairly weak as long as these global clouds remain above us."
Before it's here, it's on the Bloomberg Terminal.
LEARN MORE