Boeing Tops Earnings Estimate, Pegs 787 Profit to 1,100 Jets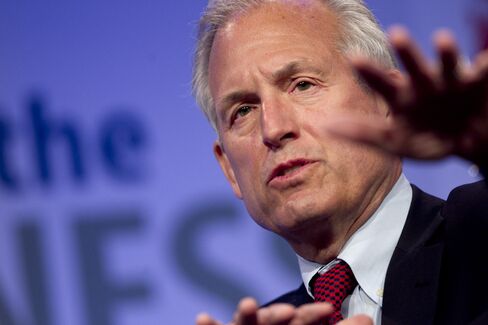 Oct. 26 (Bloomberg) -- Boeing Co. topped profit estimates for the quarter when it delivered the first 787 Dreamliner and said the new model's production costs will be spread over 1,100 planes, matching analysts' projections.
Third-quarter earnings of $1.46 a share beat the $1.10 average of analysts' estimates in a Bloomberg survey, after Boeing boosted productivity and delivered more planes and military equipment with higher profit margins. The company also raised its full-year forecast, according to a statement today.
"The Boeing bashers, who have been vocal into the quarter, will be disappointed," wrote Rob Stallard, an analyst at RBC Capital Markets in New York with an "outperform" rating on the company's stock. "This was a good operating performance" at both the commercial and defense businesses, he said.
The Chicago-based planemaker uses a practice known as program accounting to determine average profitability of a new model rather than posting a loss on early output because of high startup expenses. All Nippon Airways Co. made the first 787 passenger flight today, a month after receiving the first plane three years later than expected.
"This was a significant quarter for us on many fronts, one in which we completed development of two new commercial aircraft," the 787 and the freighter version of the 747-8 jumbo jet, and launched an upgrade of the single-aisle 737, Chief Executive Officer Jim McNerney said on an earnings call.
Boeing Shares
Boeing climbed 4.5 percent to $66.56 at 4:15 p.m. in New York trading, the biggest gain since Aug. 12.
Boeing's third-quarter net income rose 31 percent to $1.1 billion from $837 million, or $1.12 a share, a year earlier. Sales gained 4.5 percent to $17.7 billion.
The company said 2011 earnings will be $4.30 to $4.40 a share, higher than the July forecast of $3.90 to $4.10. The top end of the sales forecast was lowered $1 billion to $70 billion.
The delivery target for this year, previously set between 485 and 495 planes, was lowered to about 480 after Boeing said it won't be able to hand over as many of the 787s and 747-8s as planned. Just 15 to 20 of the jets will be delivered to airlines by yearend, with 747-8s making up two-thirds of that, compared with the July target of 25 to 30 of the two models combined.
Airplane Deliveries
Boeing, which is boosting output to record levels as airlines seek more fuel-efficient jets, delivered three more aircraft last quarter than a year ago. Those included two more 767s and the 787. Development has begun on an upgraded version of the single-aisle 737 with new engines planned for 2017.
The quantity of 787s over which costs are spread is based on the number of initial sales, airlines' options, orders Boeing is confident of winning soon and the planned production rate. A Bloomberg survey indicated the block would be about 1,100, the average estimate from 18 analysts and almost triple the figure used for the planemaker's last four new models.
There had been "significant concern" regarding the block-size number, Noah Poponak with Goldman Sachs Group Inc. wrote in a note to clients today.
Boeing was able to forecast further out than with prior new models because the 787 is the company's fastest-selling new jet ever, with orders for about 800.
Dreamliner production is sold out through 2019, and sales will rebound once delivery positions become available, McNerney said on the call. The company sees a market for 787-sized planes of 5,000 jets over the next 20 years, said Chief Financial Officer James Bell.
Boeing analyzes its programs' accounting quantities each quarter and routinely increases them.
GE Engines
McNerney said flight tests are 95 percent complete and "progressing well" on the first 787 with engines built by General Electric Co. The planes that have entered service so far have been powered by engines from Rolls-Royce Holdings Plc.
Production of the 787 is rising to 2.5 jets a month this week, from two, and will increase to 10 a month by the end of 2013, McNerney said.
The company pinned the 787's deferred production differential, the cost overrun on early jets that will be spread over the program block, at $9.7 billion. Carter Copeland, an analyst with Barclays Capital in New York, estimated that figure will rise in a few years to $15 billion to $20 billion, compared with a peak of $2.5 billion for the 777 in the mid-1990s.
Learning Curve
Once production has stabilized, in late 2014 or early 2015, costs will begin to drop and the planes will start bringing in more than it costs to build them, Bell said. The learning curve on the 787 will drop more steeply than usual over the first 100 airplanes, as the company works through initial problems, and will reach a level consistent with that of the 777, he said.
The 787-related inventory rose to about $18 billion, from $16.2 billion three months earlier. The figures include about 40 planes Boeing has already built and is reworking to make sure they meet certification standards. McNerney said rework will likely continue through the first 50 to 60 jets built.
Total commercial sales added 8.8 percent to $9.51 billion as the unit's profit margin narrowed to 11.4 percent. Revenue in the defense unit was little changed at $8.2 billion, and profit rose 20 percent amid a better military-aircraft delivery mix.
Teams are "aggressively pursuing all opportunities" to reduce overhead costs on defense projects as the Pentagon looks for ways to cut its budget, McNerney said.
To contact the reporter on this story: Susanna Ray in Seattle at sray7@bloomberg.net
To contact the editor responsible for this story: Ed Dufner at edufner@bloomberg.net