Australia Consumer Price Rise Slows to 0.6%, Currency Falls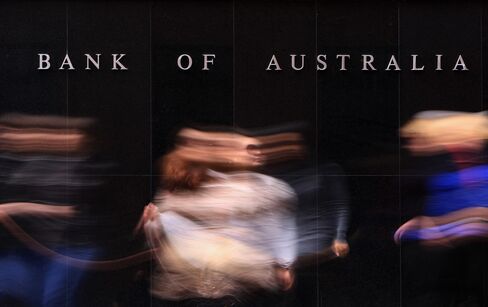 Australian inflation slowed last quarter, sending the nation's currency lower as traders bet the central bank will cut interest rates next week.
The consumer price index rose 0.6 percent from the previous three months, when it gained 0.9 percent, as the costs of food and health declined, the Bureau of Statistics said in Sydney today. That matched the median estimate in a Bloomberg News survey of 21 economists. Core measures closely watched by the central bank showed gains that were slower than economists predicted.
"These are extraordinarily low numbers," said Bill Evans, chief economist at Sydney-based Westpac Banking Corp., in an interview today on Bloomberg Television, who predicted the nation's currency would fall below parity with the U.S. dollar before year end. "There's a lot of softness in this economy."
Three-year bond yields fell the most in more than a month as investors wagered Reserve Bank Governor Glenn Stevens will reduce the benchmark borrowing costs from a developed-world high of 4.75 percent Nov. 1. Slower demand for credit and discounting by grocery retailers have tempered prices gains, while the European debt crisis has dimmed prospects for growth around the world.
The Australian dollar fell to $1.0376 as of 12:03 p.m. in Sydney, from $1.0430 just before the announcement. Government bonds surged, with the yield on the three-year note dropping 19 basis points to 3.73 percent, the biggest decline in more than a month.
Rate Outlook
The RBA will lower rates next week and take 122 basis points off the benchmark in the coming 12 months, according to Credit Suisse Group AG indexes that use swap trades, reflecting the biggest increase in rate-cut bets in more than two months. A rate reduction would be Stevens's first since April 2009.
Consumer prices were 3.5 percent higher than a year earlier, after a 3.6 percent rise the previous quarter, today's report showed.
Inflation measures that exclude the largest price increases and declines showed slower gains than economists forecast.
Core inflation, as measured by the central bank's so-called trimmed mean gauge, rose 0.3 percent from the previous quarter and 2.3 percent from a year earlier. Economists forecast a quarter-to-quarter gain of 0.6 percent and annual rise of 2.7 percent.
Core Inflation
The weighted-median gauge of inflation advanced 0.3 percent in the third quarter, the lowest rate of increase since 2000, for an annual increase of 2.6 percent. Economists forecast a quarterly rise of 0.6 percent and annual increase of 2.7 percent.
The statistics bureau also released a seasonally adjusted consumer price index that showed a 0.4 percent increase last quarter, for an annual rise of 3.5 percent.
"The pretty low print for the third quarter certainly makes the argument for a rate cut more compelling," said Stephen Walters, JPMorgan Chase & Co.'s chief economist in Australia. "I don't think it's a done deal for next week, but markets are now fully pricing it."
The Australian currency depreciated almost 10 percent last quarter as employment growth slowed and global risks increased. It reached $1.1081 on July 27, the highest level since it was freely floated in 1983.
The price of crude oil also plunged 17 percent in New York trading in the third quarter, touching $75.71 on Aug. 9, the lowest level in almost a year. Stocks around the world dropped last quarter, Treasuries rallied and gold surged to a record, after Standard & Poor's Aug. 5 reduction of the U.S.'s credit rating fueled concern of an economic slowdown.
Food Costs
The cost of food, which at 16.8 percent is the second-biggest component in the consumer price basket, dropped 0.2 percent as retailers such as Wesfarmers Ltd. reduced the price for staples like bread, milk and eggs. The category also benefitted from resumed supply from Queensland after floods and storms in the northeastern state wrecked crops and sent the price of bananas soaring 138 percent in the second quarter.
Costs of housing, which includes rent, home purchases and utilities, and at 22.3 percent is the biggest component of the index, gained 1.9 percent last quarter, today's report showed.
Apartment rents climbed 4.3 percent in August from a year ago, while rents for houses gained 5 percent, according to real estate researcher RP Data. The power bill for an average three-person household in New South Wales, Australia's most populous state, would have risen about 16 percent from July 1, based on price changes brought in by EnergyAustralia and government estimates of electricity usage.
Data Changes
In today's release, the Australia Bureau of Statistics also changed the weightings it gives for the components of the index. It raised the contribution of food and alcohol, housing, health and recreation, while lowering the weightings of furnishings and household equipment, transportation, and insurance and financial services.
"It does suggest that inflation is not going outside the Reserve Bank's target band," of 2 percent to 3 percent, said Brian Redican, senior economist in Sydney at Macquarie Group Ltd., Australia's biggest investment bank. "There's a very good chance that the Reserve bank will actually cut interest rates at its November board meeting."