Home Prices in 20 U.S. Cities Probably Dropped at a Slower Pace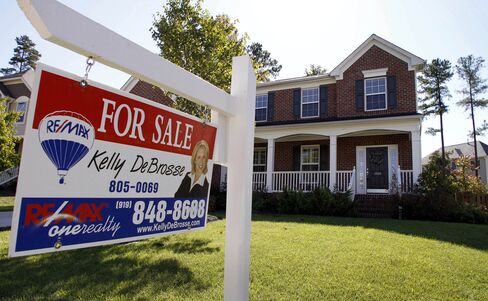 Home prices in 20 U.S. cities probably fell at a slower pace and consumer confidence hovered near a two-year low, highlighting the obstacles facing the recovery in its third year, economists said before reports today.
The S&P/Case-Shiller index of property values in 20 cities dropped 3.5 percent in August from the same month in 2010 after decreasing 4.1 percent in the year ended July, according to the median forecast of 29 economists surveyed by Bloomberg News. Confidence rose to 46 this month from 45.4 in September, separate figures may show.
Recovering the 31 percent plunge in home prices from their 2006 peak will probably be years in the making as foreclosures throw more properties on the market and sales flag. Federal Reserve policy makers like William Dudley are among those that believe bolstering housing is among the "most pressing issues" facing the central bank.
"The small improvement in home prices is a positive, though it hardly changes the story that the housing market will take years to clean up," said Jennifer Lee, an economist at BMO Capital Markets in Toronto. "Consumer confidence will remain quite fragile as there are still many negatives out there."
The S&P/Case-Shiller index, based on a three-month average, is due at 9 a.m. New York time. Survey estimates ranged from declines of 3 percent to 4.3 percent.
The New York-based Conference Board's consumer confidence gauge is due at 10 a.m. The Bloomberg survey median was based on 75 estimates that ranged from 42.5 to 52. The measure reached a two-year low of 45.2 in August.
Little Optimism
Other surveys underscore the lack of optimism. The Bloomberg Consumer Comfort Index's monthly measure of Americans' confidence in the economic outlook slumped in October to the lowest level since the recession. The Thomson Reuters/University of Michigan sentiment gauge also fell this month from September.
The Case-Shiller report may show home prices, after adjusting for seasonal variations, rose 0.1 percent in August from the prior month, according to the Bloomberg survey.
The year-over-year gauges provide better indications of trends in prices, the group has said. The panel includes Karl Case and Robert Shiller, the economists who created the index.
Falling home prices pose "a serious impediment to a stronger economic recovery," Dudley, president of the Federal Reserve Bank of New York, said in remarks at Fordham University in the Bronx yesterday. He predicted "continued modest growth" for the U.S.
Dudley's Concern
"Continued house price declines could lead to even more defaults, foreclosures and distress sales, undermining wealth, confidence and spending," Dudley said. "Breaking this vicious cycle is one of the most pressing issues facing policy makers."
The housing market is yet to gain speed more than two years after the recession ended in June 2009. Sales of previously owned homes fell 3 percent in September from the prior month, according to the National Association of Realtors.
While Commerce Department data showed builders began work on more new houses last month, the gain was led by a surge in building of apartments and other multifamily dwellings as more Americans became renters.
The drop in home values has pushed almost a quarter of U.S. mortgage borrowers underwater, meaning their debt is more than their homes are worth, according to CoreLogic Inc., a real estate data company in Santa Ana, California.
Investors remain cautious about housing stocks. The Standard & Poor's Supercomposite Homebuilding index has lost 5.2 percent in the twelve months to yesterday, while the broader S&P 500 gauge increased 6 percent.
'Weak' Demand
Builders FirstSource Inc., a Dallas-based maker of building products such as lumber, doors and windows sold to construction companies, is among businesses noting uneven progress in the industry.
"Housing demand remains weak due to the struggling economy, high unemployment and the limited availability of mortgage financing," Floyd Sherman, chairman and chief executive officer, said on an Oct. 21 conference call with analysts. "We're really seeing a mixed bag of improvements" across markets.
                    Bloomberg Survey

======================================================
                         Case Shil  Case Shil Consumer
                           Monthly  Monthly     Conf
                              MOM%     YOY%    Index
======================================================

Date of Release              10/25    10/25    10/25
Observation Period            Aug.     Aug.     Oct.
------------------------------------------------------
Median                        0.1%    -3.5%     46.0
Average                       0.1%    -3.6%     46.3
High Forecast                 0.6%    -3.0%     52.0
Low Forecast                 -0.2%    -4.3%     42.5
Number of Participants          23       29       75
Previous                      0.1%    -4.1%     45.4
------------------------------------------------------
4CAST                         ---     -3.4%     49.0
ABN Amro                      0.2%     ---      47.0
Action Economics              0.6%     ---      47.0
Aletti Gestielle              ---      ---      45.0
Ameriprise Financial          ---      ---      47.0
Banesto                       ---     -3.7%     46.5
Bank of Tokyo- Mitsubishi     ---      ---      48.0
Barclays Capital              0.1%    -3.4%     45.0
Bayerische Landesbank         ---     -3.7%     46.5
BBVA                          ---     -4.3%     49.0
BMO Capital Markets           ---     -3.5%     47.0
BNP Paribas                   ---      ---      46.0
BofA Merrill Lynch            ---     -3.6%     46.5
Briefing.com                  ---     -4.0%     46.0
Capital Economics            -0.2%    -3.7%     47.0
Citi                          ---      ---      45.5
ClearView Economics          -0.2%     ---      47.0
Comerica                      ---      ---      45.4
Commerzbank AG                ---     -3.5%     49.0
Credit Agricole CIB           ---      ---      45.0
Credit Suisse                 0.0%    -3.5%     50.0
Daiwa Securities America      ---      ---      45.0
Danske Bank                   ---      ---      47.0
DekaBank                      ---      ---      44.0
Desjardins Group              ---     -3.5%     47.0
Deutsche Bank Securities      0.1%     ---      48.0
Deutsche Postbank AG          ---      ---      46.0
DZ Bank                       ---     -3.5%     45.8
Exane                         ---      ---      45.5
First Trust Advisors          ---      ---      46.5
Goldman, Sachs & Co.          0.2%     ---      48.0
Helaba                        ---      ---      46.0
High Frequency Economics     -0.2%     ---      52.0
HSBC Markets                  0.1%    -3.4%     ---
Hugh Johnson Advisors         ---      ---      45.5
IDEAglobal                    ---     -3.8%     47.0
IHS Global Insight            ---     -3.5%     44.0
Informa Global Markets        ---      ---      45.5
ING Financial Markets         ---      ---      47.0
Intesa-SanPaulo               ---      ---      46.5
J.P. Morgan Chase             ---     -3.4%     45.0
Janney Montgomery Scott       0.2%    -3.9%     47.6
Jefferies & Co.               ---      ---      49.0
Landesbank Berlin             ---      ---      43.0
Landesbank BW                 ---      ---      46.5
Manulife Asset Management     ---      ---      45.0
Maria Fiorini Ramirez         ---      ---      46.0
Market Securities             ---     -3.5%     ---
MF Global                     0.0%    -3.5%     45.5
Moody's Analytics             ---      ---      47.0
Morgan Stanley & Co.          ---      ---      46.0
Natixis                       ---     -3.6%     47.0
Newedge                       ---      ---      46.0
Nomura Securities             ---     -3.8%     45.8
Nord/LB                       ---      ---      46.5
Parthenon Group               0.0%     ---      45.5
Pierian Capital               0.2%    -3.7%     45.5
Pierpont Securities           ---      ---      45.0
PineBridge Investments        0.0%     ---      45.0
PNC Bank                      ---      ---      47.5
Raiffeisenbank International  ---      ---      46.0
Raymond James                 0.1%    -3.4%     46.0
RBC Capital Markets           ---      ---      44.3
RBS Securities                ---      ---      45.0
Scotia Capital                ---      ---      47.0
SMBC Nikko Securities        -0.1%     ---      48.0
Societe Generale             -0.2%    -3.7%     42.5
Standard Chartered            ---     -3.4%     46.0
Stone & McCarthy Research     ---      ---      46.0
TD Securities                 0.3%    -3.0%     50.0
UBS                           0.0%     ---      44.0
Union Investment              ---      ---      46.5
University of Maryland        0.4%    -3.8%     46.8
Wells Fargo & Co.             ---      ---      47.2
WestLB AG                     0.2%    -3.4%     46.0
Westpac Banking Co.           ---      ---      43.0
Wrightson ICAP                0.2%     ---      46.0
======================================================