DuPont Profit Tops Analysts' Estimates; 2011 Forecast Raised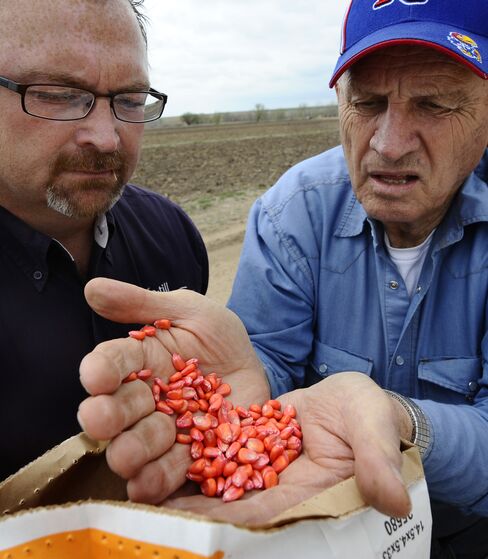 DuPont Co., the most valuable U.S. chemical maker, posted higher third-quarter profit and sales than analysts estimated as prices surged for titanium-dioxide pigment. The company raised its full-year forecast.
Net income climbed 23 percent to $452 million, or 48 cents a share, from $367 million, or 40 cents, a year earlier, Wilmington, Delaware-based DuPont said today in a statement. Profit excluding costs related to the acquisition of Danisco A/S, a seed license and tree damage caused by Imperilis herbicide was 69 cents, surpassing the 56-cent average of 14 estimates compiled by Bloomberg. Sales advanced 32 percent to $9.24 billion, beating the $8.88 billion average estimate.
Full-year earnings excluding some costs will be $3.97 to $4.05 a share, compared with a July prediction of $3.90 to $4.05, DuPont said.
DuPont has surpassed expectations in each of the 11 quarters Ellen Kullman has been chief executive officer. Profit more than doubled in the performance-chemicals unit, the world's biggest maker of titanium dioxide, which is also known by its chemical formula TiO2. Prices for the white pigment used to add opacity to paints and plastic have climbed 38 percent in a year amid globally tight supplies, according to ICIS data.
"TiO2 did really well," Mark Gulley, a New York-based analyst at Ticonderoga Securities, said today by phone. "It exceeded my expectations."
Global Growth
DuPont fell 2.5 percent to close at $44.94 in New York. The shares dropped 9.9 percent this year, giving the company a market capitalization of $41.9 billion.
Global economic growth will slow in the fourth quarter and customers will use up some of their inventories, DuPont said. Demand for TiO2 will "pause" in the fourth quarter, a seasonally slow period for paint ingredients, said Karen Fletcher, a DuPont spokeswoman.
DuPont raised third-quarter product prices an average of 15 percent, the biggest increase in at least a decade, according to a slide presentation on the company website. Sales volumes increased 1 percent.
The loss in the agriculture unit narrowed to $69 million from $191 million because of higher seed and chemical sales in Latin America, DuPont said. Fourth-quarter agriculture results will reflect a shift of about $80 million of sales into the third quarter, reducing earnings by about 5 cents a share, the company said. Both quarters are seasonally weak because farmers in the northern hemisphere have finished planting.
Expanding Production
Kullman is expanding production of TiO2 pigment, Kevlar, solar materials and engineered crop seeds to boost per-share earnings by about 12 percent a year through 2015. DuPont in June paid 33.4 billion kroner ($6.25 billion) to acquire Copenhagen-based Danisco, the world's biggest producer of food additives and the second-largest maker of industrial enzymes, which are used to make biofuels.
Profit at the electronics unit fell 21 percent because of lower demand from makers of solar panels, plasma displays and packaging, DuPont said. Electronics demand will fall "slightly" in the fourth quarter as solar panel sales won't recover occur until next year, the company said.
DuPont's coatings unit, the world's biggest maker of car paint, saw profit rise 13 percent on demand for heavy duty trucks in North America.
The nutrition and health unit, which includes Danisco's food ingredients business, posted pretax profit of $55 million. The industrial biosciences unit, which includes Danisco's enzymes business, reported earnings of $34 million.
Before it's here, it's on the Bloomberg Terminal.
LEARN MORE