Danish Banks Demand End to Short-Sale Ban on Liquidity Drain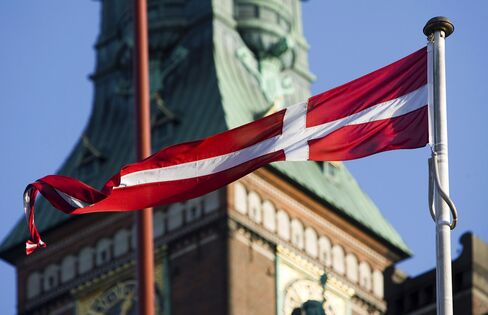 Denmark's banks are demanding an end to a short-sale ban on their shares that's been in place since the end of 2008, arguing the measure has depleted liquidity and scared off equity investors.
"Our current situation is far from desirable," Mick Sayed, a director at the Danish Bankers Association in Copenhagen, said in an interview. "We have a ban in Denmark that is quite unique and quite limited in scope. It has a negative effect on the liquidity of the entire Danish market."
While banks initially welcomed the short-sale ban, the industry has been urging legislators to lift it since the end of 2009, after it became apparent that equity investors were shunning the Danish market, Sayed said. Lenders in the Nordic country are also struggling to emerge from a debt funding crisis after two failures this year triggered senior creditor losses.
"The ban reduces investors' freedom," Sayed said. It represents a "disincentive to invest in Denmark. If you're looking to have a diversified portfolio, why choose Denmark, where trading options and strategies are limited, when you can just move your money to Sweden?"
The government has signaled that Denmark's ban on shorting financial stocks will stay in place until European Union rules designed to restrict speculative trading become effective in about a year's time.
Systemic Risk
"We are of the opinion that lifting the ban now is a bad signal to send the market, because then we don't have anything," said Anne Bruun, deputy director of the securities division at the Financial Supervisory Authority. "We want to protect businesses because short selling can potentially turn into systemic risk, so it's not good to be without rules."
The EU reached a deal on Oct. 18 paving the way for curbs on so-called naked short-selling as part of a draft law on financial markets. The deal also includes an optional ban on trading in naked credit default swaps on sovereign debt that would apply unless investors hold the underlying government bonds or securities that track it.
The agreement still requires formal approval by the EU's 27 national governments and the European Parliament. The parliament is scheduled to vote on it next month.
Danish financial stocks have slumped 31 percent this year, compared with a 23 percent drop in all stocks listed in the Nordic country and a 17 percent decline in Swedish financials, according to Bloomberg data. The 46-member Bloomberg index of European financials has lost 30 percent in the period.
Stock Slump
Danish financial stocks have suffered in part as the country's banks struggle to emerge from a crisis triggered by Europe's toughest resolution laws, in place since October last year. The February failure of Amagerbanken A/S marked the first senior creditor losses in the EU within a resolution framework. Lawmakers have since passed a consolidation bill to help lenders sidestep Denmark's bail-in bill.
The FSA is under fire from Denmark's auditor general for underestimating the risks facing Amagerbanken, a miscalculation that cost taxpayers $392 million, the Borsen newspaper reported today.
Since Amagerbanken collapsed, most of Denmark's banks have had to shelve their debt funding plans. Sydbank A/S, the country's third-largest listed lender, said yesterday a debt sale originally planned for May won't be possible until calm is restored to funding markets.
Funding Solutions
Spar Nord Bank A/S, the fourth-biggest listed bank in Denmark, said today a decision to divest its leasing business "brings us a big step towards solving our funding challenges," in its quarterly report. The bank's third-quarter net income fell 34 percent to 52 million kroner ($10 million) from a year earlier.
The daily volume of trading in Swedish financial stocks, which have a total market capitalization of 914 billion kronor ($140 billion), has ranged from about 30 million to 52 million this month. Trading in Danish financial shares, which have a market capitalization of 173 billion kroner, has ranged from about 2.2 million to 6.3 million shares.
Anders Dam, the chief executive officer at Denmark's second-largest listed lender, Jyske Bank A/S, said the Nordic country's ban is useless.
"I am against any restrictions on the capital markets," he said in an interview. "I don't think one can prevent negative price developments, even if you forbid short-selling."
His bank's shares have slumped 42 percent this year. Danske Bank A/S, the biggest Danish lender, has seen its stock price plunge 44 percent.
Investor Concern
"Some foreign investors are concerned about whether Danish banks are correctly priced as long as there is a short-selling ban," said Claus Groen Therp, an analyst at SEB AB in Copenhagen.
According to Sayed at the Danish Bankers Association, "it was supposed to be a temporary ban only until the markets normalized." The 2008 crisis was triggered by the failure of Lehman Brothers Holdings Inc., which sent shock waves through international banking markets. The current crisis was sparked by Europe's sovereign debt woes, and isn't having the same impact on bank shares, he said.
France, Spain, Belgium and Italy in August imposed curbs on the short selling of bank stocks similar to Denmark's ban. Financial stocks in the four euro-area countries have displayed similar moves to bank shares in European countries with no such restrictions, according to Instinet Inc., which earlier this month concluded short-sale bans do little to stem volatility or reverse losses.
"Studies in the U.S. and elsewhere have clearly shown that it has a negative effect on liquidity and spreads become bigger," Bjoern Sibbern, chief executive office at the Copenhagen Nasdaq OMX stock exchange, said in an interview. "It's good to have a chance to short the market. It's a way to prevent bubbles."
Denmark's main stock exchange is looking forward to switching to EU harmonized rules he said. "We want transparency. The EU regulations look sensible."