Bank of China Beats HSBC as Dim Sum Market Opened: China Credit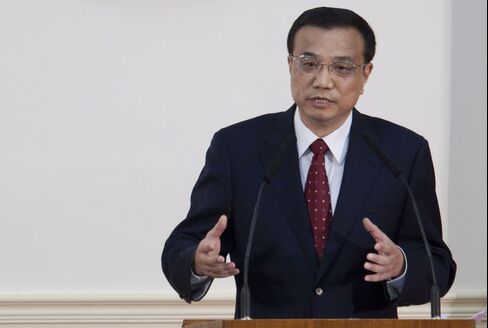 Bank of China Ltd. is overtaking HSBC Holdings Plc. to become the top underwriter of yuan bonds in Hong Kong this month after Vice Premier Li Keqiang allowed domestic companies to tap the city's lower borrowing costs.
The Beijing-based lender managed three Dim Sum bond sales valued at 2.7 billion yuan ($424 million) in October, for a 31 percent share of all issuance, beating HSBC, the biggest underwriter in the year, with a 14 percent stake, data compiled by Bloomberg show. Bank of China's deals include issues for the Hong Kong units of China National Petroleum Corp., the country's biggest oil company, and Sinotrans Shipping Inc., the third-largest shipper.
Global investors, which have limited access to bonds in the rest of China, will soon be offered the first Dim Sum debt from local companies as the nation seeks to bolster Hong Kong's status as a financial hub. Baosteel Group Corp., China's second-largest steelmaker, won cabinet approval on Oct. 20 to raise 6.5 billion yuan. The average yield on the debt rose to a record 3.69 percent this month, less than the 5.35 percent for top-rated three-year corporate bonds in Shanghai and the lowest local borrowing costs among the biggest emerging markets.
"Main lenders to Chinese companies will most likely become the underwriters of their Dim Sum bonds," said Shi Lei, the head of fixed-income research in Beijing at Ping An Securities Co., a unit of the country's second-biggest insurer. "The Dim Sum bond market is currently marked by strong demand and it's a seller's market. Institutions which previously won deals for their familiarity with local investors will be less advantaged than those who can bring in new issuers."
Tesco, Volkswagen
Dim Sum issuance jumped to 131 billion yuan this year from 35.7 billion yuan in 2010, data compiled by Bloomberg show. HSBC managed 21.6 percent of sales, including issues by U.K. retailer Tesco Plc and Germany's Volkswagen AG, and Standard Chartered Plc. comes in second in the year with a 12 percent share. Deutsche Bank AG has 9 percent and Royal Bank of Scotland Group Plc. 7.7 percent.
"We are still the top underwriter of dim sum bonds this year," said Gareth Hewett, a spokesman for HSBC in Hong Kong, adding that the bank is committed to developing the market and promoting use of yuan for international trade and finance.
The top underwriter last year, Bank of China is fifth in 2011, arranging 6.7 percent of Dim Sum sales, while Industrial & Commercial Bank of China and Agricultural Bank of China Ltd. are also in the top 10.
"Chinese banks and companies are keen to tap the Dim Sum bond market as credit is tight at home," said Nathan Chow, an economist at DBS Bank (Hong Kong) Ltd., the local unit of Singapore's biggest lender. "They are lining up to sell and that might drive yields up, but the costs are still significantly lower than onshore."
'Natural Advantages'
Vice Premier Li pledged in August that mainland banks and non-financial companies will be allowed to sell up to 50 billion yuan of bonds in Hong Kong this year.
The previous system of selling through offshore vehicles limits investors' recourse to the parent company's assets in the event of a default, said Kyungwon Lee, partner for Asian capital markets at Shearman & Sterling in Hong Kong, which provided legal advice on China National Petroleum's sale. Issuance sizes will be larger with Chinese companies directly selling the debt, DBS's Chow said.
"Chinese banks enjoy some natural advantages as they have strong lending relationships with companies in China," said William Liu, Hong Kong-based partner at law firm Linklaters LLP. "These banks, with much wider branch networks in China than foreign rivals, are also closer to local branches of government departments."
Rising Yields
The average Dim Sum bond yield has risen 55 basis points, or 0.55 percentage point, this month, up 178 basis points from a record low of 1.91 percent in February, according to an index compiled by HSBC, as expectations the yuan will appreciate abated. India's top-rated three-year rupee-denominated corporate bonds yielded 9.6 percent yesterday.
The yuan slid 2.1 percent versus the dollar in Hong Kong in September, the biggest loss since trading commenced in the city in July 2010, amid concern China will stem the currency's gains to protect exports as the global economy slows. It has rebounded this month as Premier Wen Jiabao pledged on Oct. 22 to continue efforts to curb inflation.
The yuan gained 0.1 percent to 6.3530 per dollar in Shanghai as of 2:39 p.m., while the currency in Hong Kong was 0.7 percent weaker than the onshore rate.
Yuan to Strengthen
The yuan will gain 3 percent to 5 percent annually and investors should favor Dim Sum debt sold by state-backed companies, Steve Wang, head of fixed-income research at Bank of China International, a unit of China's third-biggest lender by market value, said yesterday at the Bloomberg Link China Conference in Hong Kong.
Prudence Investment Management (Hong Kong) Ltd., which started its second Dim Sum bond fund in July, is boosting holdings of the debt, betting on yuan gains of as much as 5 percent as the Chinese economy avoids a slump, Yuan Wang, a managing partner, said at the conference. Investors probably oversold high-yield Dim Sum bonds this month, he said.
"China is not heading for a hard landing," Wang said. "It's an interesting time and we are buying."
The yuan is Asia's best-performing currency this year with a 3.8 percent gain, compared with the Indian rupee's 9.7 percent plunge and a 3.2 percent loss in Taiwan's dollar.
Inflation Slowing
Yields have also been rising as China raised interest rates five times in less than a year to curb inflation that's exceeded the government's annual 4 percent target in every month in 2011. Bank lending dropped to the least since 2009 last month, increasing the appeal of the market outside mainland China.
China's inflation rate was 6.1 percent in September, down from 6.2 percent the previous month, while the economy expanded 9.1 percent in the third quarter, the least since 2009, according to government data.
The average yield on China's sovereign yuan-denominated debt in Hong Kong is 1.48 percent for maturities of one to three years, compared with 0.70 percent a month ago, based on a Bank of China bond index. Three-year bonds in Shanghai yielded 3.54 percent yesterday, Chinabond data show.
The cost of five-year credit-default swaps on China's sovereign debt has dropped 63 basis point this month to 137 basis points yesterday, according to CMA, which is owned by CME Group Inc. and compiles prices quoted by dealers in the privately negotiated market. The contracts pay the buyer face value in exchange for the underlying securities or the cash equivalent should a borrower renege on their debt and are also used to speculate on bond prices.
Tsinlien Hires Banks
Tsinlien Group Co. hired seven banks including Citic Securities Co. and Wing Lung Bank to help arrange a Dim Sum bond sale in Hong Kong, a person familiar with the matter said on Oct. 24, declining to be identified as the details are private. Tsinlien, set up by the Tianjin City government and registered in Hong Kong, is the major shareholder in Hong Kong-listed Tianjin Development Holdings Ltd., Tianjin Port Development Holdings Ltd. and Dynasty Fine Wines Group Ltd.
China National Petroleum sold 2.5 billion yuan of two-year bonds at 2.55 percent, and 500 million yuan of three-year notes at 2.95 percent on Oct. 19, data compiled by Bloomberg show. That compares with the 5.8 percent yield on the 1 billion yuan of three-year bonds the company sold in China last month.
'More Aggressive'
Sinotrans Shipping sold 2.6 billion yuan of three-year debt denominated in yuan on Oct. 3 at 3.3 percent, almost half of the 5.99 percent offered on Sinotrans Ltd. bonds of the same tenor in China.
In China, local lenders dominate bond underwriting with UBS AG the biggest arranger among foreign financial institutions at No. 14, according to Bloomberg data. Guotai Junan Securities Co. and Ping An Insurance Co. are the top two managers.
"China's state-owned corporates and commercial banks will crowd the market in the fourth quarter," Linklaters' Liu said. "Chinese banks are more aggressive in securing Dim Sum bond deals from these companies. Investors also prefer names with higher ratings as the market is so fragile."