UPS Puts Reach Three-Year High Before Earnings Report: Options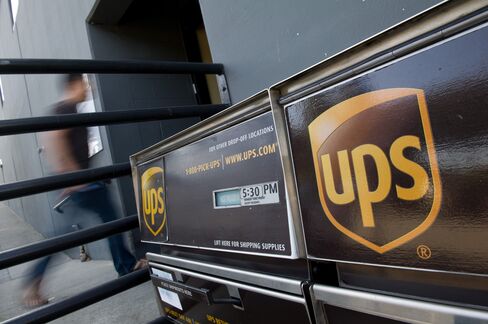 Oct. 24 (Bloomberg) -- United Parcel Service Inc. traders are boosting the price of bearish options to the highest level since 2008 before the world's largest package-delivery company reports earnings tomorrow.
The cost of puts to sell Atlanta-based UPS is 57 percent higher than calls to buy, according to data compiled by Bloomberg. The price relationship known as skew has widened 20 percent since Oct. 4, the data show. For FedEx Corp., the company's biggest competitor, the gap in option prices increased 8.6 percent during the period, the data show.
Protecting against losses in UPS shares is becoming more expensive after they climbed 13 percent since Oct. 3. While the company has exceeded analyst estimates with its last nine quarterly reports, Chief Financial Officer Kurt Kuehn said last month that U.S. economic growth may be below average through the end of next year.
"People are using options to hedge their bets because they're worried that UPS can come out with a bad surprise if the consumer decided to go back to sleep," Frank Ingarra, who helps manage the Select Growth Fund at Greenwich, Connecticut-based NorthCoast Asset Management LLC, said in a telephone interview on Oct. 21. His firm oversees $1.4 billion.
UPS profit probably climbed 13 percent from a year ago to $1.05 a share in the third quarter, according to the average of 22 analyst estimates in a Bloomberg survey. The company said last month that adjusted 2011 earnings would be $4.15 to $4.40 a share, representing growth of 20 percent over last year, based on the midpoint of the range.
Economy View
UPS expects "subpar growth" in the world's largest economy until the end of next year, Kuehn said on Sept. 15 at an investor conference in Louisville, Kentucky. While no improvement is in sight now, the economy is "not getting worse," he said.
"How they report will give an important clue as to the U.S. economic picture, and to a certain extent worldwide," Christopher Rich, head options strategist at JonesTrading Institutional Services LLC, said in an Oct. 21 phone interview. "Market makers and traders aren't willing to sell the puts unless they get very well compensated."
Susan Rosenberg, a spokeswoman for UPS in Atlanta, declined to comment.
UPS shares will probably rise or fall 1.9 percent in the day after it reports its results, compared with an average move of 2.2 percent since 2009, according to data compiled by Bloomberg on options prices with different exercise dates. Implied volatility for UPS contracts expiring in three months tumbled 32 percent from its Oct. 4 high.
Volatility Declines
The VIX, as the Chicago Board Options Exchange Volatility Index is known, dropped 23 percent over the period. It fell 10 percent to 31.32 on Oct. 21, and declined 6.6 percent today to 29.26.
While the price of puts is at a three-year high relative to calls, ownership of bullish contracts has increased. Calls that are exercisable at $75 and $80 in January have the biggest open interest among all UPS options, and November $72.50 calls added 1,480 contracts in the past week, the most among all options, to 7,324, Bloomberg data show. The number of outstanding calls reached a one-year high of 304,461 on Oct. 20, while puts stood at a one-year high of 262,990 on Oct. 19.
"The open interest is looking for an upside event, and the steepness probably shows there's downside hedging going on as well," Henry Schwartz, president of Trade Alert LLC, a New York-based provider of options-market data and analytics, said in an Oct. 21 telephone interview.
International Deliveries
While U.S. package volume has been little changed, UPS has reported steady increases in international package deliveries for the past two quarters. In the second quarter, UPS said sales advanced 8.1 percent to $13.2 billion, driven by demand in China and Europe. UPS has added flights between the two continents to benefit from emerging-market shipping demand.
The company has been boosting revenue per package after DHL Express U.S. exited the market in 2008 and the economy recovered. UPS had lowered prices to compete with DHL.
"We've recently been seeing better-than-expected earnings from several retailers," Janna Sampson, co-chief investment officer of Oakbrook Investments LLC which held about 50,000 UPS shares as of Sept. 30, said in a telephone interview on Oct. 21. The Lisle, Illinois-based firm oversees $2.4 billion in assets. UPS "has a very diversified business and a retail focus without you having to own the underlying retail stocks," she said.
Among the 106 S&P 500 companies that have reported earnings since Oct. 11, 74 percent have beaten analyst estimates, according to Bloomberg data. Five of the seven retailers in the S&P Supercomposite Retailing Index that have reported so far this season have beaten analyst forecasts, the data show.
Asia Airfreight
Jefferies Group Inc., the New York-based brokerage, lowered its price estimate for UPS to $78 a share from $82 last week, citing more difficult to comparisons to levels in year-earlier periods. There is a "risk to the quarter on worse-than-expected performance in airfreight, especially out of Asia," analyst Peter Nesvold wrote.
"After the recent rally in UPS as well as in the market, investors assign more value to a downside hedge," Alex Panagiotidis, managing director for equity derivatives at Sterne Agee & Leach Inc. in New York, wrote in an Oct. 21 e-mail. "As a result skew gets bid up, especially ahead of earnings."
To contact the reporters on this story: Cecile Vannucci in Amsterdam at cvannucci1@bloomberg.net; Nikolaj Gammeltoft in New York at ngammeltoft@bloomberg.net; Natalie Doss in New York at ndoss@bloomberg.net
To contact the editors responsible for this story: Nick Baker at nbaker7@bloomberg.net; Andrew Rummer at arummer@bloomberg.net