Yen Touches Record High Against Dollar on Europe's Debt Turmoil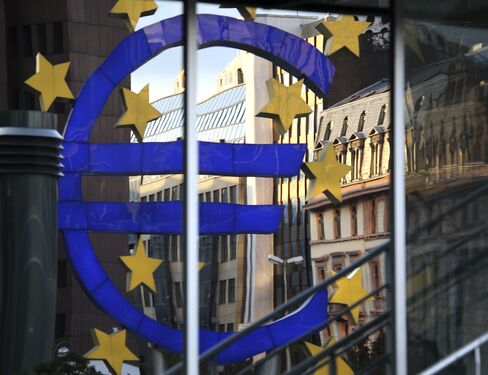 The yen touched a post-World War II high against the dollar and rallied versus most of its other major counterparts as Europe's debt turmoil spurred demand for a refuge before tomorrow's summits.
The Canadian dollar slid for the first time in four days versus the greenback after the Bank Canada cut its growth outlook. The greenback rose against the South African rand and Mexican peso as a drop in U.S. consumer confidence buoyed Treasuries. The yen pared its gain versus the dollar as Nikkei reported the Bank of Japan will consider more monetary easing.
"The market is just getting whipped around by headlines," said Alan Ruskin, global head of Group-of-10 foreign-exchange strategy at Deutsche Bank AG in New York. "The dollar-yen is still going to grind down with yen strength. When we come out of this European story, the yen will still be seen as a currency that is more removed from Europe than some of the other majors, and that will be helpful for it."
The yen was little changed at 76.09 versus the dollar at 5 p.m. New York time after rallying to a record 75.74. Japan's currency advanced 0.2 percent to 105.83 against the euro. The euro declined 0.2 percent to $1.3908 after rising to $1.3960, the highest level since Sept. 8.
Bank of Japan policy makers will discuss steps to ease the impact of the strong yen on the nation's economy at a two-day meeting beginning tomorrow. Measures may include expanding a 50 trillion yen ($660 billion) asset purchase program by 5 trillion yen and purchase bonds with maturities longer than two years, the newspaper reported without citing anyone.
Weaker Kiwi
New Zealand's dollar was the biggest loser among the major currencies, declining 1.3 percent to 79.72 U.S. cents. The nation's consumer prices increased 0.4 percent in the third quarter after rising 1 percent in the prior three months.
Investors see a 0.39 percentage point reduction in the Reserve Bank of New Zealand's 2.50 percent target lending rate over the next 12 months, compared with a 0.26 percentage point drop projected at the beginning of October, according to a Credit Suisse Group AG index.
"This is a buy opportunity for kiwi," said Greg Anderson, a senior currency strategist at Citigroup Inc. in New York. "The market is correctly reading it that RBNZ is not going to hike for several meetings, but it's still an attractive currency for other reasons, and we'd expect continued strong domestic-led growth in New Zealand."
Canadian Dollar
Canada's dollar fell 1.3 percent to C$1.0167 versus the U.S. currency after the Bank of Canada said the nation's economy will grow more slowly than projected and removed a reference to withdrawing stimulus. The target lending rate was held at 1 percent, where it has been since September 2010.
Implied volatility for one-week euro-dollar options, which traders quote and use to set option prices, fell to 15.33 percent. It touched 18.48 percent on Oct. 21, the highest level since Oct. 6. Readings indicate the expected swings in the underlying currencies.
Banks are pushing back against European leaders on the size of losses they are ready to accept on Greek bonds, proposing a loss of 40 percent on Greek debt, said a person briefed on the matter who declined to be identified because the talks are confidential.
Luxembourg's Jean-Claude Juncker, who leads the group of euro-area finance ministers, said yesterday that talks on private-sector involvement in a second aid package for Greece are focusing on losses of 50 to 60 percent.
Drop in Euro
The euro has declined 2.5 percent in the past six months, according to Bloomberg Correlation-Weighted Indexes, which track 10 developed-market currencies. The dollar has gained 3.3 percent over the same period, and the yen has risen 12 percent.
A meeting of European finance ministers was canceled tomorrow. Summits of the 27 European Union leaders and 17 leaders of the euro area will take place tomorrow in Brussels as scheduled, EU President Herman Van Rompuy's office said.
IntercontinentalExchange Inc.'s Dollar Index, which tracks the greenback against the currencies of six major U.S. trading partners including the euro, yen and pound, rose 0.1 percent to 76.252.
U.S. consumer confidence unexpectedly slumped in October to the lowest level since March 2009, when the economy was in a recession, a report from the Conference Board showed. This month's reading was less than the most pessimistic forecast in a Bloomberg News survey.
Treasury 30-year bond yields tumbled from the highest level in more than a month, dropping to 3.13 percent. The Standard & Poor's 500 Index decreased 2 percent, snapping a three-day winning streak.
Mexico's peso depreciated 1.1 percent to 13.5191 versus the dollar on reduced demand for higher-yielding assets. South Africa's rand declined 0.6 percent to 7.9224.
Before it's here, it's on the Bloomberg Terminal.
LEARN MORE