Hinton Faces Questions Over Two News Corp. Scandals at Hearing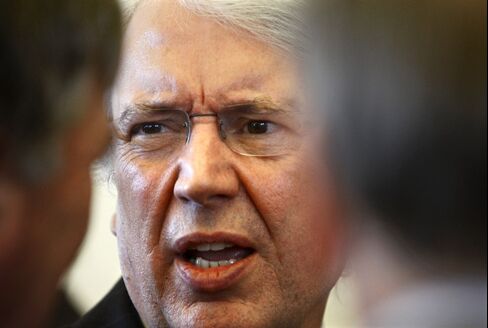 Les Hinton was one of Rupert Murdoch's closest associates for half a century. His role at the top of News Corp. makes him the focus of British lawmakers' questions about two scandals at his former employer.
Hinton, who resigned from the New York-based company in July, will be asked today why he told lawmakers in 2009 there was "never any evidence delivered to me" that suggested that phone-hacking was widespread at the News of the World tabloid. He may also face questions about whether he was told about a plan to inflate circulation at the Wall Street Journal Europe.
"If there are any bodies buried, he's thought to be someone who knows where they're going to be," Tim Bale, a professor of politics at the University of Sussex, said in an interview. "It also offers the parliamentarians another chance to do what many people think they didn't really do when the Murdochs themselves appeared, which is to nail the story and ask some very awkward questions."
Hinton was executive chairman of News International, the publisher of News Corp.'s British papers, during the period when its reporters intercepted mobile voicemail messages and paid police for stories. He resigned as chief executive officer of the Dow Jones & Co. unit after revelations that the News of the World deleted messages left on the phone of murdered schoolgirl Milly Dowler.
The U.K. Parliament's Culture, Media and Sport Committee will question Hinton via video link from about 12:30 p.m. London time today.
Shareholder Pressure
News Corp. investors challenged the role of Chairman and Chief Executive Officer Murdoch and his sons at the media company's annual meeting on Oct. 21. The phone-hacking allegations at the now-closed News of the World tabloid in London have raised questions about News Corp.'s management and the board's independence.
The 67-year-old Hinton started working for Murdoch under the executive's first paper, the Adelaide News, as a copy boy in 1960. He rose through the ranks as Murdoch built his empire over the next few decades, overseeing magazine and publishing units and finally the Dow Jones division, which ran the Wall Street Journal and its European subsidiary.
Hinton was in charge at the U.K. publishing unit when the News of the World's Royal editor, Clive Goodman, was jailed in 2007 for phone-hacking. At that point, Hinton wrote Goodman to tell him he was dismissed with a year's pay of 91,000 pounds ($143,460). Goodman challenged his dismissal, arguing that hacking was practiced and discussed widely in the newsroom, and Hinton approved a further payment of 153,000 pounds.
'Trust Him With My Life'
"We want to know what did he know, and when did he know it," Paul Farrelly, a Labour Party lawmaker on the committee, said in an interview.
In July, Murdoch appeared before the committee to explain how much he knew about hacking. The 80-year-old was emphatic that he didn't blame Hinton for what had gone wrong at News Corp.'s British unit.
"I worked with Mr. Hinton for 52 years, and I would trust him with my life," Murdoch said.
The testimony of Rupert's son James Murdoch, who heads the News International unit, on when he learned of the hacking, was contradicted by former employees. James has been asked to appear before Parliament again, though no date has been set yet.
Since the phone-hacking scandal, News Corp. has also been rocked by allegations that it inflated circulation figures at the European edition its Wall Street Journal newspaper.
Publisher Quits
In 2007, Hinton became CEO of New York-based Dow Jones. Gert Van Mol, former circulation manager on the WSJ Europe, said that he contacted Hinton in November 2010 to tell him about a plan to inflate circulation at the paper by paying partners, including a Dutch company called Executive Learning Partnership, to buy copies at a drastically discounted rate.
Andrew Langhoff, the newspaper's publisher, stepped down this month because of the perception that the newspaper's agreement with ELP compromised editorial integrity. As part of the agreement, the ELP had a role in coming up with story topics that featured its own data.
Dow Jones spokeswoman Bethany Sherman declined to comment on whether Hinton had been alerted to the payments last year. Hinton didn't respond to calls for comment.
As at his last parliamentary appearance in 2009, Hinton will give evidence by videoconference from the U.S. At the time, he stuck to the company's line that phone hacking at the News of the World had been restricted to Goodman and private investigator Glenn Mulcaire. Hinton said he had agreed to payments for both men after they were released from jail, insisting this was on the advice of lawyers.
Denials
"The employment law was complicated and I was told that we should settle and I agreed to do it," he told the lawmakers.
At the time, Jon Chapman, News International's director of legal affairs, confirmed this version of events and denied it was a cover-up.
The most recent parliamentary investigation has uncovered documents that may contradict earlier claims by the company and Hinton. In August, the committee released a letter Goodman wrote to Hinton in 2007 as part of his wrongful termination case. In it, Goodman claimed that hacking was widespread at the News of the World.
Then in September, Chapman said Hinton had told him to settle the case. Chapman told the committee that while the company had believed Goodman's allegations to be untrue, they had agreed to pay him more money to avoid going to a tribunal where he could make them in public. He said they were concerned about "reputational damage."
Payments
Mark Lewis, a lawyer for phone-hacking victims, on Oct. 19 told the committee he believed that a 425,000-pound-settlement to one of his clients, former boss of the Professional Footballers' Association Gordon Taylor, was designed to keep evidence of phone-hacking quiet.
"There was no way the case was worth that amount," Lewis said.
That payment in 2008 was approved by James Murdoch, after News International's lawyers Farrer & Co. advised the company that evidence uncovered by Lewis suggested "there was a powerful case to support a culture of illegal accessing of information in order to obtain stories."
Farrer & Co., whose clients include Queen Elizabeth II, said it knew News Corp.'s U.K. business had lied to Parliament in 2009 after evidence was uncovered during internal investigations and chose not to take action.
Bloomberg LP, the parent of Bloomberg News, competes with News Corp. units in providing financial news and information.
Before it's here, it's on the Bloomberg Terminal.
LEARN MORE