McDonald's Profit Climbs 8.6% as U.S. Same-Store Sales Rise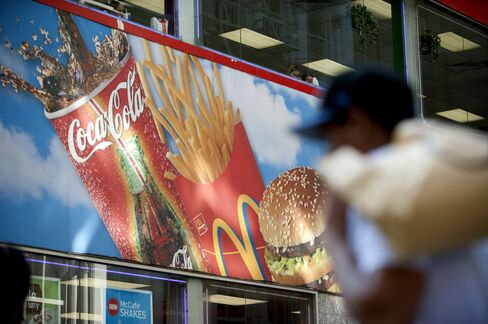 McDonald's Corp., the world's biggest restaurant chain, said third-quarter profit gained 8.6 percent as lower-priced items boosted U.S. store sales.
Net income climbed to $1.51 billion, or $1.45 a share, from $1.39 billion, or $1.29, a year earlier, the Oak Brook, Illinois-based company said today in a statement. Analysts expected $1.43 a share, the average of 24 estimates compiled by Bloomberg.
Chief Executive Officer Jim Skinner has sought to draw American diners with low-priced menu items, such as the $1 McDouble burger, as the nation's 9.1 percent unemployment rate saps consumer confidence. Sales in the U.S. were driven by fruit smoothies, Chicken McNuggets and breakfast foods, the company said.
"They continue to gain market share," Brian Bittner, an analyst at Oppenheimer & Co. in New York, said in an interview. "Consumers are searching for value more than they ever really have." Bittner rates the shares "outperform."
McDonald's rose 3.7 percent to $92.32 at 4:15 p.m. in New York. The shares have gained 20 percent this year.
McDonald's increased its food inflation forecast for this year to as much as 5 percent in the U.S. and Europe from a previous estimate of as much as 4.5 percent. The restaurant chain expects 2012 U.S. commodity inflation to be "similar to this year's," Chief Financial Officer Peter Bensen said during a conference call today.
Food costs in the U.S. may gain as much as 4 percent in 2011, the Department of Agriculture predicted in September.
Restaurant Sales
Global sales at stores open more than 13 months climbed 5 percent during the quarter. Analysts expected a gain of 4 percent, on average. Those sales rose 4.4 percent in the U.S., 4.9 percent in Europe, and increased 3.4 percent in Asia, the Middle East and Africa.
September same-store sales climbed 6.6 percent globally, McDonald's said in a filing. That topped analysts' 3.9 percent average estimate. Same-store sales may rise as much as 5 percent in October, Skinner said in the statement.
Comparable, or same-store sales, are an indicator of growth because the numbers only include older restaurants. Second-quarter same-store sales increased 5.6 percent worldwide.
Revenue climbed 14 percent to $7.17 billion in the quarter. Analysts had estimated $7.04 billion.
McDonald's had about 14,000 stores in the U.S. and more than 18,500 overseas at the end of 2010.
Before it's here, it's on the Bloomberg Terminal.
LEARN MORE