Man Arrested in London Olympic Spying Case, U.K. Police Say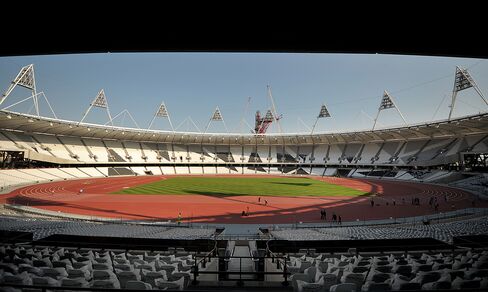 U.K. police arrested a 29-year-old man on suspicion of fraud as a London Olympic official alleged that soccer club Tottenham spied on the organizers of the 2012 Games and West Ham United.
The unidentified man was taken into custody in Sussex, outside of London, and police searched a home and a business in Sussex, a house in Sutton and an office in Westminster, the Metropolitan Police said in an e-mailed statement.
"The investigation was launched in August by officers from the Economic and Specialist Crime Command following allegations by West Ham and the Olympic Park Legacy Company in respect of the unlawful obtaining of information," the police said.
Margaret Ford, chairwoman of the OPLC, told the London Assembly today that Tottenham monitored all members of the committee. Spurs were trying to win rights to use the Olympic stadium after next year's Games, while the OPLC awarded the site to West Ham and Newham borough. Tottenham has denied that it spied on the board.
"The club did not undertake, instruct or engage any party to conduct surveillance on any member of the OPLC Committee and we consider the making of this baseless accusation to be wholly inappropriate and irresponsible," Tottenham said. "We totally reject the accusation in the strongest possible terms."
Last month the government said it will retain ownership of the facility after legal challenges. The OPLC is looking for tenants for the 537 million-pound ($863 million) facility, and West Ham has said it may try to rent the stadium.
Stadium Plans
The U.K. government had agreed to sell the facility to the east London team and the borough of Newham after the Games. An anonymous complaint to the European Commission and north London rival soccer club Tottenham's challenge in U.K. courts delayed the process. The legal moves would delay the site's private takeover, planned for 2014.
West Ham and Newham had planned to keep the running track in the stadium so that the arena could be used for track and field events as well as soccer. Tottenham wanted to make it a soccer-only stadium and pay to refurbish a track facility in south London.
Before it's here, it's on the Bloomberg Terminal.
LEARN MORE