Posen Says BOE Prepared to Add More Stimulus If It's Needed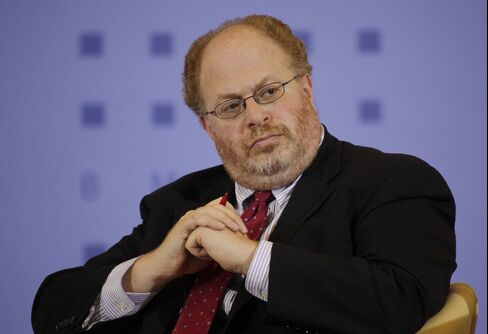 Bank of England policy maker Adam Posen said the central bank's new round of stimulus is the "right place" to start and officials are ready to do more if it's needed.
"We are going to review it on an ongoing basis," Posen said in an interview with Bloomberg Television in New York late yesterday, referring to the bank's Oct. 6 decision to increase so-called quantitative easing. "We will readjust it if it turns out we need more."
The Bank of England raised the ceiling for asset purchases to 275 billion pounds ($429 billion) from 200 billion pounds, the biggest expansion since the first round of stimulus in March 2009. Posen said the increase should be enough "to make a material improvement in prospects versus what it otherwise would be and it's the right place for us to start."
Bank of England Governor Mervyn King said last week that the expansion of stimulus was a response to what may be the worst financial crisis ever. Posen said it's right to be concerned about turmoil in financial markets. A report last week showed the U.K. economy barely grew in the second quarter and data today showed unemployment rose to the highest in 15 years in the three months through August.
"I'd be a fool not to be quite worried" about the potential impact on U.K. banks from the debt crisis in the euro area, Posen said.
'Material Impact'
"We are doing everything we can to pre-provision, to know where the weaknesses are," he said. "But if we saw major sovereign losses -- losses on sovereign paper and then losses on euro-area banks -- then that would be a material impact on the capital position of U.K. banks."
The economy slowed "quite sharply through the third quarter and will continue to slow in the fourth quarter," Bank of England Chief Economist Spencer Dale said in an interview with Reuters Insider TV broadcast on its website today.
Posen has called for more QE every month since October 2010 and minutes of last week's decision to be published on Oct. 19 will show which of the nine Monetary Policy Committee members joined him this month. Martin Weale said on Oct. 9 the central bank has "a lot of scope" to increase the plan if it's deemed necessary to boost economic growth. David Miles said a day later that there are "good reasons" to think that new round of stimulus will aid the recovery.
Inflation Target
While U.K. inflation was 4.5 percent in August, more than twice the 2 percent target, the central bank said last week that the deterioration in the outlook makes it "more likely" inflation will undershoot its goal in the medium term.
"The important thing to recognize is we view this as more monetary policy in response to an outlook that says inflation is going to be below target and there's downside risks," Posen said. "We will do what it takes to make it happen."
The National Institute of Economic and Social Research said yesterday that the U.K.'s recovery may be the "weakest of any since the end of the First World War."
Britain's jobless rate increased to 8.1 percent in the three months through August, the highest level since 1996, from 7.9 percent in the quarter through July, the Office for National Statistics said in London today. The number of unemployed increased to 2.57 million, the most since 1994. In September, jobless claims rose for a seventh month.
Dale's View
Dale, a member of the MPC, told Reuters that while he expected U.K. inflation to have risen above 5 percent in September, price gains will slow "sharply" at the beginning of next year and continue slowing through 2012.
"We've seen a slowing in global demand, we've seen heightened concerns about sovereign debt, that's fed through into concerns about the banking system and confidence more generally," Dale said. "Whether we need to undertake more asset purchases, or whether we need to row back, will depend very heavily on what happens in the rest of the world."
"The potential for the euro situation becoming an overt crisis is obviously first-order big, particularly for the U.K." Posen said. "We cannot disengage from Europe."
"If there is a major recapitalization of the European banking system, the U.K. has to be prepared to deal with that," he said.
Before it's here, it's on the Bloomberg Terminal.
LEARN MORE