Anti-Wall Street Protesters Target NYC Homes of Dimon, Murdoch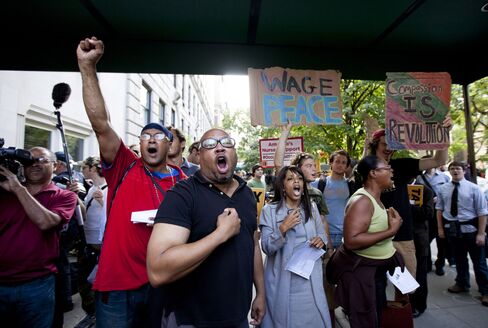 The Occupy Wall Street movement and its labor-union allies took their fight to the homes of some of the New York City's richest financiers to protest economic inequality and advocate higher taxes for the wealthy.
Several hundred people marched around Manhattan's Upper East Side, past the homes of corporate executives who organizers said were "specifically chosen for their willingness to hoard wealth at the expense of the 99 percent" who don't have it. Targets included Rupert Murdoch, John Paulson, Jamie Dimon and David Koch. The protesters cited data from Nobel Prize-winning economist Joseph Stiglitz showing the top 1 percent of Americans control 40 percent of the wealth.
The crowd's chants, signs and songs decried as an injustice public spending cuts they say disproportionately harm the poor and middle class even as a tax surcharge on New York state's top earners is due to expire at year-end.
"We're putting the burden of our economy on the shoulders of senior citizens, veterans and the middle class while CEOs and corporations don't pay their fair share of taxes," Raimundo Valdes, a surgical technician from the Bronx and political organizer for the union SEIU 1199, said as protesters gathered at the southern edge of Central Park today prior to setting off.
"We're here to speak out, and we hope our elected leaders will listen," said Valdes, 63. The union represents more than 300,000 health-care workers and retirees on the East Coast.
'Fair Share'
The marchers included demonstrators who have occupied a park in Lower Manhattan for more than three weeks and community groups, including UnitedNY and the Working Families Party, that organized last week's march to Wall Street from Foley Square, which drew thousands.
"Hey you millionaires, pay your fair share," the crowd chanted outside 834 Fifth Ave., where Murdoch, News Corp.'s chief executive officer, purchased a co-op for $44 million in 2005, according to property records. Tony James, president and CEO of Blackstone Group LP, bought an apartment there in July for $24.9 million.
The protesters cited the looming expiration of an income-tax surcharge on New York's married couples earning more than $300,000, and singles earning more than $200,000. Governor Andrew Cuomo, who closed a $10 billion budget gap this year without raising taxes, has said he won't entertain proposals to tax wealthier people during the upcoming budget cycle.
The so-called millionaire's tax, which ends Dec. 31, was projected in 2009 to raise about $4 billion annually, according to then-Governor David Paterson.
Police Standing By
As the crowd headed north, passengers in taxis snapped photos while traffic cops tried to keep marchers on the sidewalk. Yellow school buses were available for those who couldn't walk the dozens of blocks. Police stood watch with plastic handcuffs after previous demonstrations led to hundreds of arrests.
"It's the stupid demonstrations," a woman said into a mobile phone as she passed the crowd stopped at 740 Park Ave., where Koch, the billionaire executive vice president of Wichita, Kansas-based Koch Industries Inc., bought an 18-room duplex in 2004, according to the New York Times.
Other stops on the itinerary included 9 East 86th St., where Paulson, the billionaire hedge-fund manager, bought a condo for $14.7 million in 2004, and 1185 Park Ave., where JPMorgan Chase & Co. CEO Dimon purchased a co-op in 2004 for $4.9 million.
Joe Evangelisti, a spokesman for JPMorgan, said Dimon was in Asia this week and declined further comment. Jack Horner, a spokesman for News Corp., declined to comment. Melissa Cohlmia, a Koch spokeswoman, didn't immediately respond to an e-mail message.
'Finance-Centric'
Jim Chanos, founder of the $6 billion New York-based hedge fund Kynikos Associates, said New Yorkers don't appreciate the impact the government bank bailouts have had on other U.S. citizens.
"New York is so finance-centric that people here underappreciate the reaction of the rest of the country," Chanos said today in an interview in New York. "People are angry, they feel the game is rigged, that they didn't get their fair shake."
Chanos, 53, who was born in Milwaukee, said the "disjointed" nature of the Occupy Wall Street demonstration, which started last month in New York's financial district and spread to cities such as Washington and Seattle, shouldn't be underestimated because protests in the 1960s started in a similar way.
Before it's here, it's on the Bloomberg Terminal.
LEARN MORE