Ledbury, Invaded by Rioters, Retains Best U.K. Restaurant Title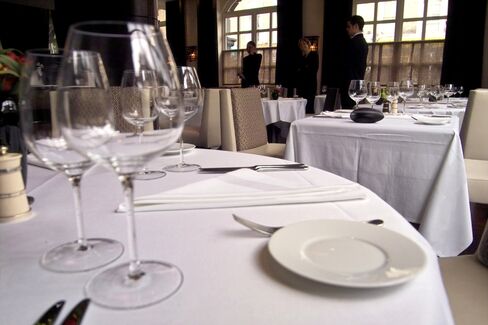 The Ledbury was last night named the U.K.'s best restaurant in the National Restaurant Awards for a second year, further recognition for a London establishment that garnered international attention when it was invaded by rioters.
Pollen Street Social, chef Jason Atherton's new venue in Mayfair, came second, beating Dinner by Heston Blumenthal, its rival as London's best new restaurant of the year. Blumenthal's Fat Duck fell to fourth from second last year.
The Ledbury -- chef Brett Graham's venue near Notting Hill -- has this year already been named best for food by Zagat and best new restaurant by Harden's guide. In August, chefs and waiters brandishing kitchen equipment repulsed robbers who smashed down the front door and robbed diners at knifepoint.
Among other awards: One to watch: Hedone; front of house: the Ledbury; wine list: Galvin La Chapelle; restaurateurs' choice: Hawksmoor Seven Dials; personality: Fred Sirieix (Galvin); chefs' chef: Simon Rogan (L'Enclume, Roganic); gastropub: Sportsman; highest new entry: Pollen Street Social.
The National Restaurant Awards are just one of several U.K. industry events. The next come as early as Oct. 12, when the Observer Food Monthly annual winners will be announced, followed by the Sunday Times Food List, with Harden's, later this month.
The winners are picked by the National Restaurant Awards academy, made up of more than 300 chefs, restaurateurs and critics, of whom I am one. (One of the awards in last night's event at the Grand Connaught Rooms in London was also presented by myself.)
Here is the National Restaurant Awards Top 100:
1    The Ledbury (1)
2    Pollen Street Social (-)
3    Dinner by Heston Blumenthal (-)
4    The Fat Duck (2)
5    The Sportsman (31)
6    Hibiscus (4)
7    The Square (8)
8    L'Enclume (36)
9    Restaurant Sat Bains (6)
10   Bar Boulud (7)
11   Le Gavroche (62)
12   Le Manoir aux Quat'Saisons (19)
13   St John (28)
14   The Hand & Flowers (33)
15   Chez Bruce (42)
16   Roganic (-)
17   The Walnut Tree (4)
18   Hawksmoor Seven Dials (-)
19   The Star at Harome (34)
20   Arbutus (18)
21   Viajante (59)
22   The Hardwick (13)
23   Koffmann's (47)
24   Restaurant Martin Wishart (65)
25   Polpo (30)
26   Brawn (-)
27   Galvin at Windows (57)
28   The Kitchin (24)
29   Gidleigh Park (71)
30   The Waterside Inn (9)
31   The Pipe & Glass Inn (86)
32   Scott's (82)
33   Restaurant Nathan Outlaw (11)
34   La Becasse (44)
35   Marcus Wareing at the Berkeley (22)
36   Midsummer House (48)
37   Bistrot Bruno Loubet (3)
38   Galvin La Chapelle (10)
39   The Royal Oak Paley Street (-)
40   L'Anima (15)
41   Northcote Manor (26)
42   The Ivy (-)
43   Restaurant Gordon Ramsay (43)
44   The River Cafe (25)
45   Restaurant Andrew Fairlie (20)
46   Bocca di Lupo (23)
47   Helene Darroze at The Connaught (-)
48   John Campbell at Coworth Park (-)
49   The Elephant (41)
50   Texture (-)
51   Zucca (60)
52   Le Champignon Sauvage (16)
53   The Latymer at Pennyhill Park (-)
54   Jose (-)
55   The Gilbert Scott (-)
56   The Dock Kitchen (-)
57   Murano (98)
58   Porthminster Beach Cafe (56)
59   Ondine Restaurant (76)
60   Jack in the Green (52)
61   J Sheekey (-)
62   Opera Tavern (-)
63   Purnell's (80)
64   Terroirs (17)
65   Zuma (54)
66   Nahm (-)
67   Aumbry (-)
68   Hakkasan Mayfair (-)
69   Paul Ainsworth at Number 6 (-)
70   Bentley's Oyster Bar & Grill (-)
71   Les Deux Salons (-)
72   Loves Restaurant (-)
73   La Trompette (-)
74   Ockenden Manor (-)
75   Goodman Mayfair (-)
76   The Quilon (58)
77   The Vineyard at Stockcross (-)
78   Cambio de Tercio (-)
79   The Potted Hen Bistro (-)
80   Hereford Road (51)
81   The Cinnamon Club (84)
82   Castle Cottage (-)
83   The Seahorse Restaurant (-)
84   Nobu (-)
85   Tuddenham Mill (-)
86   The Chilli Pickle (-)
87   Y Polyn (-)
88   Koya (96)
89   Hix (14)
90   The Greenhouse (-)
91   Locanda Locatelli (-)
92   L'Atelier de Joel Robuchon (38)
93   The Mark Addy (-)
94   Medlar (-)
95   James Street South (74)
96   Alimentum (-)
97   Theo Randall at the Intercontinental (-)
98   The Modern Pantry (53)
99   The Bingham (-)
100  21212 (67)
(Richard Vines is the chief food critic for Muse, the arts and leisure section of Bloomberg News. He is U.K. and Ireland chairman of the World's 50 Best Restaurants awards. Opinions expressed are his own.)