U.S. Stocks Decline as Concern Over Europe Offsets Jobs Report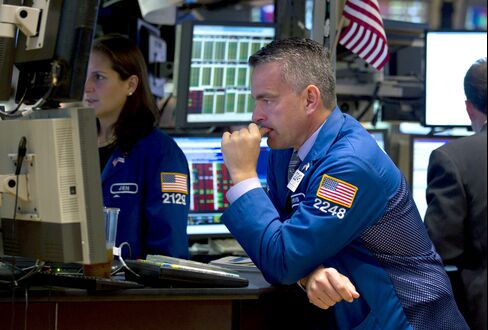 U.S. stocks retreated, trimming a weekly advance for the Standard & Poor's 500 Index, as concern Europe's debt crisis will worsen overshadowed faster-than forecast growth in American employment.
Financial stocks had the biggest decline in the S&P 500 among 10 industries, falling 3.7 percent, after Fitch Ratings downgraded the debt ratings of Italy and Spain. The Russell 2000 Index of small companies lost 2.6 percent after climbing 11 percent in the previous three days, the biggest rally since March 2009. Sprint Nextel Corp. tumbled 20 percent as the third-largest U.S. wireless carrier said it needs to raise additional capital as it spends on a network upgrade and new handsets.
The S&P 500 fell 0.8 percent to 1,155.46 at 4 p.m. New York time, trimming its weekly gain to 2.1 percent. The index rose 6 percent over the previous three days. The Dow Jones Industrial Average slid 20.21 points, or 0.2 percent, to 11,103.12.
"Investors are understandably nervous," Russ Koesterich, the San Francisco-based global chief investment strategist for the IShares unit of BlackRock Inc., said in a telephone interview. His firm oversees $3.66 trillion as the world's largest asset manager. "You don't know what's going to happen in Europe. The U.S. economy is growing sufficiently slowly that it's unlikely to bring the unemployment rate down, but it doesn't appear to be sliding back into a recession."
The S&P 500 this week came within 1 percent of extending its decline from its April peak to 20 percent, the common definition of a bear market. The gauge rallied 8.4 percent from its Oct. 4 intraday low through yesterday.
Banks Tumble
The KBW Bank Index slid 4.3 percent as all of its 24 stocks declined. It had rallied 10 percent over the previous three days. Bank of America Corp. fell 6.1 percent, the most in the Dow, to $5.90. Goldman Sachs Group Inc. decreased 5.4 percent to $92.69. JPMorgan Chase & Co. lost 5.2 percent to $30.70.
Financial shares extended earlier losses after Italy and Spain had their long-term issuer default ratings cut by Fitch Ratings, which cited factors including their vulnerability to the "euro zone crisis."
"We're still going to get a bad event in Europe," Michael Strauss, who helps oversee about $27 billion as chief investment strategist at Commonfund in Wilton, Connecticut, said in a telephone interview. "What took the wind out of the stock market was the variety of downgrades."
Belgium had its Aa1 local and foreign currency government bond ratings placed on review for possible downgrade by Moody's Investors Service, which cited the financing environment for euro sovereigns and increasing risks to economic growth. The announcement came after the market closed.
Jobs Data
Stocks rose earlier today as Labor Department data showed employers added more payrolls than forecast in September, job gains were revised up in the prior two months and hours and earnings increased. The jobless rate held at 9.1 percent.
The rate by which data on the economy has been trailing forecasts has been decreasing since June, according to the Citigroup Economic Surprise Index. The U.S. gauge, which fell below zero on April 29 as the S&P 500 was peaking, has climbed from a low of minus-117.2 on June 3 to minus-7.5.
Pacific Investment Management Co.'s Bill Gross said job gains in September aren't enough to sustain growth in the U.S. economy and that neither political party understands what's needed to boost employment. The economy needs 200,000 to 250,000 new jobs per month to expand, Gross, manager of the world's biggest bond fund, said in a radio interview on "Bloomberg Surveillance" with Tom Keene and Ken Prewitt.
'Not in Recession'
"We're not in recession, but the jobs report is not a robust number," said Brad Sorensen, director of market and sector analysis at San Francisco-based Charles Schwab Corp., which has $1.65 trillion in client assets. "Unemployment is still 9.1 percent and these numbers aren't enough to bring it down to any great degree. Slow growth is probably the most likely path over the next three to six months."
The Morgan Stanley Cyclical Index of companies most-tied to the economy fell 1.5 percent, after rising 9.9 percent in three days. The Dow Jones Transportation Average, a proxy for the economy, retreated 1.4 percent. The index had risen 9.5 percent over the previous three days.
Companies that are less reliant on an expanding economy outperformed the S&P 500. Wal-Mart Stores Inc. climbed 1.8 percent to $53.70. Pfizer Inc. added 1.2 percent to $18.44.
Sprint Tumbles
Sprint tumbled 20 percent, the most since December 2008, to $2.41. "Do we need to access the markets? Yes," Chief Financial Officer Joseph Euteneuer said at a meeting with investors in New York today. "But we have flexibility on that timing," he said, adding that Sprint has enough money to handle debt maturities through 2012.
Alcoa Inc. slumped 1.7 percent to $9.71. The largest U.S. aluminum producer will mark the unofficial start of the earnings-reporting season when it reports results on Oct. 11. Third-quarter profits for S&P 500 companies are projected to have grown 12 percent, according to analysts' forecasts compiled by Bloomberg.
"The earnings outlook remains very solid," Mike Ryan, the New York-based chief investment strategist at UBS Wealth Management Americas, said in a telephone interview. His firm oversees $774 billion. "The economy is operating at a level where companies can make money. Companies have demonstrated resilience despite sluggish growth and the shocks we've seen."
Before it's here, it's on the Bloomberg Terminal.
LEARN MORE