Silver's Resignation as Energy Loan Chief Doesn't Quell Debate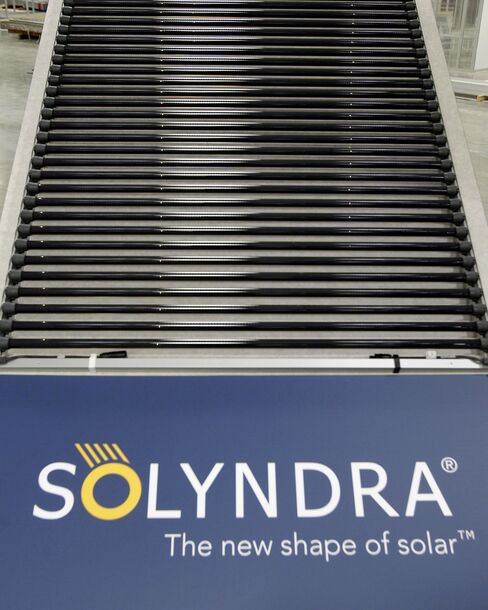 The resignation of Jonathan Silver as head of a U.S. Energy Department loan program faulted by Republicans has failed to quell a debate sparked by a $535 million federal guarantee to failed Solyndra LLC.
"Mr. Silver's resignation does not solve the problem," House Energy and Commerce Committee Chairman Fred Upton, a Michigan Republican, and Cliff Stearns, a Florida Republican and head of the investigation panel, said in a statement after the departure was announced yesterday.
While Silver joined the department after the solar-panel maker received its loan, Stearns had suggested Silver be fired for his handling of the guarantee since arriving.
Silver, 54, was in charge of the office as Solyndra's financial condition worsened, culminating in a January agreement to let taxpayer support take a back seat to funds from fresh investors in a last-ditch effort to rescue the company. Solyndra filed for bankruptcy last month.
"Jonathan assembled and managed a truly outstanding team that has transformed the program into the world leader in financing innovative clean-energy projects," Energy Secretary Steven Chu said yesterday in a statement.
Chu said Silver told him in July that he intended to leave after the end of the fiscal year on Sept. 30, when the loan program would have "no significant funds."
The department in a "mad rush" awarded $4.75 billion in loan guarantees by Sept. 30, the last day projects were eligible for funds from the 2009 economic stimulus, Upton and Stearns said in the statement. Four companies got awards.
$16 Billion
The department backed about $16 billion worth of projects through the loan program.
The energy secretary, who has been criticized for approving the Solyndra loan, said he had "absolute confidence" in Silver and wanted him to stay.
Silver was in charge of the office as the department weighed a second Solyndra application for a $469 million loan guarantee. The aid would have helped finance an expansion of a factory the company hadn't yet built.
Chu said yesterday that the second application "was not ever in serious contention."
Solyndra filed for bankruptcy protection Sept. 6 and had its Fremont, California, offices raided by the FBI two days later, heightening the scrutiny of the company and the loan program in Congress.
"It's very important to not say after one bad loan that, 'Oh, time to change path, this is no good,'" Chu said yesterday.
Overseas Competition
Other countries are supporting clean energy as a way to become more efficient and competitive globally, he said.
"If we're the last to recognize this, then we will be the importers," he said.
Republicans pressed Silver at a Sept. 14 hearing about Solyndra's guarantee, asking whether the White House pressured Energy Department officials to approve the loan and why taxpayer debt was put behind $75 million in new investment under the revamped loan agreement.
Silver, while saying he wasn't at the department when Solyndra got its guarantee in September 2009, defended the review as thorough. The restructuring gave the company a fighting chance to survive, he said.
The department should have withdrawn support from the company as signs of financial distress began to emerge, Republicans said.
Representative Michael Burgess of Texas asked Silver if a March 2010 warning from Solyndra's audit firm, questioning the company's ability to be a "going concern," had prompted "any curiosity on your part?"
Venture Capitalist
Silver, describing himself as a venture capitalist, said such warnings are common for "high-growth companies" such as Solyndra. Burgess said Silver had different responsibilities as a steward of taxpayer dollars than he did as a private investor.
Silver earned a bachelor of arts degree from Harvard University in 1979, and has worked for McKinsey & Co., the management-consulting firm, and Tiger Management LLC, which Julian Robertson built into one of the world's largest hedge funds, prior to joining the department.
After about four hours of testimony to the Energy Committee, Silver lingered to answer more questions from reporters.
The U.S. was right in trying to support clean-energy companies to compete in what will grow to be a "multi-trillion dollar" business in a generation, he said.
"What we can't do is exit the playing field," Silver said. "You've got to develop platform companies that can grow over an extended period of time. That requires capital."
Silver is leaving the department to become a distinguished visiting fellow at the Third Way, a Washington-based think tank that says it promotes moderate policies.
Before it's here, it's on the Bloomberg Terminal.
LEARN MORE