'Misfits' Playboy, Karl's Sequins, Cheap Art: London Weekend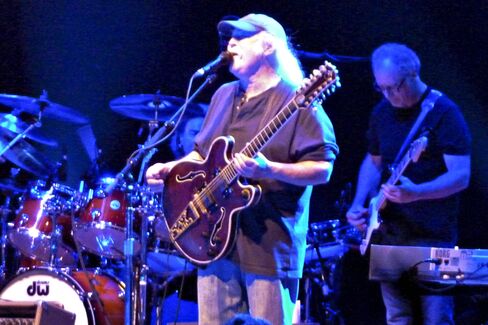 Oct. 7 (Bloomberg) -- In "The Playboy of the Western World" a lanky, sweet-talking lad surfaces in a village in County Mayo declaring that he killed his dad.
So of course, he's fought over by all the women, including the hard-nosed daughter of the pub owner. Then his luck turns in this Irish tragicomedy J.M. Synge wrote in 1907.
The title role is played by Robert Sheehan, a 23-year-old from the U.K. TV series "Misfits."
At the Old Vic until Nov. 26. Information: http://www.oldvictheatre.com or +44-844-871-7628.
Magdalen is more than a mile away. Yet it's worth the trip to eat at this inexpensive restaurant, which serves classic dishes from the U.K. and France. While it's informal and unpretentious, the cooking is serious. Information: +44-20-7403-1342 or http://www.magdalenrestaurant.co.uk/
Saturday
A sequined Chanel jacket designed by Karl Lagerfeld is featured in the Victoria and Albert Museum's autumn show.
Lagerfeld is proposed as a power broker in a sweeping exhibition on Postmodernism (1970-90) -- a potpourri movement that blended past and future, classic and modern, Versailles and Las Vegas, and that curators themselves admit is hard to define.
After a dry start, the show takes off with fun samples of 1980s pop culture: from the tired original turntables of hip-hop pioneer Grandmaster Flash, to the androgynous checked pantsuit worn by Annie Lennox and the music videos of Kraftwerk.
Leave with a box set featuring Blondie and Depeche Mode.
"Postmodernism: Style and Subversion 1970-1990" ends Jan. 15, 2012. Information: http://www.vam.ac.uk or +44-20-7942-2000.
Saturday Night
It's been a long time gone since Crosby, Stills & Nash made "Almost Cut My Hair." Even so, they still sound harmonious and fresh. David Crosby and Graham Nash are playing London tonight: close your eyes when they sing "Marrakesh Express" and it could -- almost -- be Morocco in 1969.
Royal Albert Hall, Kensington Gore, SW7 2AP. Information: +44-20-7589-8212, http://www.crosbynash.com, http://www.crosbystillsnash.com, http://www.royalalberthall.com.
Cassis, a 10-minute walk from the Royal Albert Hall, is a modern Provencal bistro with a bar that features a menu of cocktails from the Cote d'Azur. All cocktails are half price from 3 p.m. to 7 p.m. daily, and dishes may include lobster linguini or herb-crusted rack of lamb. Information: +44-20-7581-1101 or http://www.cassisbistro.co.uk/
Or how about the British-Bangladeshi dance sensation Akram Khan -- whose duet with Juliette Binoche toured the world in 2008-9 -- and who goes back to his roots with the solo "Desh." Sets are by Oscar winner Tim Yip (who designed "Crouching Tiger Hidden Dragon"), and the show ends Saturday. Information: http://www.sadlerswells.com or +44-844-412-4300.
Sunday
London is about to go art crazy with a run of shows including Frieze and auctions of multimillion pound works.
Art London offers more mainstream contemporary art, with prices from a few hundred pounds. It runs Oct. 6 to 11 at the Royal Hospital, Chelsea, SW3. Information: http://www.artlondon.net or +44-20-7259-9399.
Stand in line this weekend if you want to be photographed by Clive Arrowsmith and Jillian Edelstein -- whose previous sitters include Nelson Mandela, Kate Moss and Paul McCartney.
The two are holding a four-day charity photoshoot starting Saturday in a temporary studio outside the National Theatre. A total of 400 people, 100 a day, can get their portraits shot for free in a first-come-first-served basis.
The winners get a photo to take away, with the image projected onto the theater in the evening. Those who miss out can still get their photo taken by other roving photographers on the South Bank or upload their own image for projection via http://www.facebook.com/aviva, with the sponsor Aviva paying 2 pounds ($3) to Save the Children for each one used.
(Farah Nayeri writes for Muse, the arts and leisure section of Bloomberg News. The opinions expressed are her own.)
To contact the writer on the story: Farah Nayeri in London at farahn@bloomberg.net.
To contact the editor responsible for this story: Manuela Hoelterhoff at mhoelterhoff@bloomberg.net.