Forte's Lowry Paintings May Sell for $26.2 Million at Auction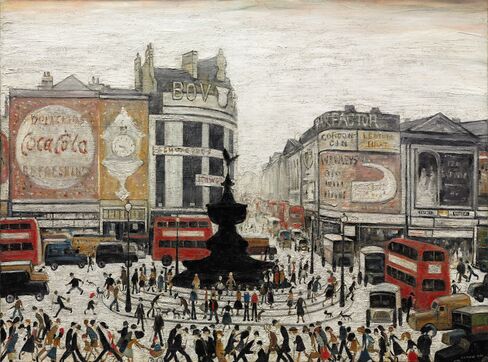 A collection of paintings by L.S. Lowry formed by the U.K. caterer and hotelier, the late Charles Forte, is estimated to raise as much as 16.9 million pounds ($26.2 million) at an auction in London next month.
Lowry (1887-1976) was a Lancashire-born artist best known for his industrial scenes inhabited by crowds of stick-like figures. Forte's descendants will be offering 14 of these paintings at Christie's International on Nov. 16, the London-based auction house said today in an e-mailed statement.
"Piccadilly Circus, London," is the most highly valued work in the group, estimated at 4 million pounds to 6 million pounds. It dates from 1960 and has never been offered at auction before. The 1953 oil "Fun Fair at Daisy Nook" is priced at 1.5 million pounds to 2 million pounds.
Forte bought the paintings during the 1960s, '70s and '80s. Lowry continues to be a favorite name with wealthy collectors of 20th-century British art. In May, Christie's achieved a record auction price of 5.6 million pounds for a 1949 painting, "The Football Match."
(Scott Reyburn writes about the art market for Muse, the arts and culture section of Bloomberg News. Opinions expressed are his own.)