Lobbying for a Trillion-Dollar Tax Holiday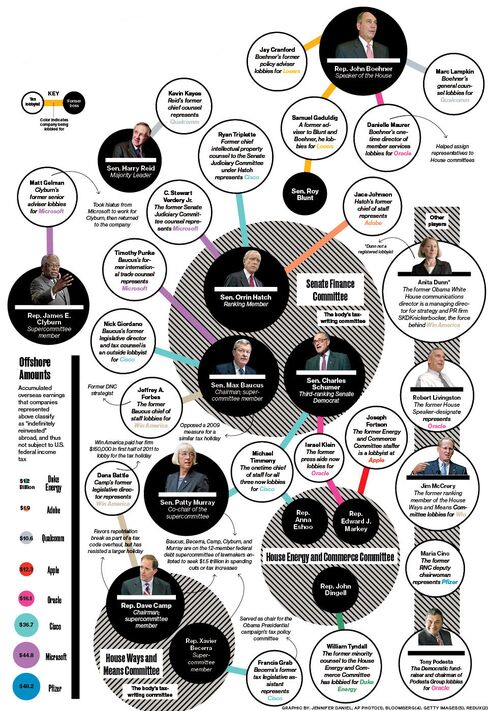 U.S. multinationals like Pfizer, Cisco, and Apple have parked more than $1.3 trillion in profit overseas, avoiding federal income taxes. Typically, when earnings are returned to the U.S.—or "repatriated"—they are taxed at the 35 percent corporate rate, with credits for foreign income taxes paid. U.S. multinationals, however, are seeking a reprise of a 2004 tax holiday that allowed them to repatriate offshore earnings at a rate of 5.25 percent. Under that break, companies brought home $312 billion. They did little direct hiring or domestic investment with the cash, according to several independent studies. Instead they used it largely for stock repurchases. Multinationals liked that just fine, and they're now using former congressional staffers—lots of them—to lobby their old bosses for a second break. They're working for a variety of firms and associations, including Win America, a coalition of companies and trade groups dedicated to winning this holiday. Bloomberg Businessweek found that at least 60 former staffers for current members of Congress have been hired, part of more than 160 lobbyists pressing for the break. Both tallies likely understate the true number because of loose lobbying disclosure rules. This chart details some of the key lobbyists and their congressional connections, as well as other players.
Before it's here, it's on the Bloomberg Terminal.
LEARN MORE