Gold Signaling Rebound From September Slump: Technical Analysis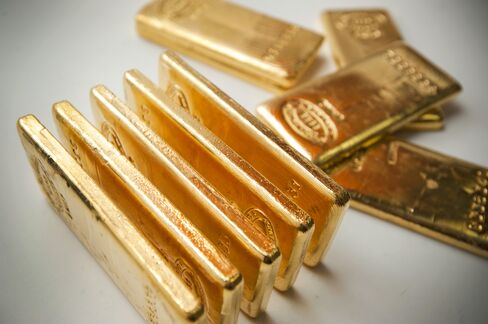 Sept. 30 (Bloomberg) -- Gold, heading to biggest monthly decline since 2008, may rally 8.2 percent by the end of this year, according to technical analysis by Paul Kavanaugh, a senior analyst and broker at PFGBest.
The precious metal may rise to $1,750 an ounce, based on Fibonacci analysis, Kavanaugh said yesterday in a telephone interview from Chicago. After plunging as much as 20 percent from a record $1,923.70 on Sept. 6, gold has climbed above the 50 percent resistance level of $1,541.50 and will have to top $1,631.70 before reaching the target price, he said.
"This correction was needed and was healthy, but gold is now poised to climb up," said Kavanaugh, who used technical analysis in early July to correctly predict that cotton would slump below $1 a pound. "If you liked it at $1,900, you have to love it at $1,600."
Gold futures have more than doubled in the past three years and are headed for an 11th straight annual gain as investors shun equities and some currencies amid concerns that global growth will slow and that sovereign-debt woes will worsen. Prices are down 12 percent this month, heading for the biggest monthly decline since October 2008, as some investors sold the metal to cover losses during a rout in equity markets.
Yesterday, gold futures for December delivery fell 80 cents to settle at $1,617.30 on the Comex in New York.
In technical analysis, investors and analysts study charts of trading patterns and prices to predict changes in a security, commodity, currency or index.
Fibonacci analysis is based on the theory that prices tend to drop or climb by certain percentages after reaching a high or low. A break above resistance or below support indicates a commodity may move to the next level. The difference between high and low points on charts is divided into retracement levels such as 23.6 percent, 38.2 percent and 61.8 percent. The ratios were were described by 13th century mathematician Leonardo of Pisa, known as Fibonacci, and correspond to proportions found in nature.
To contact the reporter for this story: Debarati Roy in New York at droy5@bloomberg.net.
To contact the editor responsible for this story: Steve Stroth at sstroth@bloomberg.net