Builders Probably Began Work on Fewer U.S. Houses in August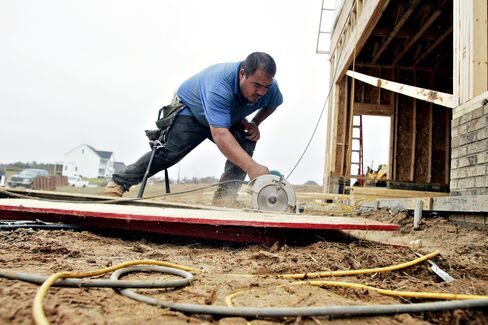 Builders probably began work on fewer homes in August, highlighting an industry that's languishing more than two years into the U.S. economic recovery, economists said before a report today.
Housing starts fell 2.3 percent to a three-month low 590,000 annual rate, according to the median estimate of 78 economists surveyed by Bloomberg News. Building permits, a proxy for future construction, may have also dropped for a second month.
Foreclosures, declining prices and a lack of employment are hindering construction and holding back an industry that's typically helped spark economic rebounds from past recessions. Tighter lending standards and reductions in homeowner equity mean fewer buyers are able to take advantage of mortgage rates at record lows.
"We have more homes than people need to live in," John Ryding, chief economist at RDQ Economics LLC in New York, said in a Sept. 16 interview on Bloomberg Television. "Housing is going to be pretty depressed in terms of building activity and pretty flat in terms of prices until that market clears."
The Commerce Department's report is due at 8:30 a.m. in Washington. Survey estimates ranged from 570,000 to 634,000.
Permits decreased to a 590,000 annual pace from a 601,000 rate, according to the survey median.
Concern over housing and this year's growth slowdown economy may prompt Federal Reserve policy makers to propose new measures to galvanize the economy when they begin their two-day meeting later today.
Bernanke's View
Fed Chairman Ben S. Bernanke warned last month during a speech in Jackson Hole, Wyoming, that the central bank alone can't lift sagging home prices or mitigate a wave of home foreclosures.
Declining stock values have made households less wealthy, helping push down confidence and discouraging big-ticket purchases. Unemployment above 9 percent also leaves fewer Americans able to take advantage of cheaper borrowing costs.
The weaker labor market helps explain a 33 percent jump in default notices sent to U.S. homeowners in August, RealtyTrac Inc. figures showed on Sept. 15. A growing glut of unsold homes that compete with new dwellings may keep hampering construction.
Confidence among U.S. homebuilders dropped in September to a three-month low as prospective buyer traffic, sales and purchase expectations declined. The National Association of Home Builders/Wells Fargo sentiment index decreased to 14, figures showed yesterday. Readings less than 50 mean more respondents said conditions were poor.
Demand Weakens
"High unemployment and volatile financial markets continue to undermine consumer confidence in spite of low mortgage rates," Patricia Bedient, chief financial officer at Weyerhaeuser Co., said Sept. 15 at a forest products conference. Federal Way, Washington-based Weyerhaeuser owns about 6 million acres of U.S. timberland. "New home markets softened noticeably four to six weeks ago in response to weak employment data and political discord in Washington."
Construction along the eastern seaboard in August may also have been put off because of Hurricane Irene, which caused losses of about $12.4 billion, according to an estimate by Kinetic Analysis Corp., a Silver Spring, Maryland, firm that predicts the effects of disasters.
As construction activity has slowed, homebuilder shares' have declined more than the broader market. The Standard & Poor's Homebuilder Supercomposite Index, which includes shares of companies including KB Home and D.R. Horton Inc., has slumped 25 percent this year, compared with a 4.3 percent decline for the S&P 500 Index.
"With all of the economic turmoil, both domestic and international, there's not much that points to an improving housing market at any point in the near future," Ara Hovnanian, chairman and chief executive officer of Hovnanian Enterprises Inc., said in call with analysts on Sept. 8. "Our internal business plan assumes market conditions do not improve."
                        Bloomberg Survey

================================================================
                           Housing  Housing Building Building
                            Starts   Starts  Permits  Permits
                            ,000's     MOM%   ,000's     MOM%
================================================================

Date of Release              09/20    09/20    09/20    09/20
Observation Period            Aug.     Aug.     Aug.     Aug.
----------------------------------------------------------------
Median                         590    -2.3%      590    -1.8%
Average                        590    -2.3%      591    -1.6%
High Forecast                  634     5.0%      646     7.5%
Low Forecast                   570    -5.6%      570    -5.2%
Number of Participants          78       78       56       56
Previous                       604    -1.5%      601    -2.6%
----------------------------------------------------------------
4CAST                          585    -3.2%      585    -2.7%
ABN Amro                       589    -2.5%     ---
Action Economics               570    -5.6%      575    -4.3%
Aletti Gestielle               610     1.0%      615     2.3%
Ameriprise Financial           585    -3.2%      580    -3.5%
Banesto                        585    -3.2%      592    -1.5%
Bantleon Bank AG               580    -4.0%      570    -5.2%
Barclays Capital               595    -1.5%     ---
BBVA                           602    -0.3%      595    -1.0%
BMO Capital Markets            595    -1.5%      590    -1.8%
BNP Paribas                    580    -4.0%     ---
BofA Merrill Lynch             585    -3.2%      570    -5.2%
Briefing.com                   575    -4.8%      575    -4.3%
Capital Economics              580    -4.0%     ---
CIBC World Markets             580    -4.0%      585    -2.7%
Citi                           575    -4.8%      605     0.7%
ClearView Economics            600    -0.7%      600    -0.2%
Comerica                       595    -1.5%     ---
Commerzbank AG                 590    -2.3%      590    -1.8%
Credit Agricole CIB            594    -1.7%      585    -2.7%
Credit Suisse                  570    -5.6%      570    -5.2%
Daiwa Securities America       580    -4.0%     ---
Danske Bank                    589    -2.5%      583    -3.0%
DekaBank                       580    -4.0%      590    -1.8%
Desjardins Group               600    -0.7%      600    -0.2%
Deutsche Bank Securities       600    -0.7%      600    -0.2%
Deutsche Postbank AG           600    -0.7%     ---
DZ Bank                        598    -1.0%      590    -1.8%
Exane                          600    -0.7%     ---
First Trust Advisors           580    -4.0%     ---
FTN Financial                  590    -2.3%      600    -0.2%
Goldman, Sachs & Co.           574    -5.0%     ---
Helaba                         580    -4.0%      590    -1.8%
High Frequency Economics       570    -5.6%      580    -3.5%
HSBC Markets                   595    -1.5%      595    -1.0%
Hugh Johnson Advisors          600    -0.7%     ---
IDEAglobal                     580    -4.0%      590    -1.8%
IHS Global Insight             610     1.0%      607     1.0%
Informa Global Markets         575    -4.8%      585    -2.7%
ING Financial Markets          602    -0.3%      600    -0.2%
Insight Economics              600    -0.7%     ---
Intesa-SanPaulo                580    -4.0%      585    -2.7%
J.P. Morgan Chase              575    -4.8%      580    -3.5%
Janney Montgomery Scott        580    -4.0%      585    -2.7%
Jefferies & Co.                590    -2.3%      575    -4.3%
Landesbank Berlin              590    -2.3%      600    -0.2%
Landesbank BW                  600    -0.7%      590    -1.8%
Manulife Asset Management      590    -2.3%      585    -2.7%
Maria Fiorini Ramirez          590    -2.3%     ---
MET Capital Advisors           590    -2.3%     ---      ---
MF Global                      595    -1.5%      590    -1.8%
Moody's Analytics              610     1.0%      595    -1.0%
Morgan Keegan & Co.            611     1.2%      603     0.3%
Morgan Stanley & Co.           600    -0.7%     ---
National Bank Financial        595    -1.5%      585    -2.7%
Natixis                        590    -2.3%     ---
Nomura Securities              593    -1.8%      593    -1.3%
Nord/LB                       ---                580    -3.5%
OSK Group/DMG                  570    -5.6%     ---
Parthenon Group                614     1.7%      612     1.8%
Pierpont Securities            600    -0.7%     ---
PineBridge Investments         580    -4.0%     ---
PNC Bank                       600    -0.7%     ---
Raymond James                  585    -3.2%      590    -1.8%
RBC Capital Markets            580    -4.0%      588    -2.2%
Scotia Capital                 580    -4.0%     ---
SMBC Nikko Securities          610     1.0%      605     0.7%
Societe Generale               634     5.0%      646     7.5%
Standard Chartered             592    -2.0%      590    -1.8%
State Street Global Markets    592    -2.0%      591    -1.7%
Stone & McCarthy Research      580    -4.0%      590    -1.8%
TD Securities                  600    -0.7%      590    -1.8%
UBS                            605     0.2%     ---
Union Investment               590    -2.3%      600    -0.2%
University of Maryland         575    -4.8%      585    -2.7%
Wells Fargo & Co.              585    -3.2%     ---
WestLB AG                      590    -2.3%      585    -2.7%
Westpac Banking Co.            586    -3.0%      601     0.0%
Wrightson ICAP                 590    -2.3%      600    -0.2%
================================================================