Barclays to Open London Precious Metals Vault on Demand Jump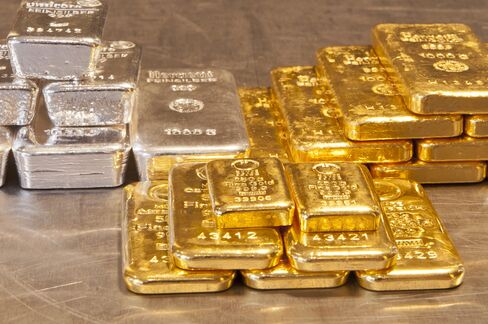 Barclays Capital will open a precious metals vault in London next year as demand for assets boosted investors' holdings and pushed prices to a record.
The facility may be operational by next summer, the bank confirmed in a statement. It's joining The Brink's Co., which opened a vault in London earlier this year and is considering building another facility.
Gold is set for an 11th straight annual gain, the longest winning streak since at least 1920, as investors have shunned equities and some currencies amid concern about slowing economic growth and debt crises. Investors own 2,145.2 metric tons of the metal in exchange-traded products, more than all but four central banks, who are expanding reserves for the first time in a generation. Silver prices more than tripled since 2008.
"The desire to hold physical gold is on the rise" as bar demand increases and central banks turn net-buyers, said Andrey Kryuchenkov, an analyst at VTB Capital in London. "Increasing demand for physical gold would see demand for storage space as well."
Gold for immediate delivery reached a record $1,921.15 an ounce on Sept. 6 and traded at $1,776.80 by 11:22 a.m. in London, set for a 25 percent gain this year. Silver was at $39.8250 an ounce. It reached a record $49.79 on April 25. Both metals outperformed global equities, commodities and Treasuries this year, sending the value of precious metals held in ETPs to $144.8 billion. Silver ETP assets are at 14,215.1 tons.
Client Demand
Barclays is building the vault "in response to client demand," it said. "This is part of our long-term commitment to the bullion market."
U.K. gold vaults are traditionally located within the area bounded by the M25 road that orbits London, the London Bullion Market Association website shows. The gold stored in such vaults is typically to the LBMA's so-called good delivery standard, where bars are of 99.5 percent fineness and include serial number, refiner assay and manufacture year marks.
Demand for gold and silver accelerated as the Federal Reserve cut interest rates to a record low and governments and central banks boosted spending to support the economy. The U.S. central bank has taken the unprecedented step of saying it will keep borrowing costs near zero at least through mid-2013, while European policy makers are trying to stop the region's debt crisis from worsening.
Bar Purchases Jump
Gold may rise above $2,000 this year as bar purchases jump 24 percent and central banks increase buying this year to 336 tons, up from 77 tons last year, London-based researcher Thomson Reuters GFMS said yesterday. It's not only bar demand that is increasing. The U.S. Mint sold 112,000 ounces of American Eagle gold coins last month, the most since January, data on the mint's website show.
The metal's rally shows no signs of a "bubble" as central banks continue to boost money supply and as declining equities and weakening currencies will support demand, Marc Faber, publisher of the Gloom, Boom and Doom Report, said in a Sept. 5 interview from Chiang Mai, Thailand. Speculative buying had pushed the market into a "bubble that is poised to burst," Wells Fargo & Co. analysts said in a report last month.
Brink's' above-ground vault that it opened this year took almost two years to build, according to the LBMA, which visited the facility in April. The bullion carrier services banks, trading houses, institutions and retail investors, governments and ETP sponsors.
Bloomberg competes with Thomson Reuters Corp. in selling financial and legal information and trading systems.
Before it's here, it's on the Bloomberg Terminal.
LEARN MORE