U.S. Trade Deficit Probably Shrank in July on Pickup in Exports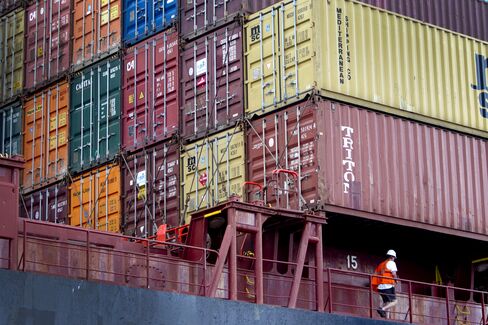 The U.S. trade deficit probably shrank in July as exports increased for the first time in three months, economists said before a report today.
A gap of $51 billion is projected after a $53.1 billion shortfall in June that was the widest in more than two years, according to the median of 74 estimates in a Bloomberg News survey ahead of the Commerce Department report. Another release may show the number of people filing initial claims for unemployment insurance fell last week.
The global slowdown and fallout from the European debt crisis may limit the international flow of goods and services the rest of this year. With a diminished benefit from exports at the same time American consumers and businesses cut back, U.S. manufacturing may be hard-pressed to spur the recovery.
"Exports will continue to grow, although we're not going to see the same growth we did in the past couple of years," said Robert Stein, a senior economist at First Trust Portfolios in Wheaton, Illinois. "Producers in the U.S. are now more dependent on domestic demand because emerging markets are slowing from breakneck speed, Europe is teetering on the edge of recession and Japan is in a lost second decade."
The Commerce Department's trade figures are due at 8:30 a.m. in Washington. Deficit estimates in the Bloomberg survey ranged from $55 billion to $46 billion.
The number of applications for unemployment insurance payments decreased to 405,000 last week from 409,000 in the prior period, according to the median forecast of economists ahead of Labor Department data at 8:30 a.m. Claims have averaged 415,000 so far this year.
Obama Plan
President Barack Obama plans to spark improvement in the labor market with a $300 billion combination of tax cuts, direct aid to states and cities, and infrastructure spending. Obama is set to lay out his plans in an address to Congress today.
Imports in July may reflect increased shipments of auto parts from Japan as the nation recovers from its March earthquake and tsunami. Automobile-related goods have been entering the U.S. at about 50 percent of the rate before the natural disaster, according to Richard Steinke, executive director of the Port of Long Beach.
The trade figures may reflect a reduction in demand for crude oil as the price per barrel approached $100 in July. The average price of imported petroleum rose about 1 percent in July from the prior month.
A labor market that stagnated in August is also weighing on the ability of U.S. households to spend on goods made overseas. Payrolls were unchanged last month, and the unemployment rate held at 9.1 percent, Labor Department figures showed Sept. 2.
Campbell Soup
"While the economies in our primary markets have generally improved since the lows of the economic crisis, many consumers remain cautious," Denise Morrison, president and chief executive officer at Campbell Soup Co., said on a Sept. 2 conference call with analysts. "The recovery has not progressed at the pace or intensity consumers had hoped for. As a result, consumers remain careful about their purchases and feel the need for resourcefulness and vigilance."
Campbell, the world's biggest soup maker, said fourth-quarter profit declined 12 percent as sales dropped.
A weaker dollar may have limited benefit to U.S. exporters as growth cools in emerging markets. The Institute for Supply Management's barometer of export orders for manufacturers fell to a two-year low in August, the group said Sept. 1. The dollar has dropped about 7.4 percent in the 12 months through July against a weighted basket of currencies from the country's biggest trading partners.
Global Economy
Slower growth in developed countries raises the risk manufacturers will temper production. Gross domestic product in the 17-nation euro area rose 0.2 percent in three months ended June from the first quarter, when it increased 0.8 percent. In Canada, the U.S.'s largest trading partner, the economy shrank in the second quarter for the first time since the recession two years ago.
Concern about the global economy has depressed share prices. The Standard & Poor's 500 Index has slumped 12 percent since the end of April through yesterday.
              Bloomberg Survey

===========================================
                             Trade  Initial
                           Balance   Claims
                            $ Blns   ,000's
===========================================
Date of Release              09/08    09/08
Observation Period            July    3-Sep
-------------------------------------------
Median                       -51.0      405
Average                      -51.0      409
High Forecast                -46.0      435
Low Forecast                 -55.0      400
Number of Participants          74       41
Previous                     -53.1      409
-------------------------------------------
4CAST                        -52.0      435
ABN Amro                     -52.0      405
Action Economics             -48.5      405
Aletti Gestielle             -48.5     ---
Ameriprise Financial         -51.5     ---
Banesto                      -51.4     ---
Barclays Capital             -52.0      405
Bayerische Landesbank        -49.5     ---
BBVA                         -54.0      410
BMO Capital Markets          -52.0      410
BNP Paribas                  -51.8      415
BofA Merrill Lynch           -51.0      405
Briefing.com                 -51.0      400
Capital Economics            -52.5     ---
CIBC World Markets           -52.0     ---
Citi                         -52.5      400
ClearView Economics          -51.5     ---
Comerica Inc                 -49.0     ---
Commerzbank AG               -50.0      400
Credit Suisse                -50.0     ---
Daiwa Securities America     -52.0     ---
DekaBank                     -50.0     ---
Desjardins Group             -55.0      410
Deutsche Bank Securities     -50.0      410
Deutsche Postbank AG         -51.0     ---
Exane                        -50.0     ---
Fact & Opinion Economics     -52.1      415
First Trust Advisors         -54.1      405
FTN Financial                -50.0     ---
Goldman, Sachs & Co.         -51.0     ---
Helaba                       -50.0      410
High Frequency Economics     -51.0     ---
HSBC Markets                 -51.0      415
Hugh Johnson Advisors        -46.0     ---
IDEAglobal                   -50.0      405
IHS Global Insight           -50.5     ---
Informa Global Markets       -52.0     ---
ING Financial Markets        -50.5      405
Insight Economics            -52.0      400
Intesa-SanPaulo              -51.0     ---
J.P. Morgan Chase            -51.9      405
Janney Montgomery Scott      -50.7     ---
Jefferies & Co.              -49.7      405
Landesbank Berlin            -55.0      410
Landesbank BW                -52.0     ---
Manulife Asset Management    -52.0      400
Market Securities            -53.4     ---
MF Global                    -50.0      415
Mizuho Securities            -51.0      400
Moody's Analytics            -52.3      405
Morgan Keegan & Co.          -49.1     ---
Natixis                      -54.3     ---
Nomura Securities            -50.1     ---
Nord/LB                      -49.3      400
Parthenon Group              -52.5      401
Pierpont Securities          -49.4      407
PineBridge Investments       -48.0      425
PNC Bank                     -52.0     ---
Raymond James                -51.3     ---
RBC Capital Markets          -48.7      412
RBS Securities               -49.8      405
Scotia Capital               -49.0      400
SMBC Nikko Securities        -48.0     ---
Societe Generale             -51.8      411
Standard Chartered           -50.3      415
State Street Global Markets  -50.3      413
Stone & McCarthy Research    -52.5      410
TD Securities                -48.0      420
UBS                          -52.5      405
University of Maryland       -51.6     ---
Wells Fargo & Co.            -55.0     ---
WestLB AG                    -49.8     ---
Westpac Banking Co.          -51.5     ---
Wrightson ICAP               -51.0      425
===========================================
Before it's here, it's on the Bloomberg Terminal.
LEARN MORE