Fired Yahoo CEO Bartz Calls Board 'Doofuses,' Fortune Says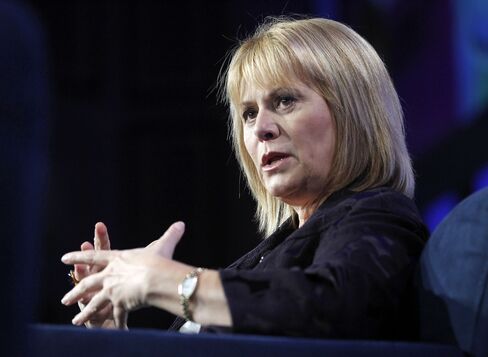 Carol Bartz, who was fired as Yahoo! Inc.'s chief executive officer this week, said the company's board "f---ed me over" in an interview with Fortune magazine.
Yahoo Chairman Roy Bostock read a lawyer's prepared statement to fire Bartz by phone on Sept. 6 while she was in New York for a Citigroup Inc. technology conference, Fortune said.
"I said, 'Roy, I think that's a script," Bartz told Fortune. "Why don't you have the balls to tell me yourself?'"
Bartz also said Yahoo's directors were "spooked by being cast as the worst board in the country" after they were criticized for turning down a deal to sell the company to Microsoft Corp., Fortune said. "Now they're trying to show that they're not the doofuses that they are," she said in the story.
Bartz also told Fortune she remains on Yahoo's board and plans to stay on as a director.
"Ms. Bartz is obligated to resign from the board and we expect her to do so," Charlie Sipkins, a spokesman for the directors of Yahoo, said in an interview with Bloomberg.
Bartz, 63, took the helm at Sunnyvale, California-based Yahoo in January 2009. She was ousted after a reign marked by falling sales, lost share to rivals and a dispute with Asian partners that stunted growth in the world's largest Web market.
Before it's here, it's on the Bloomberg Terminal.
LEARN MORE