International Paper to Buy Temple-Inland for $3.7 Billion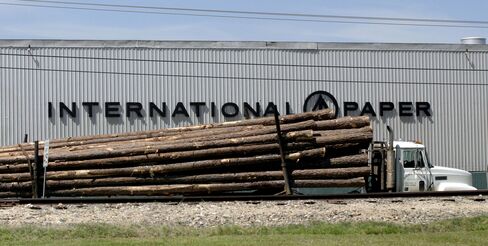 International Paper Co., the largest pulp and paper maker, agreed to acquire Temple-Inland Inc. after raising its offer to $3.7 billion, ending a three-month battle for control of the shipping-box manufacturer.
International Paper increased the all-cash bid to $32 a share, the Memphis, Tennessee-based company said today in a statement. Temple-Inland, based Austin, Texas, had previously rejected a June 6 offer of $30.60 a share as too low. Temple-Inland rose as much as 26 percent in New York while International Paper jumped the most in more than two years.
To fend off the original bid, Temple-Inland had adopted a so-called poison pill takeover defense that limited any person or group from acquiring more than 10 percent of its stock. The company also has a staggered board, meaning it could have taken more than a year for International Paper to gain control through proxy fights.
"The choice we had to make was, do we sit and wait for a long time and take the hard road or take the easy road," International Paper Chief Executive Officer John Faraci said today in a telephone interview. "We've said from the outset that a friendly, negotiated transaction was our objective and that's what we accomplished."
Temple-Inland rose $6.22, or 25 percent, to $30.85 as of 4:15 p.m. in New York Stock Exchange composite trading. The shares traded as low as $19.03 on Aug. 23 amid tumbling stock markets and on speculation the takeover wouldn't proceed. International Paper climbed $2.28, or 8.9 percent, to $27.77, the biggest advance since May 2009.
Markets Drop
International Paper is paying 10.13 times Temple-Inland's earnings before interest, taxes, depreciation and amortization, compared with the 6.69 multiple that rival U.S. container board maker Rock-Tenn Co. in January agreed to pay for Smurfit-Stone Container Corp., according to Bloomberg data.
The median paid in completed paper company takeovers over the past 10 years was 9.45 times Ebitda, according to the data.
Faraci said in June the deal would raise International Paper's share of the North American corrugated-packaging market to about 37 percent from 27 percent. Regulatory approval for the deal is expected by the year-end, he said today on a conference call.
International Paper "is getting Temple cheap, considering the value that we expect the deal to bring," Mark Connelly, a New York-based analyst at Credit Agricole Securities Inc., said today in a note.
'Stable Profitability'
The acquisition is positive for International Paper and other North American makers of corrugated packaging, he said.
"Upon the completion of this deal, we would expect pricing to be far less cyclical and profitability to be far more stable," Connelly said.
Temple-Inland's "growing awareness" of weakness in U.S. stock markets and the country's economy probably compelled it to come to the negotiating table sooner than expected, Faraci said in the interview.
"When we got into due diligence we saw some plusses and some minuses that affirmed our value," he said.
International Paper, which is also taking on $600 million of Temple-Inland's debt, said in a filing it would pay a $200 million break fee if the takeover is terminated "in certain circumstances related to failure to obtain antitrust approvals."
Temple-Inland also may be required to pay International Paper $105 million should the deal fail "in certain circumstances," International Paper said.
Mill Discharge
Faraci said International Paper is "comfortable" with issues related to the shutdown of a Temple-Inland mill in Louisiana and a lawsuit seeking $1 billion from Temple-Inland over the company's handling of Guaranty Financial, a former unit that failed after it was spun off in 2007.
Temple-Inland said Aug. 13 it shut its Bogalusa mill after fish in the Pearl River may have died because of a discharge from the plant. The company said Aug. 29 that Louisiana approved a restart.
The suit was filed in federal court in Dallas last month by Kenneth L. Tepper, the liquidation trustee for Guaranty. Temple-Inland said Aug. 23 it doesn't "believe that we have any liability related to the spinoff."
"We have completed the sufficient due diligence on both Bogalusa and Guaranty bank issues," Faraci said on the conference call. "We know what those are and have made accommodations for those in our valuations."
Evercore Partners Inc., UBS AG and law firm Debevoise & Plimpton LLP are advising International Paper. Goldman Sachs Group Inc. and Wachtell, Lipton, Rosen & Katz are advising Temple-Inland.
In January, Norcross, Georgia-based Rock-Tenn Co. agreed to buy Chicago-based Smurfit-Stone Container Corp. for $4.5 billion to become North America's second-biggest container board producer, after International Paper.
Before it's here, it's on the Bloomberg Terminal.
LEARN MORE