Surprise Rate Cut Follows Turkey as Economy Slows: Brazil Credit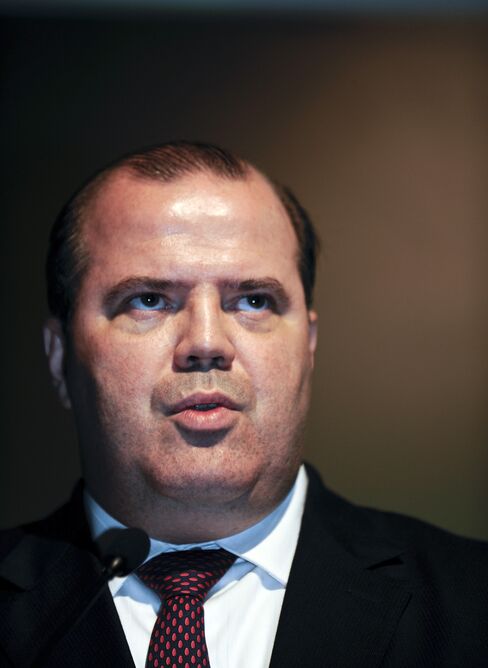 Sept. 1 (Bloomberg) -- The Brazilian central bank's surprise cut in interest rates makes the country the second in the Group of 20 after Turkey to use that tool to safeguard the economy against a global slowdown.
The bank's board, led by President Alexandre Tombini, voted 5-2 to cut the benchmark rate a half point to 12 percent after raising it at each of its previous five meetings. All 62 analysts surveyed by Bloomberg expected no change, as was favored by the two dissenting board members. Traders in the interest-rate futures market were assigning a 56 percent chance of a quarter-point cut, according to data compiled by Bloomberg.
A "substantial deterioration" in the global economy may be "prolonged" and could slow trade, investment and credit flows to Brazil, the bank said in a statement yesterday. In the context of near-zero rates globally, a "moderate adjustment" in the benchmark rate won't undermine expectations for inflation to slow to the 4.5 percent target next year, policy makers said. Inflation quickened to a six-year high of 7.1 percent in August.
"No one was expecting this, not even the doves," said Alberto Ramos, a Latin American economist at Goldman Sachs Group Inc. in New York. "They're afraid there's an external shock that could depress or intensify the decelerating dynamics that the bank already sees in the economy."
The real weakened 1.2 percent to 1.6087 per U.S. dollar at 9:31 a.m. New York time. The yield on interest-rate futures contracts due in January plunged 52 basis points to 11.42 percent.
Extra Yield
The extra yield investors demand to hold Brazilian dollar bonds instead of U.S. Treasuries rose one basis point to 198, according to JPMorgan Chase & Co.
A selloff in world stock markets, which lost more than $4 trillion this month as Europe tried to stave off a sovereign debt crisis and global growth showed signs of slowing, is shifting the focus of policy makers in emerging markets who had been trying to cool their economies.
Turkey's central bank cut its benchmark interest rate to a record low 5.75 percent after an unscheduled meeting Aug. 4. Mexico has also signaled that it may lower borrowing costs.
Growth in Brazil, the world's second-largest developing economy after China, will slow to 3.9 percent this year, according to a central bank survey published this week, after a 7.5 percent expansion in 2010, the fastest in more than two decades.
Brazil gave no guidance about whether it will slash the Selic further, saying it will monitor developments closely to determine its next move. The unprecedented length and pessimistic tone of the statement reflects the "urgent" nature of policy makers' decision, said Roberto Padovani, chief economist for Votorantim Corretora SA.
Political Pressure
"This decision makes it harder to predict the bank's next steps," said Padovani in a telephone interview from Sao Paulo.
While Padovani had been expecting the bank to leave the Selic unchanged and signal four quarter-point increases to come, he said there's now room for reductions totaling as much as two percentage points.
Barclays Plc said in a report that the surprise cut may have been coordinated with the government, which on Aug. 29 raised by 10 billion reais ($6 billion) its target for this year's budget surplus before interest payments. President Dilma Rousseff, echoing calls for a rate cut by members of her cabinet, vowed this week to rein in spending to create a "new pathway" of lower borrowing costs in Brazil.
Economists failed to anticipate the rate reduction in part because inflation has been above the upper end of the government's target range since April. The benchmark IPCA-15 index quickened to 7.1 percent by mid-August.
Inflation Bets Rising
The two-year breakeven rate, which reflects investors' expectations for the average annual inflation rate by 2013, rose to a one-month high of 5.86 percentage points yesterday. It plunged 21 basis points, or 0.21 percentage point, to 5.65 percentage points at 9:30 a.m. New York time. Tombini has repeatedly said the central bank aims to lower inflation to 4.5 percent next year.
The breakeven rate, derived from the yield difference between inflation-linked bonds and interest-rate futures, increased 34 basis points, or 0.34 percentage point, in the past two weeks through yesterday. A similar gauge for the U.S. rose 19 basis points during the same period to 1.16 percentage points.
Yesterday's change in monetary policy direction was the fastest since 1999, when then bank President Arminio Fraga cut the Selic to 42 percent after boosting it three weeks earlier to stem a devaluation in the real. Tombini's predecessor, Henrique Meirelles, waited four months after the collapse of Lehman Brothers Holdings Inc. in 2008 to cut rates.
Currency, Inflation
While reducing the G-20's highest interest rate may ease pressure on the real, the best-performing emerging market currency since the end of 2008, the surprise nature of the decision could fuel volatility and inflation expectations are likely to worsen, said Andre Perfeito, chief economist at Sao Paulo-based Gradual Investimentos.
"Probably the market won't buy it," said Perfeito in a telephone interview. "It's not clear that the international crisis will have this much effect on Brazilian inflation."
The cost of protecting Brazilian bonds against default for five years fell 10 basis points yesterday to 143, according to data provider CMA, which is owned by CME Group Inc. and compiles prices quoted by dealers in the privately negotiated market.
Cheers, Not Jeers
Business lobbies and labor unions, who are accustomed to protesting the bank's rate policy, expressed support and called for deeper cuts. The National Industry Confederation in a statement said the reduction was an "important step" that will help prepare Brazil for a new crisis in the global economy.
UBS AG and Citigroup Inc. this month cut their forecasts for expansion of the world economy and predicted major central banks will leave rates on hold through 2012. Christine Lagarde, the managing director of the International Monetary Fund, warned Aug. 27 that the world economy is in a "dangerous new phase."
While policy makers are anticipating slower world growth and declining demand from China for Brazil's commodities exports, a tight labor market and surge in lending continues to pressure prices.
Unemployment in July fell to 6.0 percent, its lowest level this year, while credit expanded at a 20 percent pace even after the central bank took steps to slow its growth.
Price Pressures
Tombini said he expects the inflation rate to start falling in September, and has pledged to hit the 4.5 percent target by the end of 2012. Analysts think he'll fail, and left unchanged at 5.2 percent their forecast for price increases next year in an Aug. 26 bank survey.
Latin America's biggest economy is showing signs of slowing. Industrial production in July fell 0.3 percent from a year earlier, while the bank's economic activity index fell in June for the first time since 2008.
Rousseff and Finance Minister Guido Mantega have signaled they won't increase spending if growth in the world economy halts, as Brazil did following the collapse of Lehman Brothers in 2008. That has fueled speculation that the central bank could take advantage of another slowdown to aggressively cut its benchmark rate.
If it does, the bank's hard-won credibility could be at risk, said Gustavo Rangel, chief Brazil economist for ING Financial Markets in New York.
The fact Brazil "is taking the lead among its Latin American peers by moving aggressively into easing territory, even though Brazil has the worst inflation outlook among them, is bound to hurt the bank's credibility," Rangel said in an e-mailed report.
To contact the reporter on this story: Matthew Bristow in Brasilia at mbristow5@bloomberg.net; Arnaldo Galvao in Brasilia at agalvao1@bloomberg.net
To contact the editor responsible for this story: Joshua Goodman at jgoodman19@bloomberg.net