Weaker Irene Makes North Carolina Landfall on Path to Northeast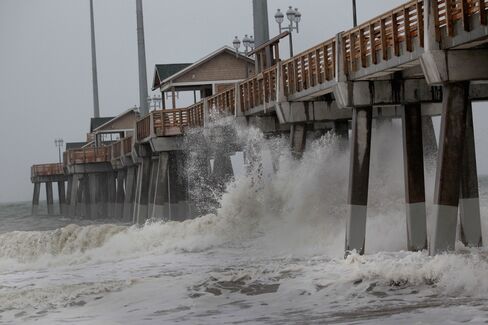 Hurricane Irene, far weaker than two days ago but still a punishing Category 1 storm, lashed eastern North Carolina today with winds of 85 miles (137 kilometers) per hour as it began its move up the East Coast.
Residents as far north as Maine, including New York City, prepared and waited, and the Canadian provinces of New Brunswick and Nova Scotia were advised by the National Hurricane Center to monitor the storm.
As of 8 a.m. Eastern time, Irene had made landfall near Cape Lookout, on North Carolina's Outer Banks, about 60 miles southwest of Cape Hatteras. The storm, a Category 3 hurricane just two days ago, was moving north-northeast at 14 mph.
While Irene should weaken as it moves up the coast, "the cyclone is expected to remain a hurricane with a very large wind field until after landfall in New England," the center said in an advisory.
Irene is forecast to near the mid-Atlantic coast later today and reach southern New England tomorrow, the center said. President Barack Obama declared emergencies for North Carolina, Virginia, Connecticut, New York, New Jersey and Massachusetts, while New York Mayor Michael Bloomberg ordered the first mandatory evacuation in the city's history.
Watching Irene
As Hurricane Irene passed just west of Hatteras Island, North Carolina, Dennis Spake stood on the second-story patio of the Comfort Inn in Buxton and watched as winds ripped sheet metal from the awning of a gas station across the parking lot, hurling the metal across the road.
"I have to be here," Spake, who is in charge of maintenance at the hotel, said in an interview. "You just gotta roll with it."
Susie White, whose home sits along Pamlico Sound, said she brought her three children to the hotel for safety. She said she hasn't slept all night.
"I've been stepping outside every half hour," White said in an interview. "I'm worried because we're not even in the heart of the storm yet."
More than 65 million people, or about one in five Americans, from North Carolina to Maine may be in the course of the hurricane, according to data compiled by Bloomberg. About 3.5 million live in the North Carolina counties in the storm's path, according to Governor Bev Perdue.
Possible Losses
The storm may cause $6.5 billion in overall economic losses, according to estimates by Kinetic Analysis Corp. If the storm takes a more easterly track and is less intense than forecast, the company expects insured losses of $3.1 billion.
"The biggest issue with respect to U.S. damage remains how much the storm is weakened after hitting North Carolina, and the exact track across the Northeast," Chuck Watson, Kinetic's director of research and development, said in an e-mail. "It does look like long-term economic impacts to the NYC area are increasingly unlikely."
The Port of Authority of New York and New Jersey planned to close its five airports to all arriving passenger flights beginning at noon today.
John F. Kennedy International, Newark Liberty International, Stewart International, LaGuardia and Teterboro airports will remain open for departing flights, the port authority said in an e-mailed statement yesterday.
Transit Shutdowns
Governor Chris Christie ordered all rail service in New Jersey suspended as of noon today. New York Governor Andrew Cuomo said the Metropolitan Transit Authority would close New York's subways, buses and trains at noon. The Port Authority of New York and New Jersey was to suspend all PATH services starting at noon, according to a statement.
An "extremely dangerous" storm surge will raise water levels by 5 feet to 9 feet above ground level in coastal North Carolina, the hurricane center said. Storm surge may push water levels 4 feet to 8 feet higher from Virginia to Cape Cod, Massachusetts, according to the center's advisory.
"The surge will be accompanied by large, destructive and life-threatening waves," the center said.
The threat of storm surge rushing ashore in New York prompted Bloomberg to order 270,000 residents of low-lying areas of the city, including Battery Park City and Coney Island, to leave their homes. The mayor is the founder and majority owner of Bloomberg News parent Bloomberg LP.
Irene has the surge of a much more powerful hurricane, said Jeff Masters, co-founder of Weather Underground Inc. in Ann Arbor, Michigan. Irene is actually pushing the surge of a Category 4 storm into North Carolina, he said.
Weakening Predicted
The impact with land in North Carolina will weaken the surge, Masters said. By the time it makes an expected landfall on New York's Long Island, it may still have a more powerful surge than its wind-force status would indicate, he said.
Six to 10 inches of rain may accompany the storm from eastern North Carolina into New England, with as much as 15 inches in some isolated areas, the center said.
Irene whipped the Bahamas on Aug. 25. Losses on the island are likely to be between $500 million and $1.1 billion, according to an estimate by AIR Worldwide in Boston.
Hurricane warnings are posted from Little River Inlet, North Carolina, to Sagamore Beach in Massachusetts, including New York City, according to the hurricane center. The last hurricane to prompt a warning in New York was 1985's Gloria, the center said.
Irene's hurricane-strength winds stretch 90 miles from its center, about the distance from Philadelphia to New York. Tropical storm-force winds of at least 39 mph extend 260 miles from the core.
Damage Outlook
Irene may not be a hurricane by the time it reaches New York, said Gary Best, a meteorologist at Hometown Forecast Services in Nashua, New Hampshire.
"As it moves up the coast, half of its circulation is going to be over land," he said. "It's probably not going to be a historical storm but it is going to cause some damage."
The Northeast is experiencing higher tides because of a new moon, so a storm surge now will be higher than it would at other times of the month, said Michael Schlacter, chief meteorologist at Weather 2000 Inc. in New York.
In addition, the storm will be striking Long Island and southern New England perpendicular to the coast, which means more water will be pushed on shore, he said.
"The biggest impacts obviously will be the storm surge," Schlacter said.
Across New York City, winds may reach 50 to 60 mph as the storm passes, said Tom Kines, senior expert meteorologist with AccuWeather Inc. in State College, Pennsylvania.
Long Island may have wind gusts as intense as 100 mph along with 5 to 9 inches of rain.
Before it's here, it's on the Bloomberg Terminal.
LEARN MORE