Japan's Shift to Solar Hinges on Banks Ending Loan Drought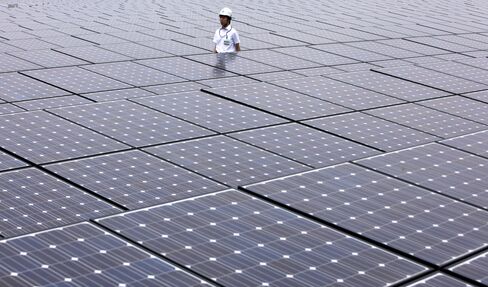 Japan is beginning a shift to solar energy that lacks one ingredient: bank financing.
For lenders like Sumitomo Mitsui Financial Group Inc., a commitment to offer loans to solar ventures depends on legislation passed today that will subsidize renewable energy, part of Prime Minister Naoto Kan's initiative to cut Japan's reliance on atomic energy after the Fukushima nuclear crisis.
Trading houses Mitsui & Co. and Mitsubishi Corp., insurers Munich Re and Tokio Marine Holdings Inc., and billionaire Masayoshi Son are among those ready to invest in solar power. For their businesses to become viable, they need utilities to buy electricity generated by the sun, wind and geothermal heat at above-market prices, known as feed-in tariffs.
"Feed-in tariffs will be a driving force to push solar power plant projects," said Kenji Baba, a senior vice president at Sumitomo Mitsui in the industrial projects team. "Lending requirements will emerge as soon as they become economically viable and bring about decent returns on investment."
Japan plans to expand its renewable energy industry to 10 trillion yen ($130 billion) by 2020, lagging behind Germany, which has increased reliance on clean fuel and reduced nuclear generation since adopting a subsidy program more than 20 years ago. Investing in solar power would give Japanese banks new business in a country where loans have shrunk for 20 months as deflation and a declining population dissuade borrowers.
Promising Industry
"Banks surely want to boost loans for a promising industry while still lending to long-standing clients such as utilities," said Tomohiro Jikihara, an energy analyst at JPMorgan Chase & Co. in Tokyo. "Solar power would help to supplement Japan's energy-supply portfolio, which would retain nuclear generation as a pillar."
Renewable energy, including solar, wind and geothermal sources, accounted for 2.9 percent of Japan's power generation in 2010, compared with 15 percent in Germany, according to data from the International Energy Agency. Nuclear made up 26.9 percent of the Asian nation's energy needs, more than Germany's 22.9 percent.
Financing for new solar projects in Germany increased five times to $35.6 billion in 2010 from $7.1 billion in 2005, according to data compiled by Bloomberg New Energy Finance. That's 45 percent of global funding, which jumped to $78.4 billion last year from $11.6 billion in 2005, the data show.
Nuclear Lifeline
Local authorities are embracing Kan's pledge to reduce reliance on atomic energy since the March 11 earthquake and tsunami wrecked the Fukushima Dai-Ichi nuclear plant, leading to radiation leaks. Kanagawa, a prefecture that borders Tokyo and is home to the port city of Yokohama, wants to expand solar-power generation by as much as 6,600 megawatts, the combined capacity of about six nuclear reactors.
"Kanagawa relied on Fukushima nuclear generation as part of our lifeline," Governor Yuji Kuroiwa said in an interview. "Now we need to build our local production-and-consumption power system and in so doing solar is a big option."
Sales of equipment to generate solar energy in Japan could double to 2,300 megawatts next year from 1,100 megawatts in 2010, Bloomberg New Energy Finance estimates. That would cost about 1.4 trillion yen, based on the current installation expense of 600,000 yen a kilowatt.
Sumitomo Mitsui, the country's second-biggest bank by market value, and state-run Development Bank of Japan have both sent officials to find out more about Kuroiwa's plans.
Only Banker
Keisuke Takegahara, head of Development Bank's environment division, was the only banker to attend the prefecture's first meetings on the project about two months after the March disaster. He told the group that the amount and duration of tariffs to be set by the government are crucial to determining the pace of growth in photovoltaic plant demand.
"Private money can only follow a project that brings about decent returns -- it's that simple," Takegahara said. "When it comes to solar, the feed-in tariff is the one thing that will decide the fate of a project."
The legislation approved by the upper house of the Diet today doesn't specify how much and for how long power suppliers will pay for renewable energy. The new law will become effective on July 1, 2012.
Sumitomo Mitsui is prepared to lend at least 5 billion yen for individual solar plant projects depending on factors including the tariff rates and profit outlook, according to Masaki Hikihara, head of domestic project financing at the bank.
While lenders waver, asset managers and trading houses are preparing to invest.
Tokio Marine Fund
Tokio Marine Asset Management Co., a unit of Japan's second-largest non-life insurer, allied with Mitsui, the country's second-biggest trading company, to set up a fund that will exclusively invest in solar projects for the first time, said Ryuichi Hokao, head of the asset manager's product planning. The fund will start with as much as 10 billion yen, aiming to diversify investment into as many as 10 solar plants in Japan.
Local pensions are among potential investors for the fund, which will seek annual returns of 3 percent, Hokao said. Tokio Marine will raise the cash, while Mitsui oversees the construction and operation of plants, he said.
Softbank Corp. Chief Executive Officer Son joined local governments and trading companies led by Mitsubishi Corp. in moving ahead with solar projects. Mitsubishi, the country's biggest trading company, last year teamed up with the prefectural government of Kumamoto, southwestern Japan, to develop renewable energy projects including a solar power plant.
Insuring Solar
Baba of Sumitomo Mitsui said insuring solar assets would also help persuade banks to offer loans.
Munich Re, the world's biggest reinsurer, agreed in July to insure a Japanese solar module maker's liability for the performance of its products, the first such deal in the country. Under the accord, Munich Re will insure the panel maker, Solar Frontier K.K., a unit of Showa Shell Sekiyu K.K., for as long as 20 years to cover any unexpected, substantial loss of quality.
"The contract with Munich Re will add value to our products and help project investors clinch loan agreements with banks," said Atsuhiko Hirano, senior vice president of Solar Frontier, which started commercial operations in July at a 100 billion yen factory in southern Japan. "It's just a matter of time before a slew of mega-solar projects tied with bank financing emerge in Japan, like what's taken place in Europe."
Before it's here, it's on the Bloomberg Terminal.
LEARN MORE