Qaddafi in Tripoli, Vows to Fight to End, Chess Chief Says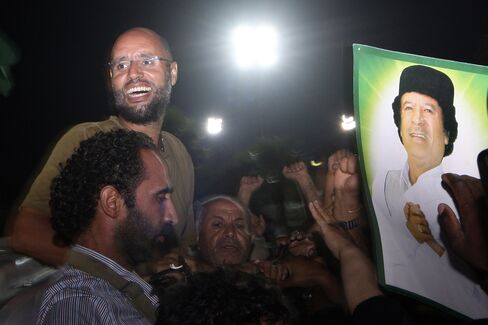 Libyan leader Muammar Qaddafi is in Tripoli and is vowing to fight to the end, Kirsan Ilyumzhinov, head of the World Chess Federation and a former Russian regional leader, said in a telephone interview in Moscow today.
Ilyumzhinov, who played chess with Qaddafi during a June visit to the Libyan capital, said he spoke with Qaddafi and his son Mohammed by phone today at about 6 p.m. Moscow time.
Qaddafi has "no plans to leave" Libya and will "fight to the end," according to Ilyumzhinov. Qaddafi's son, Mohammed, called Ilyumzhinov in his car in Moscow from a satellite phone in Tripoli and then handed the receiver to his father. The conversation lasted about 90 seconds.
Libyan rebels stormed into Qaddafi's compound in Tripoli today after battling loyalist forces for control of the capital for a third day. Gunfire and explosions were heard from the presidential headquarters in Bab Al Aziziya after the rebels broke into the heavily fortified compound and raised their flag there, Al Arabiya television reported.
Ilyumzhinov, who was president of the predominantly Buddhist region of Kalmykia in southern Russian until last year, also quoted Qaddafi as thanking "the people who are supporting the Libyan nation in the fight against occupiers."
The Libyan leader's son, Mohammed, escaped house arrest after being captured by rebels, according to Al Jazeera.
Mohammed said he is "fine" and is in Tripoli with his father, who "wanted to say a few words," Ilyumzhinov said, quoting the phone conversation.
Before it's here, it's on the Bloomberg Terminal.
LEARN MORE