Stocks Sink as Treasury Yields Fall to Record Lows; Gold Surges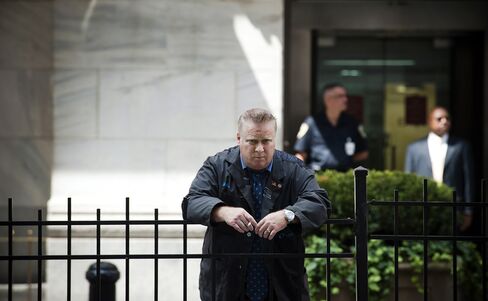 Stocks plunged while Treasuries rallied, pushing yields to record lows, amid growing signs the economy is slowing and speculation that European banks lack sufficient capital. Gold climbed to a record, while oil led commodities lower.
The Standard & Poor's 500 Index tumbled 4.5 percent to 1,140.74 at 4 p.m. in New York. The Stoxx Europe 600 Index lost 4.8 percent in its worst plunge since March 2009 and Germany's DAX Index slid 5.8 percent, the most since 2008. Ten-year Treasury yields fell as much as 19 basis points to 1.97 percent as rates on similar-maturity Canadian and British debt also reached all-time lows. The dollar gained versus 15 of 16 major peers, strengthening 0.6 percent to $1.4336 per euro. Gold futures rallied as much as 2.1 percent to $1,832 an ounce, while oil slid 5.9 percent.
Banks led losses a day after the European Central Bank said a lender will borrow dollars for the first time in six months. Lars Frisell, chief economist at Sweden's financial regulator, said it won't take much for interbank lending to freeze and the Wall Street Journal reported regulators were scrutinizing the U.S. operations of Europe's largest lenders to assess their vulnerability. U.S. jobless claims rose and Philadelphia-area manufacturing shrank by the most since 2009, while hopes for more stimulus from the Federal Reserve receded.
'Massive Exodus'
"The massive exodus from risk markets reflects heightened concerns with a possible recession and the accelerated loss of trust in policy makers," Mohamed El-Erian, chief executive officer and co-chief investment officer at Pacific Investment Management Co., the world's biggest manager of bond funds, wrote in an e-mail today. "Importantly, such worries will now be compounded by concerns about technical damage to key markets. The risk is of a rapidly deteriorating negative feedback loop of weakening fundamentals, inadequate policies and bad technicals."
The S&P 500 briefly extended losses after Hewlett-Packard Co., the world's largest computer maker, cut its full-year profit forecast. Financial shares in the index lost 5 percent as a group as Bank of America Corp., JPMorgan Chase & Co. and Citigroup Inc. sank at least 3.7 percent. General Electric Co. and Alcoa Inc. plunged more than 5.4 percent to help lead losses in 29 of 30 stocks in the Dow Jones Industrial Average, which slid as much as 528.61 points.
All 10 industry groups in the S&P 500 retreated at least 1.2 percent, led by companies most tied to the economy including commodity producers, banks and manufacturers.
'Ugly Out There'
"It's ugly out there," Paul Zemsky, the New York-based head of asset allocation for ING Investment Management, said in a telephone interview today. His firm oversees $550 billion. "It's a combination of concern of a potential recession and the lack of policy tools to fight it. Until people see a bottom, they are not going to buy stocks. There will be pressure on the equity market until we see a solid policy response."
U.S. stocks may slip to new lows in the next few weeks, setting the stage for a rally of more than 20 percent in the S&P 500, Tom DeMark, the creator of indicators meant to identify turning points in markets, said in an Aug. 16 interview. The S&P 500, which closed at 1,193.89 yesterday, will probably drop below the 11-month low of 1,119.46 set on Aug. 8 before surging above 1,363.61, its peak on April 29, according to DeMark.
U.S. equities erased early gains yesterday amid growing concern the Fed will refrain from starting a third round of quantitative easing to boost the economy. Fed Chairman Ben S. Bernanke's pledge last week to keep interest rates near zero until mid-2013 was "inappropriate policy at an inappropriate time," Charles Plosser, president of the Fed Bank of Philadelphia, said yesterday in a Bloomberg Radio interview. Dallas Fed President Richard Fisher said the central bank shouldn't enact policy to protect stock investors.
Growth Forecast
Morgan Stanley cut its forecast for global economic growth this year to 3.9 percent from 4.2 percent, citing insufficient policy response to Europe's debt crisis and weakening confidence. U.S. initial jobless claims climbed by 9,000 to 408,000 in the week ended Aug. 13, topping the median estimate of economists surveyed by Bloomberg for a rise to 400,000. The Fed Bank of Philadelphia's general economic index unexpectedly plunged to minus 30.7, the lowest level since March 2009.
Consumer confidence in the U.S. economic outlook slumped in August to the lowest level since the recession, raising the risk that spending will dry up. The Bloomberg Consumer Comfort Index's monthly expectations gauge dropped to minus 34, the weakest since March 2009, from minus 22 in July. The weekly measure of current conditions was minus 48.3 for the period ended Aug. 14 compared with minus 49.1, which was the worst reading since mid-May.
Earnings Concern
The S&P 500 has tumbled 16 percent from its April high, about the same as the retreat between April 23 and July 2, 2010, previously the biggest contraction of the bull market that began in March 2009. Since the third quarter of last year, companies in the index have earned $774.3 billion, according to data compiled by Bloomberg, pushing per-share profit to $91.44 as of yesterday from $74.97 on July 2, 2010.
Analysts have underestimated U.S. earnings for eight straight quarters, with S&P 500 companies beating forecasts by an average of 5 percent in the three months ended in June. At the start of the last recession, their projections for overall profit proved 8.2 percentage points too high in the third quarter of 2007, and 33.5 points too high in the fourth. That was the biggest miss ever, according to data compiled by Bloomberg.
Treasuries Trim Losses
The yield on the 10-year Treasury note trimmed losses to trade down nine basis points at 2.08 percent. Rates on five-year and seven-year Treasuries also touched record lows. The 30-year Treasury yield fell 13 basis points to 3.44 percent, extending a 20 basis-point drop in the prior two days.
"Realizing that global economic growth will continue to be marked down compared to what people were expecting, that we are seeing no inflation and that central banks are keeping rates low, investors have every incentive to grab yield wherever they can, and this means buying further out the Treasury curve," said Bulent Baygun, head of interest-rate strategy in New York at BNP Paribas SA, one of 20 primary dealers that trade directly with Federal Reserve.
All but five of the 600 stocks in the Stoxx 600 fell with banks losing 6.7 percent as a group. Belgian lender Dexia SA plunged 14 percent and Barclays Plc lost 11 percent in London, the biggest drops since 2009 for both. Societe Generale SA slid 12 percent to a two-year low in Paris. Holcim Ltd., the world's second-largest cement maker, tumbled 8 percent after profit missed estimates.
ECB Loans
The ECB said yesterday it will lend dollars for the first time in six months after one bank took up its weekly offer. The ECB said a euro-area bank will borrow $500 million in its 7-day liquidity-providing operation at a fixed rate of 1.1 percent. It's the first time the ECB received bids in the operation since Feb. 22.
The dollar Libor-OIS spread, a gauge of banks' reluctance to lend, was at 20.4 basis points, the highest level since August last year. It was 12 basis points at the start of the year.
"It won't take much for the interbank market to collapse," Sweden's Frisell said yesterday in an interview in Stockholm. "It's not that serious at the moment but it feels like it could very easily become that way and that everything will freeze."
Emerging Markets
Eastern Europe led developing-nation stocks lower, dragging the MSCI Emerging Markets Index down 2.9 percent. Poland's WIG20 Index slumped 5.8 percent, the most since 2009. Benchmark gauges in Russia, China, India and South Korea sank at least 1.6 percent.
The yen strengthened against all 16 major peers, gaining more than 1.4 percent against the Australian and New Zealand dollars and the South African rand.
U.K. bonds rose, pushing 10-year gilt yields to a record low of 2.24 percent, as a government report showed retail sales rose a less-than-forecast 0.2 percent in July from the previous month.
Before it's here, it's on the Bloomberg Terminal.
LEARN MORE