Boeing Labor Case Creeps at Pace Risking Stalemate on U.S. Board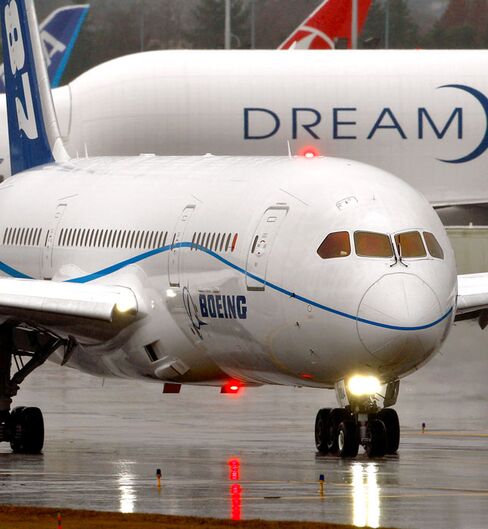 Aug. 17 (Bloomberg) -- Boeing Co.'s labor case from a National Labor Relations Board complaint is creeping so slowly that the shrinking federal panel may not have enough members left to hear appeals as an initial hearing unfolds.
Opening arguments haven't started in a hearing that began in June on the NLRB's April complaint, which alleges that Boeing retaliated against striking Machinists in Seattle by building a 787 Dreamliner plant in South Carolina. Administrative Law Judge Clifford Anderson is urging haste as lawyers wrangle.
One NLRB member's term expires on Aug. 27, and another's is up in December. With one vacancy already, the board would to go to two members from its usual five. The U.S. Supreme Court ruled last year that a two-member board can't issue rulings, so if any party makes a special appeal on one of the judge's intermediate decisions, the case could be deadlocked.
"My backside is too tender now to sit" through more negotiations, Anderson told lawyers yesterday in Seattle for Boeing, the NLRB and the Machinists union after two weeks of side talks failed to produce an accord on subpoenas. "I would very much like, from my greedy perspective, to move along."
The NLRB claims Boeing violated laws protecting striking workers when it decided in 2009 to build the plant in South Carolina, away from unions in Seattle, where the rest of the company's commercial factories are. Executives said at the time that they sought production stability in South Carolina, a right-to-work state. Chicago-based Boeing says the decision was made for financial reasons, not retaliation.
No Compromise
The judge, who has repeatedly pressed all sides to settle matters on their own, ruled Aug. 12 on a protective order sought by Boeing, saying the planemaker must provide most of the documents the NLRB subpoenaed, though some can be kept secret. He had allowed deadline extensions for the parties to craft a compromise, a process that ultimately failed.
Lawyers for the NLRB and the International Association of Machinists and Aerospace Workers complained that yesterday's document exchange contained nothing related to the Dreamliner or the case. Boeing provided one box, which held 2,493 pages of historic collective-bargaining agreements and 173 printouts of employee newsletters, said Dave Campbell, a Seattle-based attorney for the Machinists.
'100-Box Case'
"This should be a 100-box case," Campbell said in an interview. "We've been waiting since May 20, when we issued the subpoena. We're trying to get to the point where we call witnesses, and they're trying to drag this out."
Boeing's lawyers said yesterday that they will need another month to provide documents the NLRB subpoenaed three months ago. By that time, NLRB Chairman Wilma Liebman will no longer be on the board and it will have dwindled to three members.
Richard Hankins, an Atlanta-based lawyer with McKenna Long & Aldridge LLP who is working for Boeing, said the company is "absolutely not" trying to stall and that the NLRB and union hadn't taken their confidentiality requirements seriously.
"The delays have been caused by very unreasonable positions on what should be a routine legal matter," Hankins said in an interview.
Both sides are threatening to take the matter to federal district court, which has the subpoena-enforcement power that the administrative law judge lacks.
Anderson told lawyers to reconvene on Aug. 23 with a plan and not to "tell me with your utmost charming skill that you'd just like a little more time."
President Barack Obama has limited options for filling the three vacant spots on the labor board, which is charged with enforcing the National Labor Relations Act. Senate Republicans have vowed to block any future nominations to the board, so confirmation would require 60 votes in the 100-member Senate.
Obama also can't make recess appointments unless the Senate recesses. The House of Representatives, where there is a Republican majority, has denied its required approval for the Democratic-controlled Senate to recess.
That has led to "pro forma" sessions, a tactic taken with previous presidents as well, in which the chamber opens for the day with two lawmakers present, then gavels to a close.
To contact the reporter on this story: Susanna Ray in Seattle at sray7@bloomberg.net
To contact the editor responsible for this story: Ed Dufner at edufner@bloomberg.net
Before it's here, it's on the Bloomberg Terminal.
LEARN MORE