Trial of Egypt's Mubarak Adjourned to September, TV Barred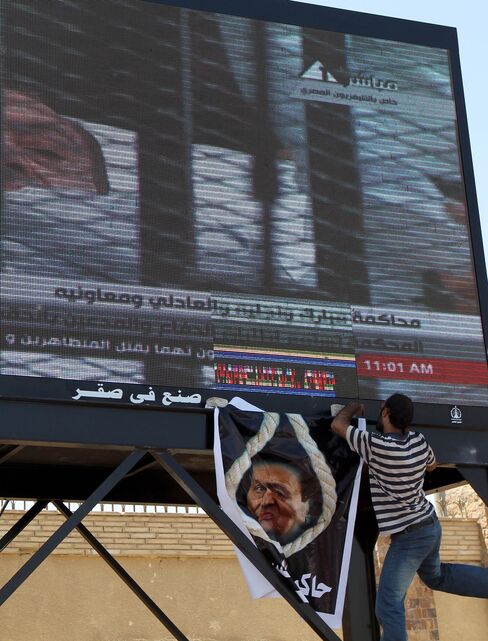 Egypt's former President Hosni Mubarak, charged with conspiring to kill some of the protesters who swept him from power, was wheeled out of court in a hospital bed today after the judge adjourned the trial and barred television broadcasts of future sessions.
The former ruler, who has pleaded not guilty, appeared for a second time in a caged enclosure in court alongside his two sons, Alaa and Gamal, who are facing corruption charges. Judge Ahmed Refaat postponed the trial until Sept. 5. The start of today's session was delayed while lawyers representing victims argued about how to organize themselves. Mubarak's trial opened on Aug. 3 after pressure from demonstrators, who have demanded his swift and public prosecution.
Refaat ruled today that the cases against Mubarak and former Interior Minister Habib el-Adli, charged in connection with the killing of protesters, will be heard in the same trial. He ordered that the prosecution summon several witnesses for the next session.
"To preserve public interest, the court had decided to stop the television broadcast of the hearings from Sept. 5 and until the verdicts are issued," Refaat said. "This case requires effort, not protests or talk," he said earlier in the hearing, as well as ordering lawyers to "stay quiet" and take their seats.
Public Appearance
Until Mubarak first appeared in court on Aug. 3, many Egyptians were skeptical they would see the man who ruled them for three decades appear in the caged enclosure, their first sighting of him since he was forced to quit. Some activists said they had expected the military council, which took interim authority when Mubarak stepped down on Feb. 11, to spare him such a fate.
At least 846 people were killed during the revolt, sparked by poor living conditions, political repression and complaints about corruption and police abuses. Mubarak, a key ally of the U.S. and Israel while in power, is also charged with using his office to acquire property for himself and his sons and selling natural gas to Israel at below-market prices.
"The trial has won the Supreme Council of the Armed Forces some popularity," Mustapha K. al-Sayyid, a professor of political science at Cairo University, said in a telephone interview. "It provided proof that the military council is not giving Mubarak special treatment and that it is determined that he be subjected to the law."
'Not a Private Matter'
"The judge wants to allow the lawyers to focus without being distracted by television cameras," said Gamal Eid, who is representing a number of victims' families. "Many of the lawyers are coming to court for publicity and for the media show. We understand the judge's decision."
Nasser Abdel Hamid, a member of the Alliance of the Youths' Revolution, a coalition of protesting groups, said he understood that the judge may have made the decision to ban television coverage after "realizing he cannot oversee the hearings as required." Still, he said, "people need to see the proceedings. This is a public, not a private matter. This is the case of a revolution."
The trial comes as authorities struggle to repair the economy and grapple with demands for a transition to democracy. The turmoil that accompanied the uprising hurt Egypt's economy, which shrank an annual 4.2 percent in the quarter that ended in March as tourists stayed away and factory output was cut by strikes.
Military Council
The ruling military council says it will hand over power after parliamentary elections, expected later this year, and a subsequent presidential vote. The timing of elections and the process of writing a new constitution have pitted some secular groups against Islamic ones, such as the Muslim Brotherhood.
Many young activists have also found themselves at odds with the military council, which they accuse of being too slow in allowing post-Mubarak reforms. Some now fear his trial may be used to block further changes.
"This is the military council of Mubarak, they use the same system of suppression," said Ragy Muhammad, 25, one of the protesters who staged a sit-in in central Cairo last month to demand justice for those killed in the uprising. "They may say: 'You saw him in a cage. What more do you want?' and try to let the people forget about other demands," such as an end to military trials for civilians, he said.
Legal Request
Mubarak's lawyer, Farid elDib, has asked that Field Marshal Mohamed Hussein Tantawi, the former president's longtime defense minister who now heads the military council, testify in the case.
It is one of the few occasions in which an Arab nation has tried a former leader for crimes alleged to have been committed while in office. Tunisia's Zine El Abidine Ben Ali, who fled to Saudi Arabia a month before Mubarak's ouster, has been convicted of multiple offenses in absentia. Saddam Hussein, who was executed in 2006, was tried in a court set up by occupying U.S. forces.
While Mubarak's case may embolden protesters in other Arab countries, his courtroom spectacle may prompt some Arab leaders facing opposition to further cling to power, some analysts say.
"Mubarak's trial will lead some Arab rulers to exert their utmost efforts to avoid the same fate," al-Sayyid said. "They will resort to more force and suppression no matter how high the price their people are paying."