U.S. Payroll Gain Was Likely Too Small to Cut Unemployment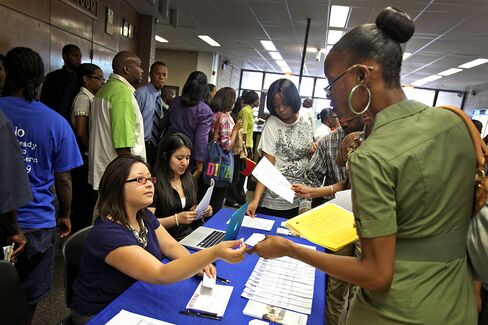 American employers probably failed to create enough jobs in July to reduce the jobless rate, showing anxiety over government debt deliberations and a slowdown in consumer spending have shaken confidence, economists said before a report today.
Payrolls climbed by 85,000 workers after an 18,000 increase in June that was the smallest this year, according to the median forecast of 88 economists surveyed by Bloomberg News before a Labor Department report. The jobless rate held at 9.2 percent after rising in each of the previous three months.
Limited job gains and concern the economic recovery will be cut short led U.S. equities to their biggest slump since February 2009 yesterday. Slowing growth puts more pressure on Federal Reserve policy makers meeting next week to try to steer the world's largest economy away from another recession at a time when inflation is also accelerating.
"The labor market is slowing towards stall speed," said Patrick O'Keefe, chief economist at J.H. Cohn LLP in Roseland, New Jersey. "Employers were certainly seeing a decline, or leveling off, in demand for goods and services."
The Labor Department's data are due at 8:30 a.m. in Washington. Bloomberg payroll survey estimates range from no change to a 150,000 increase.
Private payrolls, which exclude government jobs, rose 113,000 after a gain of 57,000 in the prior month, economists forecast the employment report will also show.
Less Growth
The economy grew at a less-than-forecast 1.3 percent pace in the second quarter following revised growth of 0.4 percent in the first three months of the year that was less than previously estimated, Commerce Department figures showed last week. Consumer spending grew 0.1 percent, the smallest gain since the second quarter of 2009, the final months of the recession.
The dollar fell 0.4 percent against the euro to $1.4148 per euro as of 9:03 a.m. in London. U.S. bonds rose, pushing the 10-year yield down 2 basis points to 2.39 percent.
The two-year-old recovery's staying power may be diminishing as consumers and the government pare spending, say five of the nine economists on the academic panel that dates recessions.
Harvard University economics professor Martin Feldstein said he sees a 50 percent chance of a renewed recession. He is a member of the committee that dates recessions for the National Bureau of Economic Research.
"This economy is really balanced on the edge," Feldstein said in a Bloomberg Television interview Aug. 2 on "Surveillance Midday" with Tom Keene.
Less Hiring
Recent data have shown a deteriorating labor market. The Institute for Supply Management's July manufacturing employment index was the lowest since December 2009, the group said this week. Its services gauge also fell. Announced job cuts surged to a 16-month high last month, global outplacement consultant Challenger, Gray & Christmas Inc. reported Aug. 3.
The projected gain in payrolls would bring the average from May through July to 43,000, down from 215,000 in the previous three months.
Increases of around 125,000 a month are needed to keep the unemployment rate steady, while about 200,000 a month would bring it down a percentage point over a year, according to Stephen Stanley, chief economist at Pierpont Securities LLC in Stamford, Connecticut.
Through June, the economy had recovered about 1.77 million of the 8.75 million jobs lost as a result of the 18-month recession that began in December 2007.
In his semi-annual testimony to Congress last month, Fed Chairman Ben S. Bernanke said the "economy still needs a good deal of support."
Jobs 'Weakness'
"The most recent data attest to the continuing weakness of the labor market," Bernanke said on July 13. "It's improving very slowly in terms of jobs regained. Wages are very stagnant and that's affecting consumer spending and consumer confidence. There is also ongoing uncertainty about the durability of the recovery."
The drop in shares this week was accompanied by a surge in Treasury securities on concern the economy was faltering. The Standard & Poor's 500 Index dropped 4.8 percent yesterday, the most since February 2009. Yields on two-year Treasury notes slid to the lowest on record.
Some companies are firing workers to keep costs down as the economy slows and concern builds over European default risk.
Cisco Systems Inc., the largest networking-equipment maker, plans to eliminate about 6,500 jobs, or 9 percent of its full-time global workforce, to help trim $1 billion in annual costs and step up profit growth.
The job cuts will come from across the company and aren't concentrated in a single unit, said Karen Tillman, a company spokeswoman, in an interview July 18. The company said affected workers in the U.S. and Canada will be notified this week.
                        Bloomberg Survey
=============================================================
                           Nonfarm  Private     Manu Unemploy
                          Payrolls Payrolls Payrolls     Rate
                            ,000's   ,000's   ,000's        %
=============================================================
Date of Release              08/05    08/05    08/05    08/05
Observation Period            July     July     July     July
-------------------------------------------------------------
Median                          85      113       10     9.2%
Average                         84      110       10     9.2%
High Forecast                  150      150       25     9.4%
Low Forecast                     0       70      -10     9.1%
Number of Participants          88       44       22       84
Previous                        18       57        6     9.2%
-------------------------------------------------------------
4CAST                          100      120     ---      9.1%
ABN Amro                       100      120     ---      9.1%
Action Economics                80      110       10     9.2%
Aletti Gestielle               105      138       20     9.1%
Ameriprise Financial           110       75        5     9.2%
Banesto                         50     ---      ---      ---
Bank of Tokyo- Mitsubishi      130     ---      ---      ---
Barclays Capital                50       75     ---      9.2%
Bayerische Landesbank           80     ---      ---      9.2%
BBVA                            70      100     ---      9.2%
BMO Capital Markets             60     ---      ---      9.2%
BNP Paribas                     50     ---      ---      9.3%
BofA Merrill Lynch              75      100     ---      9.3%
Briefing.com                    50       75     ---      9.3%
Capital Economics               50     ---      ---      9.2%
CIBC World Markets             125     ---      ---      9.2%
Citi                            90      115        5     9.2%
ClearView Economics             85      100      -10     9.3%
Commerzbank AG                  80     ---      ---      9.2%
Credit Agricole CIB            100     ---      ---      9.2%
Credit Suisse                   90     ---      ---      9.2%
Daiwa Securities America       100     ---      ---      9.1%
Danske Bank                    120     ---      ---      9.2%
DekaBank                       110     ---      ---      9.1%
Desjardins Group                75     ---      ---      9.2%
Deutsche Bank Securities        50       75     ---      9.2%
Deutsche Postbank AG            80     ---      ---      9.2%
DZ Bank                         65     ---      ---      9.2%
Exane                           60     ---      ---      9.2%
Fact & Opinion Economics        50       80     ---      9.3%
First Trust Advisors            95      125        0     9.1%
FTN Financial                   50     ---      ---      9.1%
Goldman, Sachs & Co.            50     ---      ---      9.2%
Helaba                         100     ---      ---      9.1%
High Frequency Economics       120      150     ---      9.2%
HSBC Markets                   115      140     ---      9.1%
Hugh Johnson Advisors          128      136       10     9.1%
IDEAglobal                      60       75        5     9.2%
IHS Global Insight              50      115     ---      9.3%
Informa Global Markets          50     ---        -5     9.2%
ING Financial Markets           90      105       10     9.2%
Insight Economics               75     ---      ---      9.3%
Intesa-SanPaulo                110     ---      ---      9.2%
IUR Capital                     20     ---      ---      ---
J.P. Morgan Chase               45       90       20     9.2%
Janney Montgomery Scott         57       81        7     9.1%
Jefferies & Co.                 70      115       25     9.2%
Landesbank Berlin              100     ---      ---      9.1%
Landesbank BW                  150     ---      ---      9.1%
Laurentian Bank                120      130     ---      9.2%
Maria Fiorini Ramirez           50       90     ---      9.2%
Market Securities               85     ---      ---      9.1%
MET Capital Advisors           130     ---      ---      9.4%
MF Global                       75      120       15     9.1%
Mizuho Securities              125     ---      ---      ---
Moody's Analytics               65       95       10     9.2%
Morgan Keegan & Co.             95     ---      ---      9.2%
Morgan Stanley & Co.           120     ---      ---      9.2%
National Bank Financial        100     ---      ---      9.1%
Natixis                         70     ---      ---      9.2%
Newedge                         85      100        8     9.1%
Nomura Securities               85      135       15     9.2%
Nord/LB                         75     ---        20     9.2%
OSK Group/DMG                  135     ---      ---      9.1%
Paragon Research                 0     ---      ---      9.4%
Parthenon Group                117     ---      ---      9.1%
Pierpont Securities             75      100     ---      9.1%
PineBridge Investments         125      150     ---      9.1%
PNC Bank                       125     ---        15     9.1%
Prestige Economics              30       75     ---      9.1%
Raiffeisenbank International   120      150     ---      9.1%
Raymond James                   40       70     ---      9.2%
RBC Capital Markets            110      140     ---      9.1%
RBS Securities                  75     ---      ---      9.2%
Scotia Capital                  90     ---      ---      9.2%
SMBC Nikko Securities          110      150     ---      9.2%
Societe Generale               110      150     ---      9.1%
Standard Chartered              90      120     ---      9.2%
State Street Global Markets     68       72       10     9.2%
Stone & McCarthy Research      115      145       25     9.1%
TD Securities                  125      145     ---      9.1%
UBS                             75      125     ---      9.2%
UniCredit Research             100     ---      ---      9.1%
University of Maryland          55       80       10     9.3%
Wells Fargo & Co.               25     ---      ---      9.3%
WestLB AG                      110     ---      ---      9.1%
Westpac Banking Co.             70     ---      ---      9.2%
Wrightson ICAP                  30       80     ---      9.2%
=============================================================