Braylon Edwards Signs One-Year Deal With San Francisco 49ers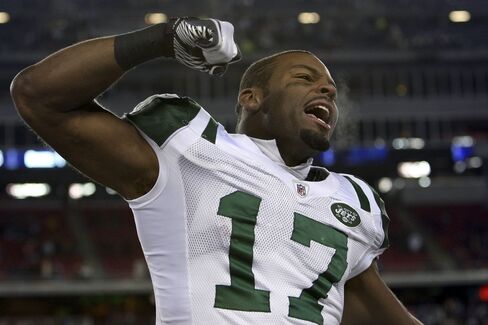 Braylon Edwards signed a one-year contract with the San Francisco 49ers, leaving the New York Jets after two seasons.
Edwards, 28, had 53 receptions for 904 yards and seven touchdowns last season. Financial terms weren't disclosed by the 49ers on their website. The contract is worth $3.5 million, the Associated Press reported.
The 6-foot-3 wide receiver was a National Football League All-Pro in 2007. He's played in 90 games for the Cleveland Browns and Jets, with 326 catches for 5,142 yards and 39 touchdowns. He left the University of Michigan as a two-time All-Big 10 selection, with school records for receptions, yards, touchdowns and 100-yard receiving games.
Edwards caught some throws in practice yesterday for the 49ers.
"I felt good today and it's good to learn," Edwards said on the team's website.
San Francisco was 6-10 last season, while the Jets were 11-5 and reached the American Football Conference championship game for the second straight year.
Before it's here, it's on the Bloomberg Terminal.
LEARN MORE