Karachi Party Boss Urges Hoarding Food as Gangs Kill 350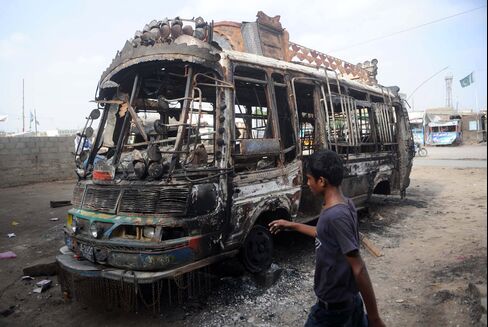 The leader of Karachi's biggest political party told his supporters to stock up on food as a surge in gang and political violence in Pakistan's finance center left almost 350 people dead in a month.
Faced with "the apathy of the government and law enforcing agencies, people should store food supplies for at least one month even if they need to sell their valuable possessions to do so," Altaf Hussain, the leader of the Muttahida Qaumi Movement, said in a statement issued from London, where he lives in exile after seeking asylum in 1992.
Interior Minister Rehman Malik said yesterday that officials feared the wave of targeted killings could escalate into even more deadly fighting between ethnic groups if "strict action" is not taken. After the killing of 313 people in July, a further 34 died in clashes since Aug. 1, Sharfuddin Memon, an adviser to the Sindh provincial government's home ministry, said today.
"This is a turf war among various gangs who have some sort of political backing," Asad Sayeed, an economist at the Karachi-based Collective for Social Science Research, said by phone. "These people are contesting for control of the city's land, which has divided along ethnic and sectarian lines."
Karachi, which is home to 18 million people, the stock exchange and its central bank and contributes 70 percent of the nation's tax revenue, has for years witnessed surges in street attacks involving members of the dominant MQM, the Pakistan Peoples Party of President Asif Ali Zardari, and the Awami National Party.
'Cult' Influence
"Altaf Hussain commands a lot of support in urban Sindh," said Hasan-Askari Rizvi, an independent political analyst based in Lahore. "His influence is like a cult. When he called for calm in Karachi after an entire day of violence last month, things normalized within minutes."
Pakistan's benchmark Karachi Stock Index 100 index fell 2.3 percent to 284.61 points or 11,941.72 at the close, the steepest decline since May 4.
"The fall is more political than market specific," Ahmed Raza Khan, head of research at IGI Finex Securities, said after trading began today. "The market is reacting to the statements made by the MQM, and talk of an operation in Karachi."
The recent violence, which has included mob raids on houses, shops and vehicles, has been concentrated in the slums and settlements of Surjani Town and Orangi Town in the north of the city. Both areas have a mixed population of Urdu-speakers who originally emigrated from India after partition in 1947 and who largely support the MQM, and ethnic Pashtuns from Pakistan's northwest, who are represented by the ANP.
'Be Careful'
In 2008 elections, the MQM won 17 out of Karachi's 20 seats in the National Assembly, Pakistan's parliament.
Officers of the Frontier Constabulary have been given special powers to search premises and arrest suspects, Memon said. Zardari has summoned leaders of Sindh province, of which Karachi is the capital, to the federal capital, Islamabad, to discuss measures to control the violence, he said. Yesterday, Memon said surveillance helicopters and paramilitary troops may be used to quell the killings.
In his statement written in Urdu, Hussain urged supporters to "prepare themselves both mentally and physically" to counter attacks.
"Hussain should be careful" before making comments that may make the situation worse, Zahid Khan, a spokesman for the Awami National Party, said in a phone interview.
Bolt-Hole
The MQM quit the coalition government of Prime Minister Yousuf Raza Gilani in June, the second time it had done so this year. It left the ruling bloc in January to protest a decision to raise prices of fuel, later reversing the decision.
About 490 people died in city gun battles in the first six months of the year, according to Human Rights Commission of Pakistan data. "Karachi is in the grip of a multi-sided wave of insecurity-driven political, ethnic and sectarian polarization," the commission said in a statement Aug. 1.
Malik said the authorities would also act against "illegal foreigners in the city." Karachi has become a bolt-hole in recent years for militants, some of them foreign, who have fled offensives by Pakistan's army in the country's northwestern region.
The port city also serves as the headquarters in Pakistan for companies such as Citigroup Inc. and Unilever Plc.
Meezan Bank Ltd., the biggest Shariah-compliant lender in Pakistan, has set up "disaster recovery centers" that allow employees to work in parts of Karachi unaffected by violence, Abdullah Ahmed, the bank's treasury head, said by phone.
Repeated strikes and closures across Karachi as gangs battle it out cost the business community about 3 billion rupees ($35 million) a day, said Siraj Kassam Teli, a former president of the Karachi Chamber of Commerce and Industry.
"The government has no writ in the city," Teli said. "No one is bothered to control the situation. These parties are just interested in power."
Before it's here, it's on the Bloomberg Terminal.
LEARN MORE