U.S. Manufacturing Probably Grew in July, Kept Leading Recovery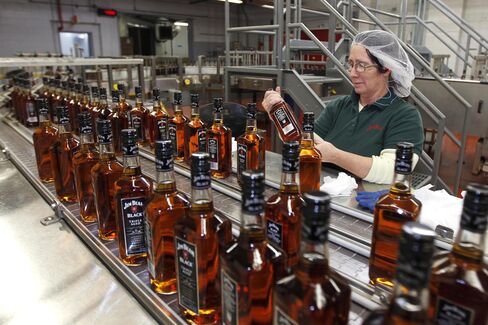 Manufacturing probably grew in July at about the same pace as a month earlier, showing sales overseas are helping shield U.S. factories from a slowdown in consumer spending, economists said before a report today.
The Institute for Supply Management's manufacturing index fell to 54.5 last month compared with 55.3 in June, according to the median estimate of 63 economists surveyed by Bloomberg News. Figures greater than 50 signal expansion. Another report may show construction spending rose in June for the first time in seven months.
Sustained demand from emerging nations including China is driving orders and production at American factories. While the resumption of parts deliveries after Japan's earthquake may bolster manufactures, growth will probably be tempered by stagnant consumer purchases and limited job gains.
"The factory sector is still relatively healthy," said Omair Sharif, an economist at RBS Securities Inc. in Stamford, Connecticut. "The dislocations on the supply side are starting to wear off. The one big concern is the big drop in employment."
The Tempe, Arizona-based group's report is due at 10 a.m. New York time. Estimates ranged from 51 to 56.
Americans are cutting back on purchases in response to sluggish job creation and higher fuel costs. The economy expanded at a 1.3 percent annual rate in the second quarter, less than forecast, Commerce Department figures showed last week. Consumer spending rose at 0.1 percent pace, the weakest since the second quarter of 2009, at the tail end of the recession.
Beige Book
Growth cooled in eight of the Federal Reserve's 12 regions, the central bank said last week in its Beige Book survey. Many regions said manufacturing slowed or held steady, according to the report, which covers June and the first half of July. Business activity in the U.S. expanded at a slower pace in July, the Institute for Supply Management-Chicago Inc. said July 29.
At 10 a.m., the Commerce Department will report construction spending increased 0.1 percent in June from a month earlier, according to the median estimate in a Bloomberg survey.
Limited production has sent manufacturers' shares lower. The Standard & Poor's Supercomposite Machinery Index, made up of 54 companies including Caterpillar Inc., Deere & Co. and Cummins Inc., dropped 8.2 percent in July, compared with a 2.1 percent decrease for the broader S&P 500 Index.
Federal Reserve
Fed policy makers, including Chairman Ben S. Bernanke, anticipate the economy will strengthen in the second half of 2011 as "factors that are likely to be temporary" subside.
Eaton Corp., a Cleveland-based maker of hybrid transmissions for trucks, said industrial markets and the automobile industry are recovering.
"All of that leads us to believe that '12 is going to be a solid year of economic growth," Sandy Cutler, chairman and chief executive officer, said in a July 25 teleconference with analysts.
Eaton projects sales this year will top the 2008 record of $15.37 billion by 6 percent. Revenue climbed 22 percent in the first half, the company said in a statement.
                   Bloomberg Survey

================================================================
                         Construct      ISM      ISM
                          Spending     Manu   Prices
                              MOM%    Index    Index
================================================================

Date of Release              08/01    08/01    08/01
Observation Period            June     July     July
----------------------------------------------------------------
Median                        0.1%     54.5     64.0
Average                       0.1%     54.6     63.7
High Forecast                 0.8%     56.0     68.0
Low Forecast                 -0.4%     51.0     58.5
Number of Participants          38       63       14
Previous                     -0.6%     55.3     68.0
----------------------------------------------------------------
4CAST Ltd.                    0.4%     55.4     ---
ABN Amro Inc.                 ---      55.0     ---
Action Economics              0.0%     55.5     66.0
Aletti Gestielle SGR          ---      54.2     65.0
Ameriprise Financial Inc      0.4%     55.0     64.0
Banesto                       0.0%     55.0     ---
Barclays Capital              0.2%     55.0     ---
Bayerische Landesbank         ---      54.5     ---
BMO Capital Markets           ---      54.5     65.0
BNP Paribas                  -0.3%     54.5     ---
Briefing.com                  0.2%     51.0     ---
Capital Economics             0.7%     55.5     ---
CIBC World Markets            0.0%     54.0     ---
Citi                          0.1%     53.5     68.0
ClearView Economics          -0.3%     54.5     59.0
Credit Agricole CIB           ---      55.3     ---
Credit Suisse                -0.1%     53.5     64.0
Danske Bank                   ---      54.0     ---
DekaBank                      0.1%     54.5     ---
Deutsche Bank Securities     -0.1%     54.0     ---
Deutsche Postbank AG          ---      54.5     ---
DZ Bank                       ---      53.6     ---
Exane                         0.1%     53.5     ---
First Trust Advisors          0.5%     55.4     ---
FTN Financial                 ---      54.5     ---
Helaba                        ---      54.5     ---
Hugh Johnson Advisors         ---      56.0     ---
IDEAglobal                   -0.4%     54.0     62.0
IHS Global Insight            0.2%     53.3     ---
Informa Global Markets        0.7%     54.2     ---
ING Financial Markets         ---      54.2     ---
Insight Economics             0.0%     55.0     ---
Intesa-SanPaulo               0.2%     55.5     ---
Janney Montgomery Scott L     ---      54.6     ---
Jefferies & Co.               0.0%     55.0     ---
Landesbank Berlin             0.4%     55.0     ---
Landesbank BW                 0.8%     55.0     ---
Maria Fiorini Ramirez Inc     ---      55.0     ---
Market Securities             ---      55.8     ---
MET Capital Advisors          ---      55.6     ---
Moody's Analytics             0.2%     53.1     ---
Morgan Keegan & Co.          -0.3%     ---      ---
Morgan Stanley & Co.          0.7%     55.5     ---
Natixis                       ---      56.0     ---
Newedge                       ---      55.5     ---
Nomura Securities Intl.       ---      56.0     58.5
OSK Group/DMG                 ---      53.1     ---
Parthenon Group               0.6%     53.9     64.4
Pierpont Securities LLC       ---      55.5     ---
PNC Bank                      0.6%     54.0     ---
Raiffeisenbank Internatio     ---      54.5     65.0
RBC Capital Markets           ---      55.7     ---
Scotia Capital                ---      54.5     ---
SMBC Nikko Securities        -0.1%     55.5     ---
Societe Generale              0.7%     54.5     64.0
State Street Global Marke     0.2%     53.1     64.0
Stone & McCarthy Research    -0.3%     54.2     ---
TD Securities                 ---      53.5     ---
UniCredit Research            ---      55.0     ---
University of Maryland       -0.1%     54.0     63.0
Wells Fargo & Co.            -0.4%     53.3     ---
WestLB AG                     0.0%     55.0     ---
Westpac Banking Co.           0.0%     54.0     ---
Wrightson ICAP               -0.2%     55.0     ---
================================================================