Islanders Taxpayer-Funded Hockey Arena Bonds Face Nassau Voters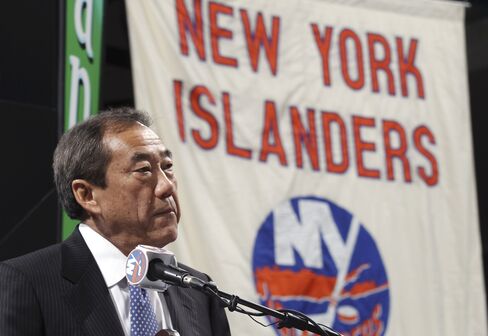 Voters in Nassau County, where finances are under state oversight, will decide today if their taxes should fund a hockey arena for the New York Islanders, whose owner says he'll move unless he gets one.
"This project will generate much-needed revenue for our local businesses, put our residents back to work and make Nassau County a destination for sporting events, tourism and conventions," County Executive Edward Mangano said last week. The 49-year old Republican has fired 128 workers and frozen wages to cope with a budget deficit since losing control of the county's fiscal affairs in January.
Mangano is championing the project in the face of a state supervisory panel that opposes it -- and can block it. The Nassau Interim Finance Authority, which took over the Long Island county's finances after it ran up a budget deficit of more than 1 percent of projected spending, has said it's "deeply concerned." NIFA on July 29 rejected Mangano's spending plan for 2011 to 2014, saying "questionable" revenue assumptions would mean a $225 million deficit for next year.
The referendum authorizing the issuance of $400 million in general-obligation bonds is only the first step toward a new sports complex that would replace the 39-year-old Nassau Veterans Memorial Coliseum and include a minor league baseball stadium. Borrowing also requires two-thirds majority approval, or 13 votes, by the county Legislature, which the Republicans control 11 to 8. NIFA's approval is also needed.
Interest Payments
The project is slated to begin in 2012 and be completed by 2015, when the Islanders' current lease expires. Mike Picker, an Islanders senior vice president, said owner Charles Wang would move the National Hockey League team if a new arena isn't built.
According to NIFA, interest payments on the debt over 30 years would push the total cost to $800 million, which would be paid through a property-tax increase of 3.5 percent to 4 percent. The authority pegs the annual debt service at $26 million -- more than the minimum annual rent the county would receive from Arenaco Spe LLC, a company formed by Wang.
Arenaco would pay the county 11.5 percent of revenue, or $14 million annually, whichever is more, according to the lease agreement. The company would pay no rent until construction is complete, which may take five years and require more borrowing, NIFA said. If Arenaco files for bankruptcy, the county remains on the hook for the construction costs, it said.
Job Creation
Mangano said the project will create more than 4,500 jobs and bring economic activity to an area suffering from a lack of it. If the Islanders leave, county businesses would lose almost $250 million in annual sales and 2,660 jobs, he says.
Mangano has the support of the construction industry and union leaders, including James Castellane, president of the Nassau/Suffolk Building Trades Council.
"I need to put my men and women to work," Castellane said in a telephone interview. He represents 65,000 construction workers in 36 unions, whose members have been handing out leaflets at train stations, making telephone calls and driving a sign truck around major arteries to promote the project. It's fair that taxpayers help finance the project if it translates into jobs, he said.
Castellane said he has a message for the county Legislature's Democratic lawmakers, at least two of whom are needed to join Republicans in approving the project: "You could be an Independent, Republican, Democrat or a Conservative -- if you're going to do the right thing by labor, you're our friend," he said. "We'll remember in November."
Potential 'Disaster'
Democratic Minority Leader Diane Yatauro, who joined all but one of her party members to vote against putting the referendum on the ballot, has urged voters to "examine this issue and do what is in their best interest."
"No matter how he spins it, Mr. Mangano is asking county residents to vote themselves a tax increase," Yatauro wrote in several local newspapers this month. "What looked like a plan to generate jobs and sorely needed revenue may just be another disaster waiting to happen."
County Comptroller George Maragos said on July 29 that Nassau may end 2011 with at least a $42 million deficit, a gap he said may grow to $140 million.
William T. Biamonte, Democratic commissioner of the Board of Elections, questioned why the county doesn't have the referendum coincide with the Sept. 13 primary or Nov. 8 general election. Preparation for today, including printing almost 1 million ballots and hiring more than 5,000 inspectors, will cost the county $2 million, he said.
'Voter Suppression'
"Having it on a Monday in August is an act of voter suppression," Biamonte said by telephone, estimating less than 10 percent turnout among the county's 900,000 registered voters. "No matter what happens, pass or fail, it won't be a true indication of what the body politic thinks of this."
The debate isn't about the Islanders or a sports franchise, said Desmond Ryan, executive director of the Association for a Better Long Island, which represents $15 billion in real estate interests and has financed ads urging residents to vote no.
"It's about the use of public money to finance a private real estate deal in a county that is broke," he said in an e-mailed statement. "The county taxpayer should be outraged. And on Monday he or she may just say so."
Before it's here, it's on the Bloomberg Terminal.
LEARN MORE