U.S. Stocks Slump as Factory Report Erases Rally on Debt Deal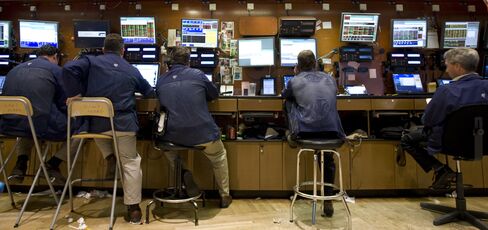 U.S. stocks slumped, sending the Standard & Poor's 500 Index down for a sixth day, as slower-than-forecast growth in manufacturing erased a rally triggered by speculation lawmakers will raise the debt ceiling.
The S&P 500 pared a loss of more than 1 percent by the end of the trading day as lawmakers including House Speaker John Boehner voiced support for the debt-limit compromise, fueling optimism the legislation would pass. FedEx Corp. fell 1 percent, pacing declines in stocks most-tied to economic growth. Health-care shares in the S&P 500 slid 1.7 percent after Medicare announced an 11.1 percent rate cut next year for nursing-home providers.
The S&P 500 lost 0.4 percent to 1,286.94 at 4 p.m. in New York after climbing 1.2 percent in the first hour of trading and then sinking as much as 1.4 percent. The Dow Jones Industrial Average retreated 10.75 points, or 0.1 percent, to 12,132.49 today after rising 139 points and falling as much as 145 points.
"It's been an up and down market," John Carey, a Boston-based money manager at Pioneer Investments, said in a telephone interview. The firm oversees about $250 billion. "Investors were quite discouraged by weak economic data. It would be nice to have the debt ceiling discussion behind us. Still, that should provide only a short-term relief. There are long-term concerns regarding the deficit and the economy."
Lawmakers to Vote
The S&P 500 rallied early, rebounding from its worst weekly loss in a year, as lawmakers prepared to vote on a deal to raise the debt limit by at least $2.1 trillion and slash federal spending by $2.4 trillion or more. The index fell for a third straight month in July amid speculation Republicans in the House would fail to reach a compromise with the Democrat-controlled Senate and Obama to boost the nation's ability to borrow by tomorrow's deadline.
The House plans to vote today on the compromise plan, while the Senate is expected to vote tomorrow. House Majority Leader Eric Cantor said the House will have the votes for approval. Boehner said his goals were reached and that the plan is the "best shot" for a balanced budget amendment.
The early gains were reversed after a report showed U.S. manufacturing expanded in July at the slowest pace in two years, indicating the industry that's been driving the economic expansion is starting to weaken. The Institute for Supply Management's factory index fell to 50.9 last month from 55.3 in June. Economists projected the index would drop to 54.5, according to the median forecast in a Bloomberg News survey. Figures greater than 50 signal expansion.
Weakened Demand
Manufacturing indexes from Asia to Europe also fell in July as demand weakened and the global recovery from recession lost momentum. U.K., Russian and Australian manufacturing shrank last month, while the pace of factory growth slowed in Europe and China, according to surveys today.
"We're seeing a pervasive weakness across the global spectrum of manufacturing," Randy Bateman, chief investment officer of Huntington Asset Management in Columbus, Ohio, said in a telephone interview. His firm oversees $14.8 billion. "The market has been consumed with the budget deficit crisis and the debt ceiling. In reality, we're looking at fairly weak numbers that are coming out of our economy."
Today's decline in stocks brought the S&P 500 momentarily below its average price of the last 200 days of about 1,285. A drop below the 200-day moving average could trigger further losses, according to analysts who study charts to make forecasts.
FedEx, U.S. Steel
The Morgan Stanley Cyclical Index of 30 stocks retreated 0.3 percent. FedEx, operator of the world's biggest cargo airline, declined 1 percent to $86. U.S. Steel Corp., the country's largest producer of the metal by volume, dropped 1.6 percent to $39.34.
A gauge of health-care companies in the S&P 500 slumped 1.7 percent as 50 of its 52 stocks decreased. Health Care REIT Inc. fell the most in the S&P 500, sliding 8.5 percent to $48.31. HCP Inc. retreated 5.7 percent to $34.64. Both firms invest in health-care related real estate.
The S&P 500 was still up 2.3 percent this year, extending a 13 percent gain in 2010, amid government stimulus measures and higher-than-estimated corporate profits. Per-share profits have exceeded analysts' projections at 78 percent of S&P 500 companies that reported results since July 11, Bloomberg data show.
President Obama's dispute with Congress cost U.S. stockholders $680 billion last week. It may be a clash investors end up embracing, based on more than a century of market history.
'A Grand Bargain'
The Dow average has had average gains of 12 percent in years before presidential elections since its creation in 1896 and advanced the last 17 times, according to data compiled by Bloomberg and Dow Jones. The 30-company gauge rose 4.9 percent in 2011 through the end of July, its third-smallest increase at this point of an administration's third year since the streak of gains began in 1941. It needs to climb another 7.2 percent through the end of the year to match the historical mean.
"A grand bargain is just the ticket to power stocks," Howard Ward, who helps oversee $35 billion in Rye, New York, for Mario Gabelli's Gamco Investors Inc., said in an e-mail on July 26. "With the Fed on hold, Greece off the table and a bipartisan debt deal in Washington, stocks would be the only game in town."
Before it's here, it's on the Bloomberg Terminal.
LEARN MORE