Treasury Yields Fall to 2011 Low, Stocks Retreat Following GDP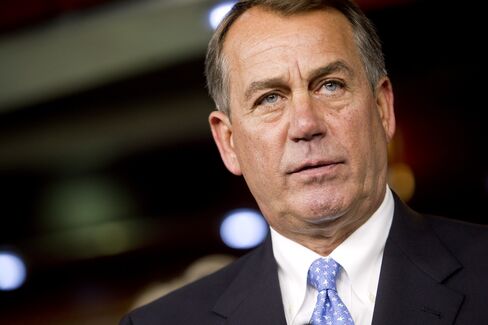 Treasuries rallied, sending yields on 10-year notes to the lowest level since November, and stocks fell as economic growth trailed forecasts amid speculation lawmakers will reach a compromise to avoid a government default. Gold settled at a record.
The yield on 10-year Treasury note yields declined 15 basis points to 2.79 percent at 4 p.m. in New York, the lowest level since Nov. 30. The Standard & Poor's 500 Index slipped 0.7 percent and tumbled 3.9 percent this week for its worst slide in a year. Gold futures settled 0.9 percent higher at $1,631.20 an ounce to extend the biggest monthly gain since 2009. The Dollar Index slipped 0.6 percent. Corn and wheat led the S&P GSCI Index of commodities to a 1 percent decline.
The S&P 500 capped a third straight monthly drop, its longest slump since 2008. Stocks trimmed early losses today as lawmakers planned to vote on House Speaker John Boehner's two-step borrowing-limit plan, and Republicans said it has enough support to pass. President Barack Obama opposes the plan and Senate Majority Leader Harry Reid, a Democrat, said he will move to a vote on his competing plan while at the same time holding out hope for a deal with Republican leaders.
"The economy appears to be almost at stall speed, which means the politicians are playing with fire because any type of event could push us into a recession," Tim Hoyle, director of research at Radnor, Pennsylvania-based Haverford Trust, said in a telephone interview. The firm manages $6 billion. "Today's GDP number is a bigger concern to us as long-term investors than when a bill is going to get passed in Congress, but this mess is hurting business and consumer confidence."
'Rough Agreement'
Republicans were forced to scrap action on Boehner's bill last night. Today, Boehner told Republican senators that his chamber will vote on the plan before 6 p.m. Washington time, Senator Tom Coburn told reporters. Earlier, Obama said both parties are in "rough agreement" on plans to raise the limit with just four days before a threatened default. Obama said the time for compromise is "now."
Two-year Treasury yields decreased seven basis points to 0.36 percent, while the 30-year bond yield lost 13 points to 4.13 percent. Costs to protect U.S. debt from default snapped a four-day increase, dropping two basis points to 62 basis points after earlier surging to a more than two-year high, according to data provider CMA.
The Treasury would delay quarterly auctions of U.S. notes and bonds if there isn't an extension of the nation's debt ceiling before next week's scheduled announcement of the sales, according to Morgan Stanley.
Bill Rates
Rates on $90 billion of six-month bills issued in February that are due Aug. 4 surged seven basis points to 0.22 percent, the highest level since they were issued.
The average rate for borrowing and lending Treasuries for one day in the repurchase-agreement market jumped to 13.2 basis points yesterday from nine basis points a day earlier, according to index data provided by the Depository Trust & Clearing Corp. The rate was 26.6 basis points on Aug. 2, 2010, the data show.
Amid the debt-ceiling debate, investors withdrew more from money-market mutual funds than they have all year. Redemptions reached $37.5 billion last week, with about 70 percent coming from institutional funds that invest in U.S. government securities, according to data from the Investment Company Institute, a Washington-based trade group.
"The markets are having a hard time discounting the possibility that politicians truly are insane," Bruce McCain, who helps oversee $22 billion as chief investment strategist at the private-banking unit of KeyCorp in Cleveland, said in a telephone interview. "One way or another they will do some patchwork solution that kicks the can down the road on the debt ceiling. We'll be in a wait-and-see mode."
July Slide
The S&P 500 extended its July loss to 2.2 percent, its worst month since August. The standoff in Washington has overshadowed an earnings season that has seen per-share profit top analyst estimates at about 78 percent of the 305 companies in the S&P 500 that released results since July 11, data compiled by Bloomberg show. Net income has grown 19 percent and sales have increased 14 percent for the group, the data show.
The S&P 500 plunged as much as 1.4 percent in the first half hour of trading today as weaker-than-estimated 1.3 percent growth in U.S. gross domestic product spurred concern the recovery is in jeopardy as the budget stalemate threatens to damage the economy further. Separately, the Institute for Supply Management-Chicago Inc. said today its business barometer decreased to 58.8 in July, lower than forecast, from 61.1 the prior month. Figures greater than 50 signal expansion.
'Still Struggling'
"The market is still struggling with the ineptness in Washington," Michael Strauss, who helps oversee about $27 billion as chief investment strategist at Commonfund in Wilton, Connecticut, said in a telephone interview. "The weak economic numbers will create jitters in the market, but it won't change that corporations are still outperforming."
Before paring losses, a gauge of real-estate investment trusts that buy mortgage debt tumbled the most intraday in more than a year amid concern the markets that finance them will be roiled if the U.S. government defaults on its debt. The Bloomberg index of the shares of 32 mortgage REITs, including Annaly Capital Management Inc. and Invesco Mortgage Capital Inc., dropped as much as 8.5 percent, the most intraday since May 6, 2010, before paring its drop to 2 percent by the close.
Energy and commodity producers led declines among all 10 of the S&P 500's main industry groups today, with Exxon Mobil Corp. and Newmont Mining Corp. down more than 2 percent to pace losses. Merck & Co. dropped 2.3 percent as the drugmaker said it plans to slash its workforce by an additional 12 to 13 percent by 2015.
European Stocks, Bonds
The Stoxx Europe 600 Index pared losses, decreasing 0.7 percent after losing as much as 1.8 percent. Veolia Environnement SA plunged 9.5 percent as the world's largest water utility said it won't meet its profit target. Vodafone Group Plc jumped 4 percent after the largest mobile-phone company announced a special dividend.
Spain's 10-year bond yield increased six basis points to 6.04 after Moody's Investors Service said it may cut its rating on the country's debt. The extra yield investors demand to hold Spanish 10-year bonds instead of benchmark German bunds rose 14 basis points to 354 basis points, compared with a euro-era record of 376 reached on July 12. Moody's said it's reviewing Spain's rating and a cut is likely to be "limited to one notch."
The cost of insuring European sovereign debt rose, with the Markit iTraxx SovX Western Europe Index of default swaps rising 5.2 basis points to 269.5.
The S&P GSCI Index of commodities fell for a third successive decline. Corn and wheat lost more than 2.5 percent to lead declines. Gold, up 8.5 percent in July, had four straight weekly advances.
The MSCI Emerging Markets Index slipped 0.7 percent to extend its three-day slump to 1.6 percent. Asian exporters led the retreat, with Samsung Heavy Industries Co. declining 2.6 percent in Seoul and Asustek Computer Inc. sinking 4.5 percent in Taipei. Russia's Micex Index lost 0.9 percent as OAO Lukoil fell on lower crude prices.
Before it's here, it's on the Bloomberg Terminal.
LEARN MORE