U.S. House Postpones Debt-Ceiling Vote as Compromise Sought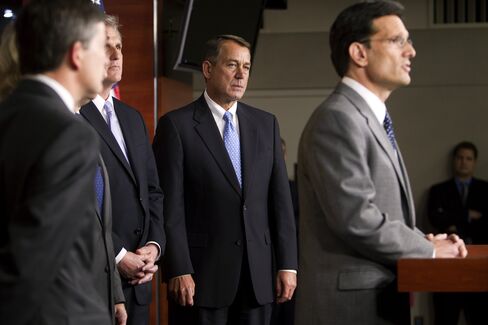 House Speaker John Boehner, falling short of the votes within his own party needed to increase the U.S. debt limit after a night of one-on-one appeals to members, cancelled a vote on a plan that Senate leaders pledge to defeat.
Representative Kevin McCarthy of California, the House's chief vote-counter, told reporters after several hours of closed-door meetings that there would be no House vote tonight.
Senate Democrats meanwhile are working to break the impasse over raising the debt limit by devising a strict enforcement mechanism to guarantee future deficit savings, according to Democratic officials.
After the House postponed a vote planned at about 6 p.m. Washington time, the speaker summoned fellow Republicans opposing his plan into his office and walked to McCarthy's office, where pizza was delivered. Representative Jeff Flake, who went in and out repeatedly, said he remained opposed to the plan after meeting with Boehner.
Senate Majority Leader Harry Reid said House leaders were having trouble passing their bill, which Reid has said the Senate will defeat. President Barack Obama has threatened to veto the House's plan for its short-term debt-ceiling increase.
Democratic Representative Chris Van Hollen of Maryland told reporters: "I can understand why they're having a difficult time. It's a terrible bill."
Compromise Sought
Behind the scenes, the officials said, talks center on how to force future deficit-cutting by Congress, by setting up consequences -- such as automatic spending cuts or tax increases, or some combination of the two -- if the savings aren't achieved.
Congress is negotiating to raise the nation's $14.3 trillion debt limit to head off a possible default on Aug. 2.
"Around here, you've got to have deadlock before you have breakthrough," said Senator Kent Conrad, the North Dakota Democrat and chairman of the Budget Committee. He said the question being debated privately is, "How do you assure people you actually get the savings?"
After the first vote postponement, several House Republicans who had said they opposed the measure or were leaning against went in and out of Boehner's office.
"It was a private conversation," said Flake after one visit. At first, he was leaning against the plan, then later declined to say. Representative Louie Gohmert of Texas called the meeting "very gracious, very nice and respectful" and said he still planned to vote no.
'Not Twisting' Arms
Representative Jason Chaffetz of Utah, an opponent of the plan, said the meetings were calm. "I'm very pleasantly surprised that they're not twisting and ripping arms off."
Boehner's measure would provide an immediate $900 billion debt-ceiling increase while cutting spending by $917 billion. It would allow Obama to seek a second, $1.6 trillion installment of borrowing authority if Congress enacted a law by Christmas to slash deficits by $1.8 trillion.
Obama has called such an approach unacceptable, saying it could lead to a downgrade of U.S. credit and continued economic uncertainty. Democrats are trying to hatch an alternative set of triggers -- delinked from the debt-limit increase -- to break the impasse.
Weekend Votes
If the House measure passes, Reid has said, he will immediately move to kill the measure, paving the way for Senate votes this weekend on a possible compromise to avert a potential U.S. default.
"It will be defeated," Reid predicted, calling it "a short-term Band-Aid that would put our economy at risk and put the nation back in this untenable situation a few short months from now."
The U.S. Treasury will give priority to making interest payments to holders of government bonds if lawmakers fail to raise the debt-ceiling, according to an administration official who requested anonymity because no announcement has been made. The Treasury has said about $90 billion in debt matures on Aug. 4 and more than $30 billion in interest comes due Aug. 15. Overall, more than $500 billion matures in August.
Boehner, an Ohio Republican, defended his plan, calling it "a sincere, honest effort to end this crisis in a bipartisan way."
The Senate could begin voting this weekend on an alternative proposal from Reid to raise the debt ceiling by the full $2.4 trillion Obama has requested, while cutting $2.2 trillion over a decade. Senate leaders are working privately to reach a compromise that could hitch a ride on that measure and clear Congress by Aug. 2, the date the Treasury Department says the nation will breach its borrowing limit and run out of options for avoiding default.
Boehner's Plan
Boehner's plan would provide an immediate $900 billion debt-ceiling boost, cut $915 billion in spending and tie a future borrowing increase to enactment of a deficit-slashing law late this year.
All 51 Senate Democrats and two independents signed a letter pledging to oppose the Boehner plan.
U.S. stocks, after rising earlier, fell for a fourth day.
The Standard & Poor's 500 dropped 0.3 percent to 1,300.67, its lowest level for the month, at 4 p.m. in New York. The Dow slipped 62.44 points, or 0.5 percent, to 12,240.11.
Treasuries rose, pushing 10-year yields to a one-week low, on concern the deadlock will damage the economy.
Yields on the current 2.375 percent seven-year notes due in June 2018 fell three basis points, or 0.03 percentage point, to 2.23 percent at 4:01 p.m. in New York, according to Bloomberg Bond Trader prices. The yield had dropped to as low as 2.20 percent before the sale. The price of the security increased 5/32, or $1.56 per $1,000 face amount, to 100 29/32.
Ten-year note yields fell three basis points to 2.96 percent and touched 2.93 percent, the lowest since July 21.
Overlapping Plans
There is already overlap between Boehner's plan and one that Reid offered on July 25. Reid dropped Democrats' insistence on tax increases. His and Boehner's proposals take as their starting points a cut of close to $1 trillion in discretionary spending cuts over 10 years, and both establish bipartisan committees to recommend future savings, with the results guaranteed a congressional vote.
"If the special committee fails for whatever reason -- if it deadlocks, if it doesn't come up with the savings -- how do you have a fallback?" Conrad said.
Obama administration officials are to brief the public no earlier than after financial markets close tomorrow on priorities for paying the nation's bills if the debt limit isn't raised, a Democratic official said.
Bankers Write Lawmakers
Bankers including Goldman Sachs Group Inc. Chairman and Chief Executive Officer Lloyd Blankfein and JPMorgan Chase & Co. chief Jamie Dimon called on Obama and Congress to raise the federal debt limit to steer the U.S. government away from the threat of default.
Representative Bill Flores of Texas said he was one of a group of freshman Republicans who decided to support Boehner's plan after being promised a vote on a balanced budget amendment to the Constitution. Lawmakers will vote tomorrow on a pair of proposals, Flores said, including one that mirrors a plan that almost won congressional approval in the 1990s.
"When they did that it was easy for me to go to 'yes," he said. He said some of his colleagues are "stuck at no" which he called "troubling.
"We have to be practical about this and think: What is it that allows us to move the ball down the field?" he said.
Before it's here, it's on the Bloomberg Terminal.
LEARN MORE